It started in 1995 as a simple website selling books. Within about a month or so of opening its doors, though, Amazon had already shipped its products to 40 countries. Over the following years, the site would continue to grow and flourish into what we all know now as one of the most respected, largest, and most powerful companies in the world. By some estimates, the site controls as much as 44 percent of all e-commerce sales – and it continues to grow.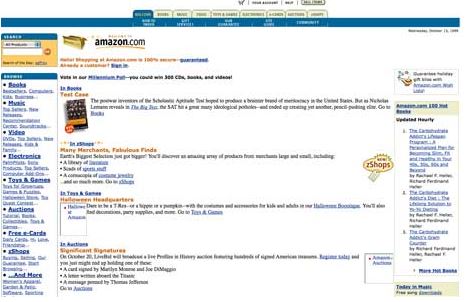 What makes Amazon so successful, then? Over the last decade or so, it has transformed in various ways to increase its reach and to provide ever-growing product options. When it comes down to it, most people go to Amazon directly when it comes to buying a product they need. Why is that when we think of e-commerce, we think of Amazon?
There are some key reasons why this is such a successful company. It is those reasons why so many are turning to Amazon to help support their own product sales or to build successful business models from Amazon's foundation.
#1: They Are Built on Innovation
By far the biggest factor in Amazon's success has come from its ability to continuously innovate. Amazon didn't wait for someone else to create their business model. Rather, it continues to look for new ways to reach customers to use their site for purchases. Back in the early days, much of those focused on building a business that included bigger and more expansive networks of products to sell. Today, technology plays a role in this. From its use of voice command for sales to the company's move into movies and music, it is always looking for the next way to innovate.
Innovation is possible because the company isn't afraid to spend money to try out new ideas and methods. While this is not something every company can do, it is something to consider when you are building your own sales model. Being unique, standing out, and developing new solutions to common problems can help any business to thrive and build against the competition.
#2: They Diversify to Attract More Customers
You can only sell items to one group so many times before you run out of customers. However, with Amazon, the diversification they have built up through the years has helped them to be a go-to for a large number of customers. Most consumers know you can buy just about anything you need using Amazon's site. Yet, there's much more to this as well.
For example, business owners can tap into their low-cost products there. It is possible to buy groceries on the site (and even have them delivered to your door for you). You can invest in cloud services, purchase automotive parts, and even get help putting together the furniture that you buy through the site (or installing that big screen TV). This type of diversification is a critical reason why Amazon is so successful. Its customer base is incredible, and it continues to look for new ways to expand.
In any business, diversification is very valuable. The more you can diversify the services and products you offer, the more room your business has to grow.
#3: Superior Customer Service
It's rather easy to turn to Amazon for help. From getting product shipping information to returning items, the site has a strong ability to meet the needs of consumers. Having a winning customer service team is very important today. It's just harder to do when your customers don't see an actual sales associate who can answer their questions. Yet, Amazon has found a way to meet those needs in impressive ways.
Amazon has built a reputation for superior customer service in various ways. It handles problems fast. It offers round-the-clock care. It's even taken steps to partner with what may seem like its competitors (like Kohl's) to offer in-person returns of products bought on the site.
Employees engage with consumers on social media. They interact with customers on the site effortlessly. When a company can build a strong reputation for easy, good service, that is going to keep customers coming back. It is far less expensive to use Amazon agency to reach customers and then keep them coming back than to have to market heavily for every single purchase.
#4: They Use Data and Learn
Another key advantage Amazon has over other companies is its ability to gather data from sales, marketing efforts, affiliate programs, and many other touchpoints and then it uses that data to make key decisions. Data has become more accessible than ever even to small business owners. Yet, many don't use that data to really understand their customers and to develop solutions for their concerns.
The company recognizes what products and services customers want and then innovates or changes up their game plan to reach those customers more effectively. It's created a comprehensive line of clothing, for example, within its own brand that is built on quality but competitive prices. Companies who are able to learn from their customer needs and concerns will always stand above those who just keep pushing the same business model.
#5: A Dedication to Standing Out
If you are building an e-commerce business, one of the most important steps for you to take is to get the product to your customers fast and safely. Amazon did this by working hard to stand out. In fact, it has a fleet of jets, autonomous vehicles, and its own logistics network to make that possible. Why does it invest so heavily in these areas? The answer is simple – the company is dedicated to winning and continues to grow.
When you consider the value of this within your own business, it means having a no-nonsense attitude. The company creates a plan and executes it. It works hard at connecting all of the dots to ensure it is doing just what it promises its customers it would do. 
#6: A Simple, Clear User Experience
Here's a key question any e-commerce business owner needs to answer. Just how much user experience do you put into your website to make sure it is very consumer-friendly? Amazon's site is easy to use. It is designed to be effortless in selling a product. It drives customer sales because it's such a straightforward, effective process.
When you are working to build your Amazon marketing model, focus on the strategies they use.  For example, your digital marketing should always create this simple, streamlined approach that works so well for Amazon. The company's site is designed so that customers funnel from marketing right through to the purchase page in moments without any concerns. Create a human-centered design to help boost sales on your site.
Making it easy for the consumer to make a purchase is a core component of the company's success because no other website is that efficient, clear, and easy to use. Consumers want easy and straightforward. 
#7: Amazon Answers the "Why" Question
Another key reason why Amazon is working so effectively at growing its sales is that it gives consumers key information in a simple, clear manner. You may find the product listings on the site to be very thorough and detailed. They are not hiding the products they are selling or using sales language on these pages. Rather, they contain the content the consumer needs including:
Reviews

Photos

Descriptions

Value propositions – the reason why this product is best

Pricing in a clear manner

Purchase and delivery timelines

Return information

Warranties and guarantees
The list goes on. In many ways, Amazon wins because it educates the buyer on their options instead of pushing them. More so, it includes long-form content and keywords that help to organically get customers to the site. If your website is just a set of pictures, short descriptions, and a button to click to buy, you're missing out on this.
Take this one step further, though. For Amazon, this type of educational content not only delivers better sales on that page but also helps to position the brand as an expert, a trusted business to work with – and that trust is a key component of Amazon's success.
What does this all mean for your business? To be successful in e-commerce, all business owners need to employ the same Amazon marketing and business-building strategies that attract attention and capture customers.