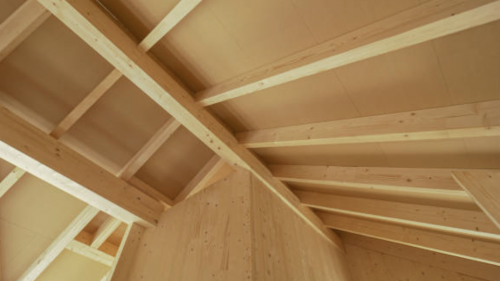 Nowadays cross-laminated timber is used everywhere as a formwork, for interior decoration, and as a frame material. You can introduce a clt panel into your building making it not only modern but also eco-friendly.
Environmental friendliness, strength, and durability
The first advantage of CLT, which should be mentioned, is that it is a natural, environmentally friendly, and safe material. In terms of insulation parameters, it is better than metal and reinforced concrete analogs.
It is much stronger than solid wood and lighter than it, and thanks to the pressing technology by which such wood is made, it can be used for finishing any premises without risk of deformation.
The durability of buildings made of it has been proven by many years of experience, because houses made of wood stand for more than a hundred years, which is not always the case with other materials.
Cost and savings
Firstly, less money is spent on the production of CLT than on almost any other material. Installation of buildings from it is carried out in the shortest possible time without the use of large lifting equipment. All this is possible thanks to the fact that this material is manufactured on the flow in factory conditions.
Since structures made of CLT are lighter, their shrinkage is comparatively less than for heavy structures.
Resistance to fire, chemical and biological influences
The following parameters are important:
In case of fire, CLT has low thermal conductivity and charring rate, it does not crack or melt.
It retains heat well inside the room, and has fairly high sound insulation performance.
It is more practical than steel and other alloys and metals, as it has effective protection against fungi and other biological risk factors, as well as against chemical substances.
This eco-material is one of the most natural for humans, and at the same time, it looks beautiful and creates a feeling of warmth and comfort.
---
Interesting Related Article: "How To Make Your Properties Environmentally Friendly: A Guide To Property Developers"