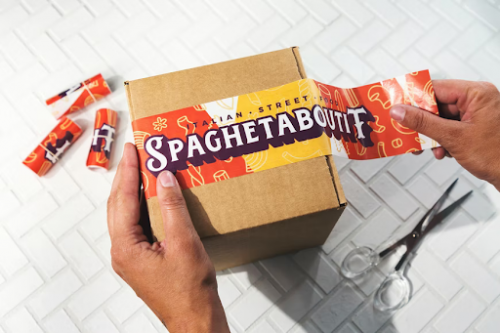 Have you realized that the packaging your goods are wrapped in is in fact a blank canvas for you to promote your brand?
If you have, then you will have recognized just how beneficial stickers can be.
You may already be using fun, stylish, or colorful stickers to enhance your packaging and make the recipients smile; which in turn can aid customer retention.
But if you are not yet using custom stickers on your packaging, you have not gone far enough. 
Using custom printed stickers matters if you want to market your company effectively, grow your brand quickly, and gain a high level of customer retention.
Custom Stickers Can Enhance Brand Recognition
When you create custom stickers, you have complete control over the design, shape, size, and material.
You could choose holographic stickers, glitter stickers, or clear stickers, to name just a few of the options available.
By designing your own stickers, you can create ones that perfectly fit your brand.
If your company is all about fun, you can create colorful and humorous stickers. Likewise, if your brand is high-end, you can use stylish stickers to add a layer of luxury and sophistication. Of course, you can also make stickers that feature your business logo.
The key object of customizing stickers in such ways is to grab your customers' attention and enhance brand recognition.
Custom Stickers Are Great Marketing Tools
Do not limit your sticker use to creating stickers that feature your logo.
Stickers bring numerous marketing opportunities. That could be as simple as placing your email address or telephone number on stickers that can be seen by both your customers and the delivery drivers.
Alternatively, you could use stickers for specific promotions. For instance, if you are running a special discount for a limited time, you could come up with a great sticker featuring a ticking bomb and appropriate wording and details.
You could even feature more of your range of products on the stickers that you place on your packaging. 
Use marketing strategies for stickers as you would for any other marketing avenue and you are sure to come up with some innovative ideas that will grab people's attention.
Custom Stickers Can Be Changed Easily
If you spend money printing your logo and other branding onto packaging, it can be a lengthy and costly process to change when you need to reinvent your brand or advertise specific promotions.
On the other hand, when you use custom stickers, you can easily make design changes quickly and adapt to your marketing needs.
Custom Stickers Are Affordable
Compared to printing directly onto packaging, using custom stickers is much more affordable.
Lowering your expenses always matters in business, so using stickers is an effective way of reducing your costs; and the savings you make can be put into other areas of your business, such as posting online ads.
Custom Stickers Provide Flexible Options
Unlike direct printing onto packaging, with custom stickers, you can place them wherever you like.
That means you could place stickers on the outer packaging as well as the box inside the packaging that contains the goods.
You can also change the size of custom stickers easily and quickly. That can be beneficial if you are running a special promotion. 
For instance, you may want your promotion sticker to be very large so that it is noticeable, but you may also want to keep your existing logo sticker. In which case, you can simply make a smaller logo sticker to give room for the other.
---
Interesting Related Article: "What Printers Are Needed For Vinyl Stickers?"