You need to plan out your advertising efforts if you want your auto repair services to stand out from the competition and gain the attention of potential customers. With that being said, one the most effective advertising channels for mechanics is Google Ads. The reason this is true is because consumers turn to Google when they are looking for an auto repair shop near them. They also tend to choose an auto repair shop that is towards the top of the Google search results. 
With Google Ads, you can be placed at the very top positon on Google. Google Ads appear above the organic search results and target the people who are most likely in need of your goods and services while excluding your competition. In addition, Google Ads enable you to connect with potential clients while they are using a variety of gadgets, including PCs, laptops, tablets, and smartphones. 
7 Valid Reasons Why Your Auto Repair Shop Should Invest In Google Ads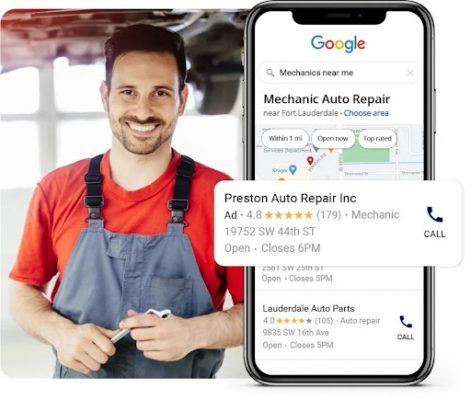 Here we give you seven reasons why your mechanic business can benefit from utilizing Google Ads. 
People spend a lot of time on the internet for auto services and auto parts. 
Consumers are a lot more tech-savvy these days. They tend to investigate before they buy, as well. The mass majority of people who shop will visit a business after seeking details about them online. 
The Google search engine is # 1 for buyers to research.
Your potential customers begin their research for a product or service there. So, typically as a business owner, you want to be where your customers are, right? Nowadays we can Google everything, and when we need help Google is a click away on our mobile devices. With this said we can agree Google has become a common tool for consumers to utilize for a necessity. If someone is having car trouble and that person Google's Auto Repair shop near me. You are one click closer to attaining a new customer. 
PPC drives leads and in-store purchases. 
The nature of pay-per-click advertising is one of the fastest strategies to increase cars in your lots. Picture someone coming across your ad, and that consumer clicks that ad, and now they are on the phone with you. The likeliness of that person becoming a customer is high solely because they found you in their time of need. 
Your Auto Repair PPC strategy can avoid wasted ad spending. 
With Google ads it is very easy to waste ad spend. Therefore, a deep knowledge of understanding consumer behavior as well as a deep understanding of the best keywords to convert are gems to your success. A well-planned and monitored Google ads campaign will help you get the best out of your investment. So you may want to consider a Google Ads consultant to maximize your return on investment. Google ads are made for people to buy or use your automotive services. Thus, this will benefit your auto repair shop. 
Cost Effective.
The cost per lead (i.e., the people who phone or fill out a form on your website after clicking on the PPC ad) can be profitable once a campaign has had some time to optimize and perform successfully. For instance, if each click on your campaign costs $3 but results in leads that end up spending an average of $500 per service at your business, the campaign is profitable and effective. 
Personalized to strategically market your Auto Repair Shop. 
Take oil change for an example. Google search advertisements can be ideal if oil changes are profitable for your business and something you've wanted to attract more consumers for. The secret is to conduct market research to determine the level of demand for oil changes in the regions you wish to expand your clientele. (This is relevant to any particular service or item an auto business might want to advertise on Google search.)
Google Ads PPC can be tracked.
Tracking is a great aspect as you can track what the campaigns are doing for your auto repair business. This tool helps you understand consumer needs and what is grabbing their attention. And drive traffic to your website or auto shop. You should take advantage of Google Ads PPC it will benefit your business. 
Begin Leveraging Google Ads Today
Now that you have heard some of the benefits of Google Ads you can come to an agreement that Google Ads can be an essential tool when it comes to generating more leads and sales for your auto repair business. Google Ads prime placement on search results gives your auto repair shop more visibility and the potential to reach new customers in your area. You will get the chance to show up in front of the right person, in the right place and time.  
Now, with some research you can be on your way and start leveraging Google Ads! And if this all seems too overwhelming or time consuming. You don't have to worry, there are Google Local Ad Services available online that can manage your Ads for you so you can focus on running the core of your business. 
---
Interesting Related Article"Why It's Important to Track Every Stage of Your Marketing and Sales Campaigns"