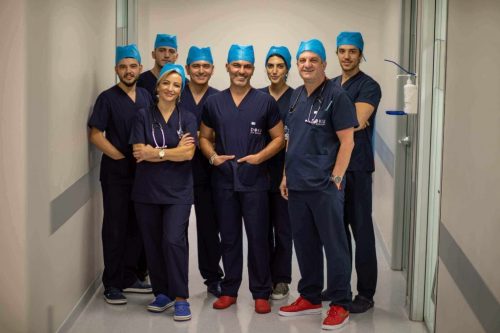 With more and more people struggling with hair loss, hair transplantation in Turkey might be just what you're looking for to solve this highly-visible condition.
Many situations can cause alopecia, also known as hair loss. Some hair loss conditions are hereditary, while others can be caused by stress or any life event that significantly affects regular body functions, including hair growth. Hair loss can be either temporary or permanent.
Regardless of the hair loss cause, trained professionals can solve your hair loss issue by using the latest technology advancements to achieve the results. Hair transplant is becoming an increasingly popular procedure people decide to resort to, and in this article, you can learn why.
About hair transplant
Hair transplant is the process of using a patch of hair to cover a bald spot with visibly thinner or less hair. In most cases, surgeons use a piece of hair located at the back or at the sides of the head to cover the front or top part of the head as the main balding spots.
The part of the hair that's being moved is referred to as the 'donor area,' while the part suffering from hair loss is referred to as the 'recipient area.'
This procedure can typically be completed using only local anesthesia.
While genetics play a significant role in hair loss, other factors can cause it as well, including:
stress;
diet;
illness;
medications;
hormonal imbalance;
head or scalp injury.
Depending on the area that needs to be covered, there are two types of hair transplant procedures—micrografts and slit grafts. Micrografts contain 1-2 hairs per graft, while slit grafts have 4-10 hairs per graft.
Who can benefit from a hair transplant
With hair loss becoming a prevalent condition, many people can benefit from this quick, effective, and long-lasting procedure. Hair transplant is mainly recommended for men, as they develop hair loss more often. However, women can get a hair transplant procedure when needed.
People who can benefit from a hair transplant are:
Men diagnosed with male pattern baldness;
Women with significant hair thinning;
Anyone suffering from hair loss due to an injury or a burn.
Where to get it done
With hair transplant becoming a more sought-after procedure worldwide, many clinics can help. However, if you're looking to get world-class results at an amazing price, Dr. Serkan Aygin Clinic should be your first choice.
As a clinic specializing in hair transplantation, Dr. Serkan Aygin Clinic is run by a professional and highly experienced hair transplant surgeon. Dr. Serkan Aygin has more than 25 years of experience in this field, ensuring his patients witness a 98% growth rate of transplanted grafts. For his excellent work in the hair transplant field, Dr. Serkan Aygin won the European Award in Medicine in 2019.
Therefore, the Dr. Serkan Aygin Clinic is  for patients who want a hair transplant in Istanbul, regardless of where they're from.
Advanced hair transplant methods
The DHI is currently the most advanced hair transplant method since it gives impressive results and the recovery is quick. With the DHI method, we combine extraction and implantation. Namely, hair follicles are extracted and directly embedded into the desired areas without the need to make incisions.
In addition to DHI, the Sapphire FUE (Follicular Unit Extraction) is another advanced hair transplant method. While the method is the same, the Sapphire tool used for this procedure was recently upgraded to achieve the best natural-looking results.
SOFT anesthesia is here to make the entire hair transplant process pain-free and comfortable for all patients.
You can find out more about all of the abovementioned advanced hair transplant methods at Dr. Serkan Aygin Clinic.
The bottom line
The modern tools and medical procedures allow you to say goodbye to hair loss forever. Today, you can get some of the most amazing hair transplant Turkey packages that include leading hair transplant methods and world-class service at cost-effective price points. Now is the perfect time to invest in a hair transplant and elevate your appearance.
---
Interesting Related Article: "Hair Care Tips And Tricks That You Need To Know"