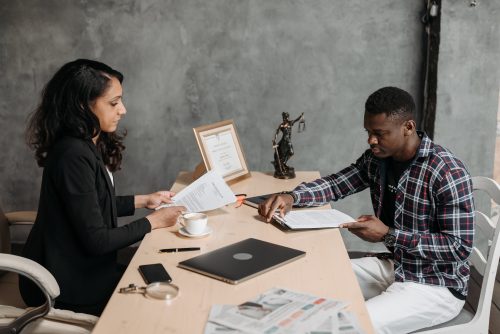 The poisonous toxins exposed in the air during the terror attack in lower Manhattan on September 11, 2001, affected many individuals. As a result, the residents, first responders, and people around lower manhattan were subjected to various chronic illnesses. Therefore, to help treat these diseases to first responders and the 9/11 victims, multiple programs were established, such as the World Trade Centre Health Program (WTCHP) and the Victim Compensation Fund (VCF). To attain the compensation,  you do not necessarily need a lawyer. Notably, to qualify for compensation, all you require is proof that you were there at the time of the attack. However, due to the complexities of navigating these programs, victims choose to have  9/11 lawyers represent them.
In most cases, delays and denial of access to compensation by these programs are usually a result of missing paperwork to prove you are eligible for compensation. However, with experienced and knowledgeable  9/11 lawyers such as Weisfuse & Weisfuse, you are guaranteed that with their expertise and experience gathered over the years, they can collect the evidence required to make a case.
 9/11 lawyers will also help you navigate challenging tasks such as:
Getting around the various qualifying requirements (e.g., responder, survivor, etc.).
They also ensure to submit a comprehensive, accurate, and timely application.
They provide the VCF with evidence of financial and non-financial losses related to your health condition.
Using exposure zones to determine your eligibility includes claims for persons living south of Houston Street
Here are some of the benefits of hiring a 9/11 lawyer to handle your claim:
It will help you focus on your health and your family
Compensation application is time-consuming. Additionally, it is demanding as more information, documents, paperwork, and evidence will be required in the process to prove your eligibility. However, if you hire a lawyer, they will ensure to take care of all the documents and paperwork needed. Thus, this gives you ample time to focus on your health, spend more time with your family, and focus on other things to enrich your life.
They ensure all deadlines are met
Another advantage of hiring a 9/11 lawyer is ensuring that all deadlines are met. These primarily include application deadlines that shouldn't be missed.
They will make your illness recognized by WTCHP
Another advantage of having a 9/11 lawyer is that they assist you in obtaining the World Trade Center Health Program's recognition of your illness. Notably, your condition must be among the listed illnesses in the WTCHP list to get compensation. Therefore this step is essential.
They will get you all the documents
Lawyers will ensure they have all the necessary documents. They are experienced and aware that you will not get compensation without these documents and paperwork.
They will fill out the application
Lawyers will also help you fill out the application completely and accurately, with no errors or missing documents. A mistake almost always results in a claim being refused or delayed. Note that whenever you have an error in the application, the process is halted until the problem is resolved, and fixing these errors may take lots of time. Therefore lawyers will ensure to be keen on errors throughout the application procedure.
In conclusion, a 9/11 lawyer will play a crucial role in the compensation process and ensure they do their work diligently to get your compensation without delays.
---
Interesting Related Article: "Should You Work with A Specialty Law Firm or a Generalist Law Firm?"