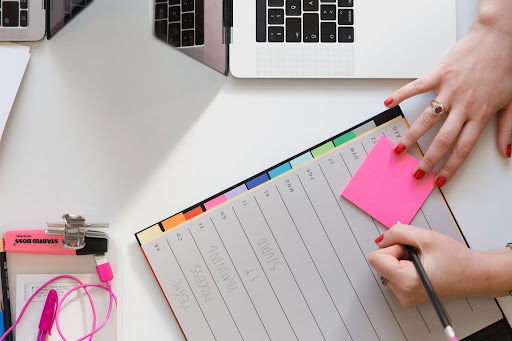 If you are a business owner, a freelancer, or just interested in organizing your days and being more productive – a planning tool is an effective way of making the best out of your workdays. Especially since the pandemic and the fact that more and more people are working from home, distraction seems to be sneaking up on us, but we can fight these constant distractions and focus on productivity with the right tool. In this article, we want to cover all the good reasons why investing in planning tools is a great idea that will pay off!
Are you using a planning tool?
Planning tools come in all shapes and forms and optimize our day-to-day work life in so many practical ways. Let it be by organizing our meetings, helping us structure our days, or even allow us to track the working time of our employees. Luckily there are so many different options out there, and it seems like there are constantly new and practical tools available on the market. Are you currently using a planning tool, or are you looking for new ways to optimize your business? If so, looking at planning tools is a must. As we already mentioned, the amount of possible tools is immense. This is one comprehensive advantage since it gives us the options to find the right tools that work for us, our employees, and the company, but it is also overwhelming on the other hand. It takes a lot of time and patience to find the right tools, which might be a problem. Not everyone has the time and energy to try out new tools every day, especially not when it comes to businesses. Because of that, we want to help you find the right planning tools for your company or your day-to-day life.
The advantages of using a planning tool:
You are thinking about implementing a planning tool into your business but are not 100% sure if this is the right option for you? Don't worry; we want to introduce you to some of the advantages of using planning tools.
Lots of different tools on the market
How about rota planning online and tracking your employee's working times? All of this with only a few clicks? Believe it or not, but there are so many different tools that will help you to improve your business. To find the right one, look at what you want to improve when it comes to your company or even yourself. Want to be more productive? Or track your employees' times? Whatever it is, there is a tool out there that will help you to make improvements.
Saves you time
One of the many perks of using planning tools is that you save a lot of time. For example, rota planning online collects all the data automatically, and you don't even need to write down all the information individually. Another example would be a meeting planner. As soon as you schedule a meeting, send an invitation to everyone who should attend and send a reminder shortly before the meeting starts.
Easy to use by your employees
Most of the planning tools are relatively easy to use, and you won't need much time to get the hang of it. This is great for companies with many employees since these types of tools are self-explanatory, and your employees can use them instantly.
---
You may be interested in: Useful Tools & Resources to Make Your Startup Smarter in 2021