Every year, millions of people worldwide travel to Istanbul, Turkey, to explore its historical and cultural landmarks, marvel at its natural beauties, and enjoy its delicious food. Those dealing with hair loss flock to the city to get a high-quality hair transplant at a fraction of the cost.
That's why Istanbul has become a hotspot for hair transplants. Read on to explore the top reasons why you should opt for Istanbul when considering hair transplant surgery.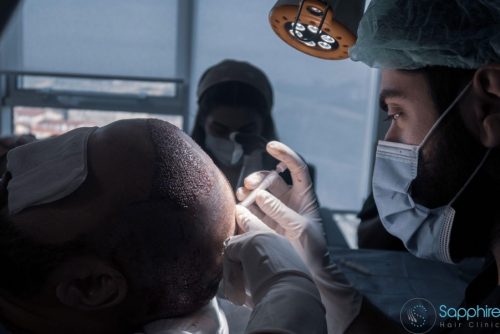 Excellent clinics with hair restoration experts
Turkey boasts of some of the best hair transplant surgeons worldwide, predominantly working in its most populous city. That's why getting a hair transplant in Istanbul means putting your trust in the safest and most capable hands.
One of the most renowned clinics specializing in hair restoration is Sapphire Hair Clinic. This clinic in Istanbul is where you'll find a highly-skilled, robustly-trained, JCI-accredited, experienced, and dedicated medical team that goes the extra mile to ensure patient safety, comfort, and satisfaction.
The clinic's founder, Dr. Okan Morkoç, is the lead aesthetic plastic surgeon who specializes in hair transplants. He completed his residency at Istanbul's Haydarpasa Numune Training and Research Hospital, specializing in Plastic, Reconstructive, and Aesthetic Surgery, after graduating from Akdeniz University's School of Medicine in Antalya.
With over 25 years of experience, he has over 25,000 satisfied hair transplant patients.
The lowest prices worldwide!
Hair transplants are typically quite expensive, but they're a real bargain in Turkey.
For instance, if you were to undergo the procedure in the US, you'd have to pay between $11,400 and $15,900. In the UK, the procedure can cost up to £30,000 (nearly $41,000).
A hair transplant in Istanbul costs between €1,500 and €5,000 (roughly $1,700 and $5,700, respectively). The price depends on many factors, including the number of grafts, the procedure, and the service quality.
Why is it so cheaper in Istanbul and the rest of Turkey?
This transcontinental country has a devalued currency, low labor costs, and a lower cost of living than most developed countries. That's why Turkish clinics (including Sapphire Hair Clinic), on par with the most-renowned clinics globally, offer services at affordable prices without sacrificing quality.
High quality at a fraction of the cost is what makes them stand out.
All-inclusive packages for a stress-free experience
All-inclusive packages are another reason why Istanbul is the top destination for hair transplants. For instance, Sapphire Hair Clinic provides the following all-inclusive services for every hair transplantation procedure:
Free consultation
Free hair analysis and hairline planning
Blood tests
Local anesthetic
Platelet-rich plasma (PRP) therapy
Post-op medication
Hair products for aftercare
Hotel accommodation (breakfast included)
Airport-hotel-clinic transfers
Most Turkish clinics follow up with their patients for a year after the procedure, but Sapphire Hair Clinic provides two-year follow-ups – another reason to choose it.
Cutting-edge hair transplant techniques
Many clinics in Istanbul utilize cutting-edge technologies to achieve excellent results, and Sapphire Hair Clinic is not an exception. It uses state-of-the-art surgical tools and innovative hair transplant methods to ensure top-notch quality.
Sapphire Follicular Unit Extraction (FUE) and Direct Hair Implantation (DHI) are some of the most advanced techniques that Dr. Okan Morkoç and his team use. Both are based on the FUE hair transplant technique but provide better results.
The Sapphire FUE method involves extracting hair follicles from the donor area using a motorized tool with sapphire blades. They ensure higher precision than the traditional steel blades. While preserving the hair grafts in a special liquid to ensure their survival, the surgeon uses the same tool to open micro-channels in the recipient area and insert the grafts.
A DHI hair transplant has fewer steps. Instead of making incisions, the surgeon uses a Choi implanter pen to extract and implant follicular units simultaneously. The pen-like tool features a hollow needle that allows the doctor to store the hair grafts inside and match the transplanted hair to the natural angle and direction of hair growth.
Since the DHI hair transplantation method involves no incisions, Dr. Okan Morkoç uses it for beard transplants as well. That way, there are no visible scars.
Remarkable results that last
Sapphire Hair Clinic is dedicated to achieving superb results that last. Thanks to Dr. Okan Morkoç's unparalleled expertise and meticulousness, every patient gets a full head of healthy hair and a much-needed confidence boost.
The doctor is an expert in stimulating hair regrowth and helping each patient's transplanted hairs grow naturally. He takes time to plan every hairline carefully to ensure natural-looking results and restore people's youthful appearance.
Check out the clinic's Before & After website page for an insight into his work. The clinic updates the photos regularly to showcase the surgeon's expertise and help them make an informed decision.
Sift through genuine patient reviews on various third-party sites as well. They speak volumes about the clinic's service quality and Dr. Okan Morkoç's medical prowess.
Conclusion
Getting a hair transplant in Turkey typically means receiving first-class care and impressive results. Picking the right clinic is vital, and Sapphire Hair Clinic in Istanbul might be your best way to go. As it offers superior quality at competitive prices, it's no wonder thousands of people choose it.
Schedule your free, non-binding consultation with Dr. Okan Morkoç to learn more about different hair transplant procedures, discuss your options, and grow back your natural hair.
---
Interesting Related Article: "5 Causes of Male Pattern Baldness"