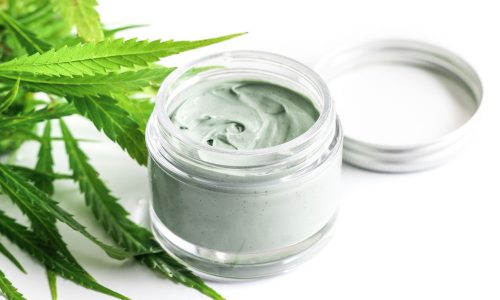 Topicals are personal-care products that are applied to the skin, such as lotions, creams, and balms. CBD cream is one of the hottest varieties right now and is said to be a great choice for easing joint and muscle pain. Many experts believe CBD topicals are most effective when they contain a little THC. Here's why.
THC vs. CBD: Similarities and Differences
Before we delve into why THC and CBD are better together in topicals, let's take a quick look at these two amazing compounds.
THC and CBD are both cannabinoids and just two of the hundreds of active compounds produced by cannabis plants. THC is best known as the chemical that causes the infamous marijuana high. On the other hand, CBD is non-intoxicating but has a range of potential health benefits.
Although THC and CBD work differently, both interact with a physiological system called the endocannabinoid system (ECS). It regulates essential functions like mood, appetite, immunity, and more.
THC binds with receptors in the ECS, which is what causes its mind-altering effects. CBD does not bind with these receptors directly, but it alters how THC does and enhances the system's activity overall.
How THC and CBD Work Synergistically 
Many experts believe THC and CBD work together synergistically with other cannabis compounds. This phenomenon is commonly referred to as "the entourage effect."
Some report that CBD can help to round out THC's effects, reducing the severity of common issues like anxiety and paranoia. It also appears that using the two together can amplify the benefits of both substances.
Many other active compounds exist in the cannabis plant, including CBG, CBC, CBN, aromatic terpenes, and flavonoids. These chemicals also have distinct benefits when added to the mix.
CBD products that contain the entire range of cannabis compounds are known as "full-spectrum." Many believe they are more effective than isolates containing CBD alone.
Another option is "broad-spectrum" CBD, which is similar to full-spectrum, minus the THC. 
These products are great for those concerned about consuming even traces of the compound. However, since topicals are applied to the skin and generally contain low levels of THC, there is no risk that these products will cause a high.
Why THC and CBD Are Better Together in Topicals
Topical products such as CBD cream are often full-spectrum, which is fantastic news for consumers. It means they benefit from CBD, THC, and the other valuable compounds mentioned above.
One of the main reasons people use CBD topicals is to relieve joint and muscle pain. CBD is known for its anti-inflammatory properties, which make it a great choice for individuals with these issues. THC also has pain-relieving properties, meaning that the two should make an effective treatment when combined.
Many manufacturers add other soothing ingredients to their CBD topicals. Common examples include cooling menthol and warming capsaicin (from chili peppers). Other botanicals such as coconut oil and shea butter help to make the products as skin-friendly as can be.  
The Best Topicals with CBD and THC
When buying CBD cream, it is essential to find a reputable supplier. Sadly, the market is flooded with low-quality goods due to a lack of regulation. This means that consumers must conduct thorough research before making a purchase.
Look for a brand that uses high-quality hemp and other natural ingredients in their CBD topicals. Meanwhile, avoid harsh additives that may dry the skin and cause irritation or rashes. Check what other activities are in the products and research them to determine whether they will meet your needs. And choose full-spectrum CBD whenever possible, so you benefit from both CBD and THC.
Another key feature of top-quality CBD creams is that they should come with independent, third-party lab reports. These important documents confirm the product's CBD and THC content, the presence of other beneficial compounds, and the absence of contaminants. They prove that a company has confidence in its products and nothing to hide.
---
Interesting Related Article: "What is CBD Oil, and How to Pick the Right One for You?"