High-quality UX/UI design is what distinguishes a successful site or mobile application from others. Nowadays, the designers' attention is paid to the user, thus UX and UI are the main instruments for this. Their main task is to make a product convenient and clear for the user.
What is UX/UI?
UX, or user experience, displays the user's actions on a website or in an application. The designer creates an app focused on a typical user. A good UX helps the user navigate the app with ease. UX designers study people's actions: what they click on and look for, how long they stay on each page, etc. Based on this information, designers improve app features. An example of the UX evolution — filters and categories in online stores. More details can be found at  https://www.purrweb.com/services/ui-ux/
UI, or user interface, shows how users interact with the product. It focuses on navigation elements and layout. The interface also solves problems such as response speed, efficiency, and accessibility. Other important features of a seamless user interface include a consistent layout and appropriate graphic style.
Why does every project need UX/UI?
We all know how important the first impression is. When it comes to a digital product, UX/UI is responsible for this first impression. It is essential for a new company to get off to a good start. What other benefits can UX/UI design bring?
A good UX/UI increases profits
Every business aims at making a profit. In fact, profitability is a reflection of its success. Investments in smart user experience can bring you a significant financial return. One major e-commerce website has changed just one button and increased its annual revenue by $300 million. The "Register" button, which required users to create an account and proceed with a payment at the checkout, was replaced by the "Continue" button. By doing this, the online store allowed users to buy goods without registration, while the right to register at will facilitated future purchases.
This small change has greatly improved the user experience and explained the importance of UX design. As a result, bounce rates and the number of abandoned baskets decreased, while sales grew by 45%, bringing $15 million in revenue in the first month. During the first year, revenue growth reached $300 million.
A successful UX/UI boosts your brand reputation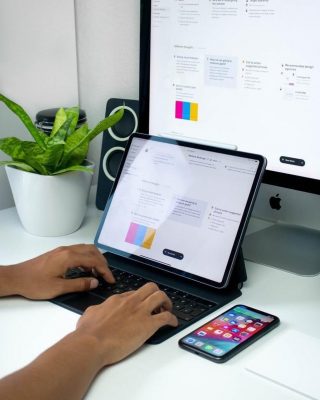 While a flawless UX design may be considered a norm, a bad UX will not go unnoticed. Consumers are more likely to leave feedback about their negative experiences, convincing other people not to cooperate with a particular company. Thus, a poor UX leads to the loss of potential users along with the frustration of the existing ones.
Many reputable websites like Google or Amazon have one common feature — they are very easy to use even for a beginner. If your site or application is user-friendly, it strengthens the reputation of your company and shows that it cares about its customers. This approach encourages users to become brand advocates. Moreover, not only your target audience but also your competitors will talk about you if they are impressed by the user experience of your web product. Positive feedback will quickly spread via social media channels.
An advanced UX/UI engages new customers
Modern users are always in a hurry. Their concentration never lasts longer than 9 seconds. And the first 3 seconds are the most crucial. During this time, users determine how good the site is and whether it is worth staying there. User experience is vital here. The website design should clearly convey information to visitors within several seconds and be user-friendly to hold their attention. Otherwise, most new visitors will never return to your site.
A well-thought-out UX/UI retains customers
If users face a difficult registration procedure or have to do something they are reluctant to do, they will simply leave the site without even trying to complete the process. Such user experience results in high bounce rates and abandoned baskets.
Conversely, a great user experience encourages satisfied visitors to stay longer on the site, exploring its various pages. The longer and the more willingly they interact with the site, the higher the conversion rate is. They are more likely to perform targeted actions such as purchase, subscription, registration, etc.
A good UX/UI increases customer loyalty
Excellent user experience increases customer satisfaction. Loyalty is a credit of trust that customers give you in anticipation of getting a first-class experience in return. Loyalty is when your customers like your product so much that they repeatedly select your brand among competitors.
According to research, loyal consumers are ten times more valuable than at the time of their first purchase. Other statistics show that there is up to 70% probability of selling the product to an existing consumer, while only 20% — to a potential one. Since loyal customers are more valuable to the business than new visitors, it is important to gain and maintain their trust, and a good UX design company helps.
Key takeaway
Some startups neglect the importance of UX/UI design, and there is no wonder that their initiatives are doomed to failure. But these failures can be minimized by engaging a UX/UI designer in your project. They will help realize your idea, taking into account all the expectations of your future customers. The key idea of implementing the core features of UX/UI design is to understand the psychology of your customer, know what they want, and be able to offer it to them immediately. It will help you predict the behavior of your customer and always be a step ahead of your competitors. And it is the main condition for your business success.
---
Interesting Related Article: "Why Utilizing UX Services Is Vital for Your Businesses' Success"