With 2020 having disrupted work and play processes in innumerable ways, one clear trend that has emerged is a work-from-home culture. Seeing how this year is progressing, this trend seems likely to continue well into 2021 and beyond. Let us take a look at some unique hurdles that organizations have overcome to create winning sales teams in this new normal.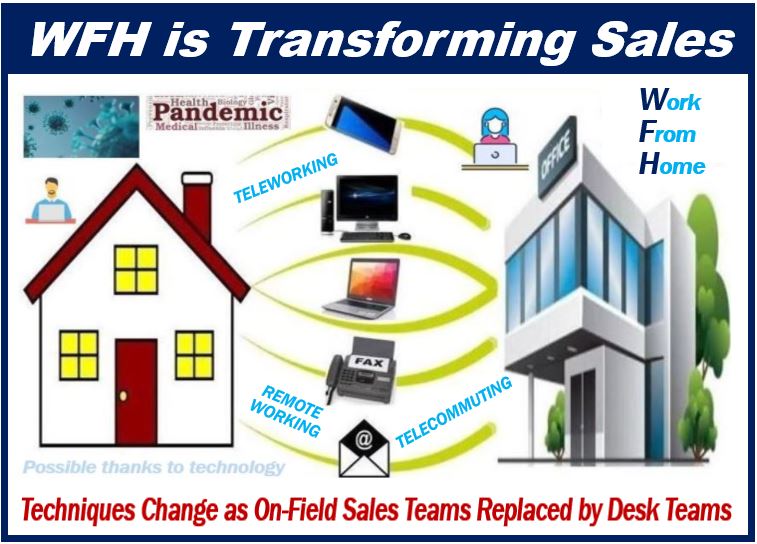 How Sales teams are tackling todays biggest challenges
Challenge 1: On-Field Sales
On-field sales have been halted or interrupted in many countries due to constantly changing pandemic restrictions.  Many organizations have reacted by adapting the techniques used by their inside sales team's techniques to their on-field teams.
What sales teams are doing. On-field sales teams are leveraging the power of CRM integrated communications to create and maintain efficient processes. The CRM integrations allow sales representatives to keep track of their meetings and follow ups. Auto logins of calls and chats are allowing reps to spend less time on compliance and more time on conversations.
Challenge 2: Telemarketing
There's no denying that Telemarketing and other remote forms of marketing communication have become more essential. But have they become more effective? For instance, Ozonetel's 2020 Call Center Metrics study reveals that though the number of calls being made by organizations has increased across sectors, there is a decrease in answer rates.
In 2019 organizations that were making an average of 90 calls per agent per day, are now making up to 192 calls per agent per day! Conversely, answer rates are down from 46% pre-pandemic to about 38% in 2020.
What sales teams are doing. To increase answer rates, here are some concrete steps that businesses are taking:
Strategic scheduling: On completion of a certain volume of calls, a pattern emerges regarding when the target audience is more receptive to answering calls. For example, working professionals may answer calls during the lull period post lunch time, whereas retired people may prefer calls in the morning. Businesses are strategically scheduling their campaigns to reach out to their prospects at the optimal time. If a campaign is unsuccessful at first, they schedule retries at another time to improve results.
Cloud based Auto dialers: There is only one way to get more prospects on the phone, and that is to dial more prospects per agent every day. To do this, even smaller businesses are quickly adapting easy-to-use technologies such as phone-based dialers. There are no setup or maintenance costs for companies to use these auto dialers. And since most solution providers offer very flexible pricing plans, many businesses increase or decrease their number of agent seats monthly to keep running costs low.
Challenge 3: Inbound lead management
Inbound lead management is today more important than ever before. Promptly replying to every inbound lead is the key to improving conversions. Studies have proven that conversions are 21 times more likely if you call a lead within five minutes of their filling out a lead form. In 2021, the customer is more impatient that ever before. So, its critical for businesses to ensure they have a system in place for securing those conversions.
What sales teams are doing. Companies are ensuring that web leads are converted faster and pushed to sales in real time, with technology a simple CRM and CTI integration. Using this, sales teams are not just instantly alerted when a webform is filled, the call is auto dialed and connected in seconds. All the lead details are visible on the sales representative's CRM screen to ensure the prospect has the best possible sales experience.
Challenge 4: Employee morale
To say that 2020 has been a stressful year, is an understatement. While organizations did their best to meet new customer expectations and challenges, they have had to cater to employee challenges as well. The adjustment across the board, due to a new and sudden work from home situation, new processes, technology and stressors in the home environment, have definitely impacted morale and productivity as well.
What sales teams are doing. This year, successful businesses are those that have pivoted fast. This includes creating new systems for their sales teams to hire, report, onboard and share. Leaders have learnt to be more flexible, supportive, and empathetic. Incentive programs, in-built engagement and incentive processes within agent work systems, virtual team meetings and discussions are all part of boosting employee engagement and ensuring that the work experience stays enriched and with direction.
Challenge 5: Changing customer preferences
In 2020, many face-to-face meetings converted to zoom calls and phone calls. As a result, customers want shortcuts and respite. Many more people are texting and resorting to digital channel than ever before, and in the next year it is critical for businesses to cater to these changing communication modes.
Solution: The importance of omnichannel communication cannot be stressed enough. Businesses who had placed their omnichannel plans on the backburner, have had to accelerate these with speed. Many were able to pilot their virtual assistant programs. The seamless management of these channels and AI powered solutions are now key to the future of sales.
Conclusion
Dealing with and managing a new normal has been the defining factor in how some organizations have thrived in 2020. Some were able to pivot with ease while others are struggling to survive. A key to success has been good communication, whether that was communication between teams or with customers.
Technology has played an important role, but the defining aspect of all successful implementations has been to increase the time and ability for people to empathize with each other more than ever before.
---
Interesting related article: "What is Teleworking?"