If you are a businessperson or ever tried to sell a product or any kind of service you would understand why planning is important. Developing a business plan is necessary for you to set up a successful project. This is no different when it comes to setting up a fuel service station. It may come across as tedious and difficult at first but you will realise that it is not as intimidating as you may have thought when you start writing your business plan.  Below are some useful tips for writing up a fuel service station business plan.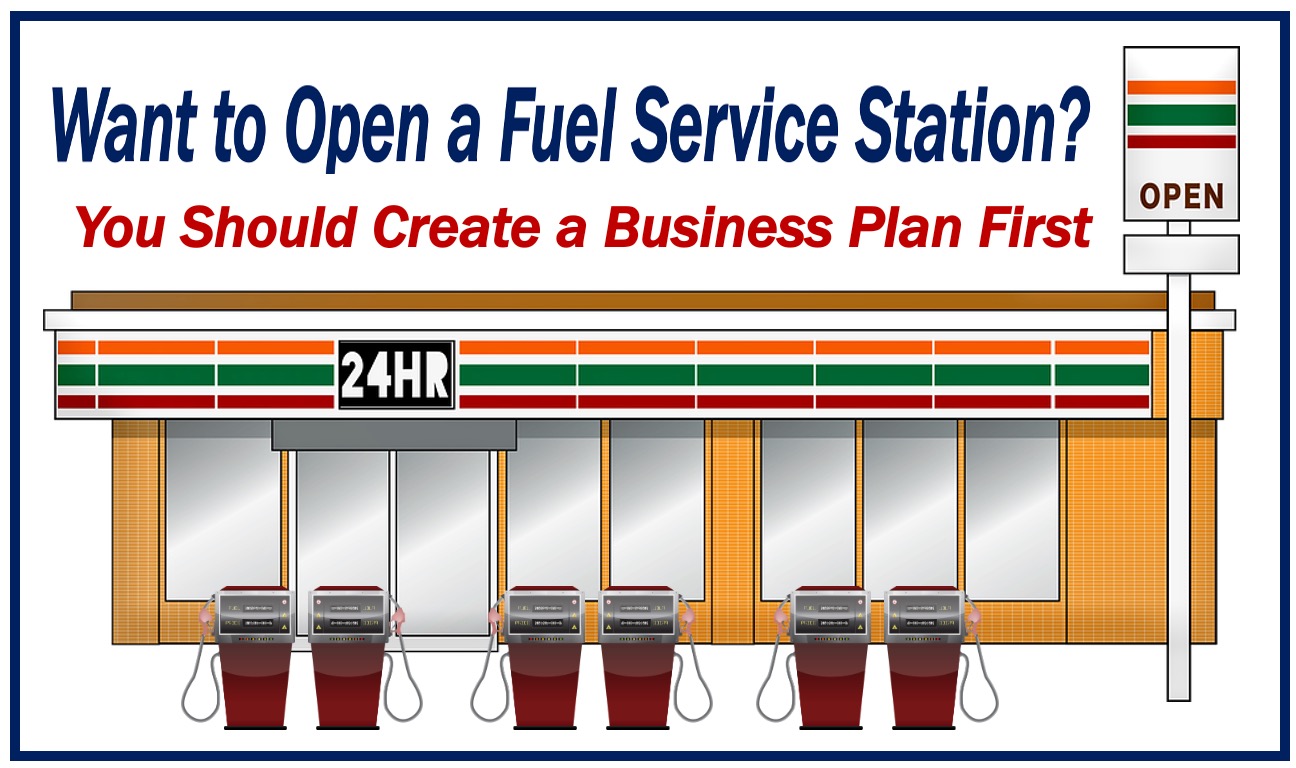 Purpose Of Your Business Plan
First, you need to determine the purpose of your fuel service station business plan. Are you writing the business plan in order to present it to the bank for a loan? Or it is for you to map out how you are going to run your business? The purpose of your fuel service business plan determines how you will write it as well as the content you will include. If your business plan is for applying for a loan there are some detailed information that should not be added such as internal information that is meant for yourself and your team. Information such as your financial plans, forecasts and cash flows are essential for business plans meant for funding. You can include summaries of your strategic plans, operational and marketing plans in a business plan that will be used to obtain funding.
Other important information such as risks analysis and a brief background about the management team and directors should also be included. If the business plan is meant for internal use then you can include as much information as you want. Determining the purpose of your fuel service business plan can help you focus on what to put in the business plan and what not to add. This way you can avoid wasting time and resources researching information that may not be useful.
Validating Your Business Idea
A lot of entrepreneurs skip the validating stage which can be detrimental. When developing your fuel service station business plan you must make sure that you assess whether or not your business idea is worth pursuing. You can validate your fuel business plan by outlining your key assumptions, your value proposition and being clear about the problem you are solving. If you cannot, in a few sentences, describe the problem you are solving for your customers you may want to go back to the drawing board.
You can also consider speaking to a few of your potential customers to see if setting up a fuel service station will be profitable. Spend some time thinking about why you want to setup such as business and what your vision and goals are. Validating your business is essential when developing your fuel service business plan because it can help you approach the plan objectively and prevent you from wasting time and money pursuing an idea that it not worthwhile.
Research Your Industry
After determining the purpose of your fuel service business plan and validating your idea, you must spend enough time researching the energy industry. You must know who your suppliers are, who you will be competing with as well as have a reasonable understanding of your market. This is important information because it will help you develop your competitive advantage and help you figure out where you will fit in.
Understanding your industry is not just for your fuel service business plan it helps you pick up any existing opportunities that you can capitalise and detect any threats that you should look out for. There are 3 common types of industry analysis models that you can adopt to research your industry for your fuel service business plan. These are: Porter 5 forces, broad factors analysis also known as the PEST analysis, and a SWOT analysis.  Using any one of these models can help you understand your position within the fuel services sector. You must take note that researching your industry is not a one-time thing. You will need to continuously assess your industry to remain competitive.
Location
Having done an industry assessment you can be in a better position to find your market. The next step will be thinking about where your business premises will be when developing your business plan. In fact, when writing up your fuel service station business plan, one of the first things you may have thought about is where your filling station(s) will be located. The location of your fuel station is usually determined by vehicle traffic. It is always best to place it close to a growth centre or urban area.
Depending with your market, you may want to place it close to a highway. There are other factors to consider when deciding where your garage will be located such as the distance between other filling stations with the area you choose. In some cases, having 3 or more filling stations can be ideal especially in and around the CBD. It may not be a good idea where there is not much traffic.
The area of land where your filling station will be located should allow for moving of vehicles and should not disturb the flow of traffic. Issues relating to the location of your filling station are important to consider when developing your fuel service business plan. That way you can figure out how practical your fuel service business idea is based on your market and if you can generate enough revenue from your specified location.
Licensing
Another tedious part about developing a business plan for your fuel service station is obtaining a license to operate your business. Each country has different regulations on how to obtain a license or a permit you need to sell fuel. In some countries, you may have to visit the relevant ministry or energy regulatory body. Ensure that you gather all the relevant information about the requirements that you need to apply for a license or permits to register your business. It is always best to plan such admin work on time to avoid disappointment.
---
Interesting related article: