Yoga can improve your physical and mental health, but do you know it can help you lose weight? Here are the best yoga poses for weight loss!
Yoga is a traditional and holistic health approach that connects your mind, body, and spirit. Yoga for beginners is beneficial, reducing the risk of chronic health conditions including heart disease, diabetes, stroke, obesity, and depression.
Weight loss can lower blood sugar and cholesterol levels, causing less stress on your joints, muscles, and bones. Many people ask about the best yoga poses for weight loss. Today's article will give you a list of yoga poses for beginners to lose weight effectively and quickly. Read on!
Yoga for Weight Loss
Although yoga supports physical, emotional, and spiritual development, it also helps people lose weight effectively. It helps burn extra fat accumulated in your body, particularly in the abdomen region. Yoga is a safe activity which also prevents you from purchasing expensive weight loss supplements. Here are some of the best yoga poses for weight loss.
The Plank Pose
The plank is one of the easiest Yoga poses for beginners. It allows you to lose weight in the abdomen and legs and maintain a healthy posture. Not only does the plank pose improve metabolism and flexibility in your muscles, but it also strengthens your core. Here are the steps to perform the plank pose:
 

Lie face down and lift your body

     

Keep your arms straight

     

Balance your toes to distribute your weight evenly

     

Keep your face forward or down and hold the position for 30 seconds

     

Extend the duration depending on your stamina
The Cobra Pose
The cobra pose is an effective workout that burns fat in your abdomen region and tones muscles. It is one of the best yoga poses for beginners to lose weight, especially when you include it in your daily fitness regimen. Remember, a balanced diet combined with the cobra pose can help you get a well-toned, flexible, and flattened tummy. Here is how you can perform the cobra pose:
     

Lie on the floor and make sure your face is down

     

Spread your hands on the yoga mat

     

Make sure your shoulders align with your hands

     

Stretch your legs back and ensure your toes touch the floor

     

Lift your upper body after inhaling slowly

     

Ensure your pubis and toes touch the floor

     

Stay in this position for at least 30 seconds

     

Exhale and come back to the starting position
The Boat Pose
Yoga poses for beginners is incomplete without incorporating the boat pose. Expert yogis recommend this pose for beginners because it can strengthen your abdominal muscles, spinal muscles, and hip flexors.
In addition, it also relieves stress and improves your gut health. Remember that improved gut health is directly proportional to optimized metabolism, allowing your body to burn fat content at tissue levels. Here are the steps to perform the boat pose:
     

Lie down on a comfortable yoga mat

     

Make sure your face is looking up toward the ceiling

     

Position your hands by your side

     

Relax your shoulders

     

Straighten your legs

     

Raise your hands and legs slowly from the ground

     

Engage your abdomen and make a V-shape at a 45 degree angle

     

Stay in this position for 30 or 60 seconds, depending on your stamina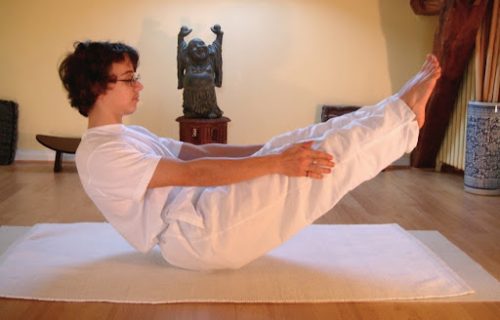 The Downward Dog Pose
The downward dog pose is an integral part of yoga for weight loss. Practicing this pose allows you to stretch your spine, open your hips and chest area, and increase your range of motion. It improves your overall posture and burns extra fat effectively. Follow the steps given below to get the most out of the downward dog pose:
Start the pose by placing your hands on the floor

Make sure your hands are shoulder-width apart

Tuck your toes into the ground or mat and lift your knees

Extend or lengthen your spine while pressing through your hands and feet

Engage your abdominal muscles and pull your pelvic region toward the ceiling

Maintain normal breathing and hold the position for as long as possible
Yoga Poses for Weight Loss – Final Words
Yoga for weight loss is a powerful tool to develop and tone your muscles. It improves your metabolism, maintains your gut health, increases blood circulation to your muscles, leading to effective weight loss.
Yoga helps men and women lose weight in different body parts, especially in the abdominal area. These four yoga poses for beginners can help you burn extra fat quickly and achieve your weight management goals. 
If you would like to lose weight, Yoga Poses for Weight Loss is also one of the best weight loss methods.
---
Interesting Related Article: "Benefits of Yoga Supported by Science"