Fast and On-time delivery of products to the customer and safe return back to product owners is considered paramount for successful rental businesses. All this consists of a hectic workflow, including onboarding vendors and customers, managing the orders, updating inventory, damage recovery of the products, etc.
A rise in rental businesses has been observed with increased demand for sharing resources such as cars, furniture, equipment, etc. The recent research on the sharing economy and rental businesses by Brookings explains the magnificent growth of rental businesses from $14 billion in 2014 to $335 billion in 2025. Furthermore, the heavy equipment rental business is also expected to grow at a CAGR of $4.5% by end of 2027. 
If you are planning to launch an online rental business with intuitive features and a smooth user experience, we have got you covered. Yo!Rent is an efficient multi-industry rental marketplace solution with all the functionalities and modules required by online rental businesses.
What Is YoRent?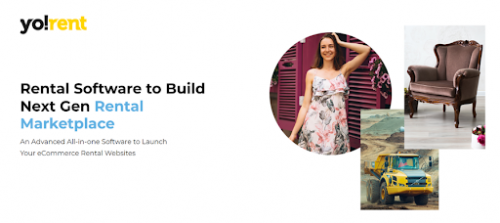 YoRent is a ready-made rental software to launch online rental businesses with advanced renting and selling functionalities. The software is in service since 2015 and currently powers 500+ rental businesses across the globe. Yo!Rent is a completely white-label rental marketplace solution that can be customized as per business requirements.

Being a globally accepted rental software, Yo!Rent covers 30+ industries and is completely dedicated to the rental economy. Since rental businesses have similar use cases in multiple industries, Yo!Rent comes with dedicated modules and flexibilities to deliver a fully functional rental marketplace for rental businesses in numerous industries.
While most of the rental software available on the internet come at recurring charges, which add to the overhead expenses of the business, Yo!Rent is available at a one-time cost for lifetime ownership. Additionally, detailed documentation of all the features and add-ons make it easier for the business owner to simplify the onboarding process for vendors and customers. There are in-built dashboards for admin, vendors, and customers which makes it easier to manage the platform and keep all stakeholders updated with in-house developments. 
Industries Catered By Yo!Rent
Yo!Rent as a ready-to-go rental software offers services in 30+ industries. With its business friendly and industry-specific modules, it gets easier for entrepreneurs to launch their businesses with minimum technical knowledge. 
The dedicated modules in the software help entrepreneurs build an online rental store where the owners rent products on their own. Yo!Rent also has dedicated functionalities to start a multi-vendor rental marketplace where marketplace owners can invite other sellers to rent out their products.   
Below is the list of industries where Yo!Rent has proved itself as the best rental software:-

Heavy Equipment Rentals-How to Start

Car Rentals/Car Sharing

Party Supplies Rental

Dress Rental 

Furniture Rental

Adventure Gear Rental

Camera Rental and more
How Can Vendors Rent Out Their Products On Yo!Rent?
Determining the overall experience of the users, renting products on businesses launched with Yo!Rent is extremely easy. Vendors can create an account on the marketplace, list their products along with price, and start renting out their products.
Yo!Rent takes complete care of the users on the platform and has provided multiple options for sellers to set the price. These options include:
Rental Price: This price is added by sellers where they add a fixed rental price for the product and customers rent the product after making the payment
Request For Quote: RFQ is another pricing module where the customer requests a price quote from the seller and the final price is fixed after the agreement of both parties. This payment option is significant for bulk orders and B2B businesses.
Selling price: Since Yo!Rent has modules to rent as well as sell products, Sellers can also add the one-time selling price for the product. 
Modules For Rental Operations
Yo!Rent has dedicated modules that ensure customer safety and a secure user experience for vendors and customers. The platform is fully GDPR compliant and also helps vendors in tax management. There are more than 20 globally accepted payment gateways that provide multiple payment options to the customers. 
Management of eSign and Agreements
Rental Businesses launched using Yo!Rent have a module where sellers can upload a rental agreement. The rental agreement has all the rental terms and conditions with respect to the products to be rented. The customer has to electronically sign the agreement before the final confirmation of the order.
Advanced Rental Security
The customer has to deposit advanced rental security to the vendor to place the order. This security amount is refundable after the safe return of the product to the vendor. However, the vendor and marketplace admin have the right to withhold the customers' security deposit if they don't return the item on time. 
Product Inspection
Yo!Rent comes with a product inspection module that allows customers to inspect the product once it gets delivered. And the rental period starts only after the customer approves the product. If the delivered product is found to be damaged or inappropriate, the customer can place a return request for the same. This dedicated module adds up to the mutual integration of users with the platform and creates trust among the customers. 
Tiered Pricing & Price Surge Module
Yo!Rent comes with a tiered pricing module that allows vendors and marketplace owners to set flexibility in pricing by adding weekly and monthly rental charges. Additionally, the product owners can also provide additional discounts on bulk and long-term rental orders.
The price surge module in Yo!Rent helps vendors by manually increasing the rental price for the most demanded products during certain occasions. 
Other Features of YoRent Rental Software
Yo!Rent has several other features that streamline rental operations throughout the platform. The other additional features include:
Advanced booking calendar

Brand management

Product reviews

Third-party plugins for efficient marketing

User management

Tax Management

Commission Management 

Analytical Reports 

Product Comparison and many more.
Revenue Generation Options In Yo!Rent
Yo!Rent incorporates multiple revenue generation methods for the marketplace owners. These include
Commission from the sellers

PPC Advertisements

Selling Commission

Vendor Subscription

Paid Listings

Display Advertisements

Rental Add-ons

Paid Delivery Services

Selling Insurances and other Assurance services
The Final Take
Comparing overall features and flexibility in customizations with other competitors in the market, Yo!Rent stands out with multiple plus points. Be it one-time cost for lifetime ownership or inbuilt modules for rental operations, Yo!Rent is a ready-to-go white label rental software for starting an online rental business. The only shortcoming that can be counted is the limited number of themes available across the platform. This, however, can be countered by requesting customization available at an additional cost. 
The pricing of Yo!Rent is available on a quotation basis, where you can fill the contact us form with your business requirements to get the final cost. The software also comes with free tech support for 12 months to fix any post-deployment issue. 
Additionally, to provide a better understanding of the platform's functionalities and modules, the company also provides a free personalized demo as per business requirements.
---
Interesting Related Article: "How to Quickly Fill Your Rental Property"