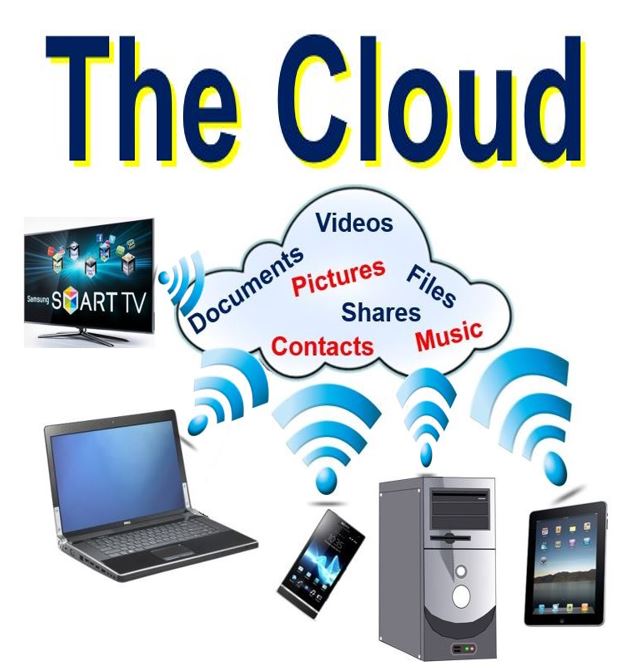 What is cloud computing? Definition and meaning
Cloud computing allows you to keep data in the cloud – on a remote computer – rather than trapped within your own laptop, desktop, smartphone or tablet. You can access your information online with any communication device. As long as you have access to the Internet, you can get to your remotely-stored data from anywhere in the world and with any type of device.
It is like an external hard drive in the sky. It is not really in the 'sky', it is on remote servers on the Internet.
Most of us are accessing data in the cloud virtually every day without realizing it. If you watch movies and TV series on Netflix you are indirectly using the service. Netflix provides services to its subscribers because it is a customer of the cloud services at Amazon.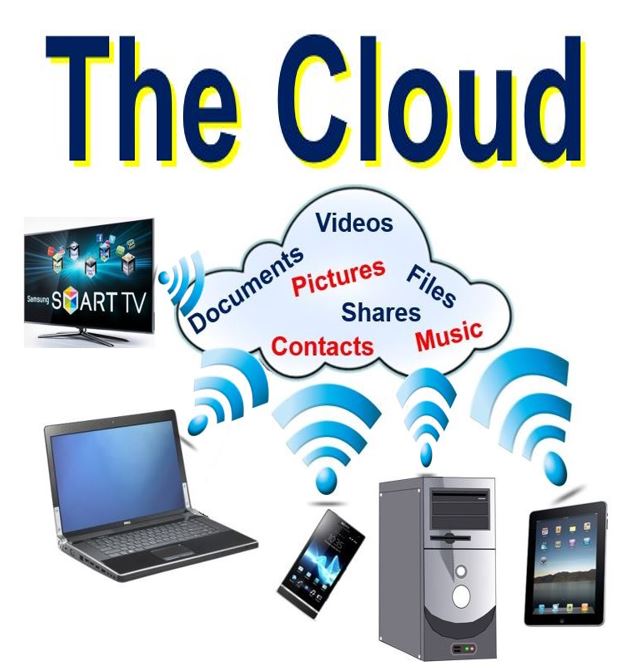 According to IBM: "Cloud computing, often referred to as simply "the cloud," is the delivery of on-demand computing resources—everything from applications to data centers—over the Internet on a pay-for-use basis."
People who use online banking are invariably accessing data and performing transactions in the cloud. Fundamentally, the term is simply a metaphor for the Internet.
Eric Griffith wrote in PC Magazine:
"The cloud is just a metaphor for the Internet. It goes back to the days of flowcharts and presentations that would represent the gigantic server-farm infrastructure of the Internet as nothing but a puffy, white cumulus cloud, accepting connections and doling out information as it floats."
---
---
There are many cloud services
There are many dedicated services out there where you can store documents, music, photos and other data.
After selecting a service, all you have to do is log in to upload files or download the application to your computer. You drag the files you want to store in the cloud in the same way you do when moving them to your computer's hard drive.
If you want to access the files using a mobile phone or tablet, you will probably have to download an app – any changes to a stored document are synced across all communication devices that you use.
Larry Ellison, co-founder of Oracle Corporation, once said: "The interesting thing about cloud computing is that we've redefined cloud computing to include everything that we already do. I can't think of anything that isn't cloud computing with all of these announcements. The computer industry is the only industry that is more fashion-driven than women's fashion." (Image: Wikipedia)
Below is a list and descriptions of some popular cloud computing services:
– Dropbox: a very popular option. At dropbox.com you can share files and photos with anybody, even with people who do not have an account with Dropbox (email a link to the file).
It's a great service for a team of people who are editing a presentation. Dropbox writes: "Edit a presentation with teammates without emailing files back and forth. When you edit a file in a shared folder, everyone gets the update automatically."
This service is free until you hit two gigabytes (GB ) – after that it costs $10 per month for the next 100 GB.
---
---
– Box: at box.com you get 5 GB of free storage. For $15 per month you can store considerably more, plus it has a really handy search feature in case you have forgotten what your file is called.
Jamie Miller, Senior Vice President and CIO of General Electric, said of the service that Box provides:
"In today's mobile-first, cloud-first world, providing our employees with secure access to content at any time using any device is critical to creating a more productive, connected workforce. Moving to a cloud technology like Box allows us to centralise all of our content and provides more efficiency, speed and simplicity for our employees."
– Google Drive: at drive.google.com you can delete a file and still recover it up to thirty days later. It can also convert files from over thirty programs, which is extremely useful for when you are using different devices with incompatible programs to access data remotely.
At Google Drive, the first 5 GB are free – for the next 100 GB you pay $5 per month.
Google Drive was launched in April 2012. Within two years it had over 240 million monthly active users.
– iCloud: this service from Apple – apple.com/icloud – can be used by people with non-Apple devices if they download a special app. The service lets you access documents, apps, photos, music and other data from several different devices. If you want to share files you will have to pay $5 and download FileApp Pro.
Video – What is Cloud Computing?
This Amazon Web Services explains using lay terms and using simple examples exactly what cloud computing is.