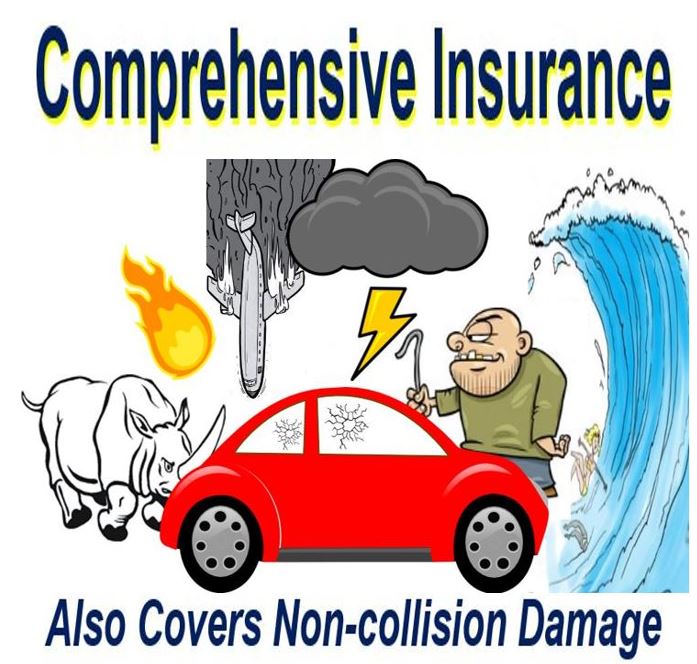 What is comprehensive insurance? Definition and meaning
Comprehensive insurance is a type of vehicle coverage that protects your car against all types of damage, including theft and those not resulting from a collision. With this type of insurance, policyholders are covered for a wide array of events that could damage their vehicle, including rockslides, fire, or vandalism.
Comprehensive insurance is one of literally hundreds of different insurance products one can buy.
Also known as fully comp cover, this type of insurance is one of the higher levels of protection you can get for your car.
Cheaper forms of car insurance, such as 'Third Party' only and 'Third Party, Fire and Theft' polices do not cover any damage to your own car – only damage to others as the result of an accident. With comprehensive insurance the policyholder's car and personal injury to the driver and passengers are covered as well.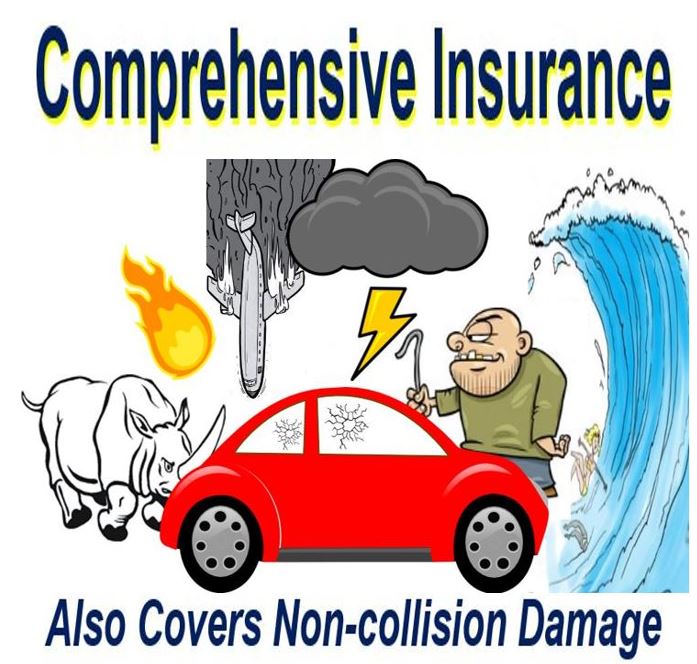 If you want to be covered against floods, tsunamis, vandalism, animal attacks, theft, falling aircraft, fireball impact, lightning bolts and other non-collisions events, you should consider taking out comprehensive insurance.
According to businessdictionary.com, comprehensive insurance is the:
"Widest form of auto insurance protection that (in case of a collision, fire, or theft) covers the (1) insured driver and vehicle, (2) third-party driver and vehicle, and (3) third-party property."
"Premium is computed usually on the engine size and value of the vehicle, its intended use, and the age and driving record of the driver. Also called comprehensive cover or fully comprehensive insurance."
---
---
Comprehensive insurance much cheaper today
Over the past ten years, comprehensive insurance has become much cheaper in many countries. In fact, in the United Kingdom it is often now cheaper than the lesser 'Third Party, Fire and Theft' cover.
Depending on your comprehensive policy, there are different deductible amounts (UK: excess payments) made to the repair workshop. In most cases, the insurance company will need to authorize the estimate before it agrees to pay for the repairs.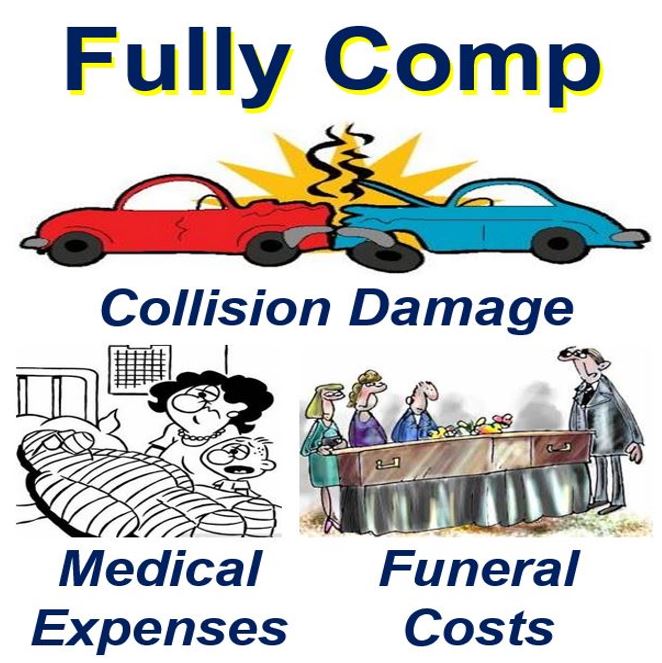 Fully comprehensive insurance covers you for virtually everything, no matter whose fault it was. The policyholder has coverage for collision damage, personal injury, death, and medical expenses.
As soon as the authorized garage has done the repairs, the policyholder pays that garage his or her excess payment while the insurer pays the remainder.
When it is a non-fault case, the insurance company goes after the other party's insurance company to recover the money it had to pay – if it feels the other party was at fault.
---
---
What does comprehensive insurance cover?
According to the Association of British Insurers, details on each policy vary from insurer to insurer. Comprehensive policies generally cover everything that cheaper policies do, plus:
– injuries to or the death of other parties, including your vehicle's passengers.
– damage to the other party's property.
– accidents caused by passengers in your car.
– damage or accidents caused by a trailer or caravan attached to your car.
– the theft of your vehicle.
– any fire damage.
– accidental damage to your car.
Comprehensive insurance covers you regardless of whose fault it is (yours or the other party's).
Comprehensive insurance may also cover:
– personal accident benefit – policyholders or their beneficiaries receive certain amounts of money if they die or become permanently disabled as a result of an accident.
– all medical expenses, up to a stated limit, incurred as a result of an accident.
– any loss or damage to personal items (there is a stated limit).
Video – Comprehensive insurance
This Be Wiser Insurance video explains what fully comprehensive insurance is, as well as the benefits of taking out this type of cover.