What is a business manager?
A business manager is a person who is responsible for overseeing and supervising a company's activities and workers. Smaller businesses depend on a business manager to make sure employees are aligned with the aims of the company.
This person reports to top executives in larger businesses. In a small company, however, the manager will either own the business or report directly to the owner.
The term business manager might also refer to a business agent – the person who manages the business affairs of another individual, such as an actor, athlete, author, or musician.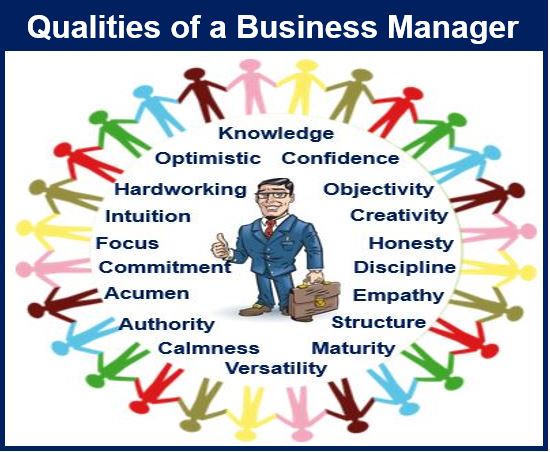 There are several factors that play into whether somebody would make a good business manager.
Different types of business managers
A business manager may oversee the day-to-day operations of a small or large organization. In larger companies, they usually manage an individual department, such as production, sales or marketing.
In smaller businesses the person might be in charge of the whole company's operations.
An office manager is responsible for organizing the administrative activities that facilitate the smooth running of an office. They have to ensure that all office equipment is maintained, records are kept up to date, and that all administrative processes work properly and efficiently.
In smaller companies the office manager may work alone, while in larger organizations they will supervise the work of a team of employees.
According to Cambridge Dictionaries Online, a business manager is:
"a person in a company whose job is to manage one of its departments or areas of activity," or "A person who manages the financial activities of an organization."
Business manager of a fast-food restaurant
A business manager of a fast-food restaurant has to provide motivational leadership to the restaurant team, ensure customers are satisfied, and make sure that the business is financially healthy.
According to fast-food giant McDonald's:
"The Business Manager is also responsible for making all of the major decision associated with running the restaurant, from recruitment to energy efficiency. They also work at building strong and mutually beneficial relationships with the local community. Typically a Business Manage will manage a team of 80 employees."
Business manager's job description and duties
A business manager may hire, train and evaluate new employees. He or she usually has to make sure that the department or company is going in the right direction to meet its financial goals.
The person may also develop and implement budgets, prepare reports which are presented to senior management, and make sure the department adheres to company policies.
A business manager has to make sure all employees have the necessary resources to complete their tasks. They also oversee the safety of workers.
Duties will vary, depending on the size of the organization and which department the individual is in charge of.
Experts say the most important task of business managers is managing cash flow.
School business manager
A school business manager (SBM), sometimes called a bursar, is a senior member of non-teaching staff.
He or she brings specialist expertise on a range of support functions, such as liaising with external partners to secure additional financing for the school, looking after health and safety, managing budgets, premises and project management, negotiating contracts, and making sure the environment of the school is encouraging pupils to maximize their potential
"As a member of the School Leadership team the roles and responsibilities of SBMs are incredibly diverse and developing, but fundamentally it's about allowing headteachers to concentrate on what they do best – leading learning and improving their students' well-being and attainment."
Business manager qualifications
Some smaller companies may hire a business manager based solely on his or her experience. Larger organizations, however, will require the candidate to have some kind of formal training, such as a bachelor's degree in business administration.
Different types of business managers include human resources, retail, production, sales, marketing and facilities managers. Their qualifications and experience should be related to their specialist field.
The US Bureau of Labor Statistics says most business management professionals are required to have degrees. Many will have graduated from business schools.
Rick Suttle wrote the following in the Houston Chronicle:
"Depending on their position, business managers take courses in management, economics, math, marketing research, human relations and interpersonal communication to better hone their skills in managing people. Essentially, business managers learn various management techniques in college through instruction, presentations and role-playing before they can get a business management position."
Business managers must have good communications skills. They are forever communication with all levels within an organization, from part-time workers to the company CEO.
Video – an interview with a business manager
In this video interview, a school pupil asks Ms. R. O'Beirne, a school business manager, about her job.