Business agent – definition and meaning
A business agent is an individual who manages another person's, company's, or group's business affairs. Their duties will depend on the type of contract that they had arranged with their client.
Business agents spend much of their time negotiating contracts for their clients. Some may also help manage their finances and arrange their public appearance schedules. The job may also involve organizing travel itineraries.
Additionally, a business agent is sometimes the client's public-relations officer. In other words, they are responsible for creating a positive public image.
---
---
Many actors, sports professionals, authors, artists, and musicians have a business agent. Famous people, especially, have business agents.
According to the Cambridge Dictionaries Online, a business agent is:
"A person who represents a person or company in matters of business and who can make business decisions, agreements, etc., for them."
Business agent – exports
Business agents are ideal for small companies that want to export. Especially those that do not have offices or employees abroad. These agents, in fact, live and work in the target market. They usually represent more than one company.
In some markets, having a business agent may be the only way to generate decent sales. This is because local firms will only do business with domestic compaies. For example, nobody gets very far in Saudi Arabia without a business agent.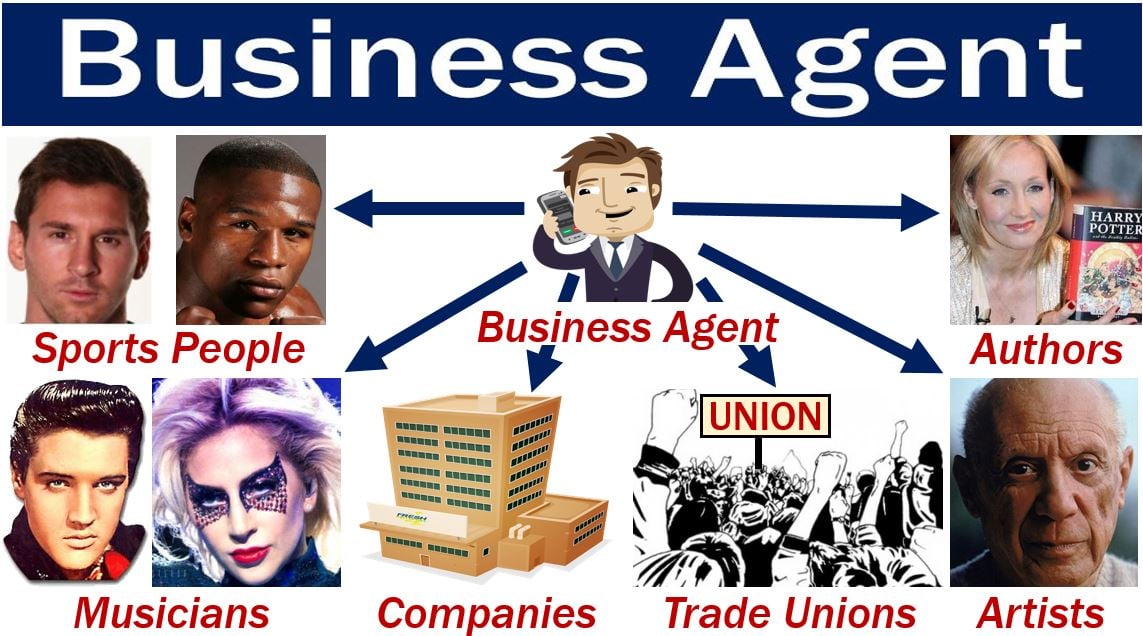 Literary agent
A literary agent acts on behalf of an author. The agent deals mainly with publishers. They also deal with anybody else who can promote the author's work.
The agent sends the author's manuscript out to get the best bid for publication. They know most of the editors in the publishing world. Therefore, literary agents can generate much more business than the authors could on their own.
Not only do agents know all the publishers, but also what each publisher is currently seeking. For example, if you wrote a children's story, they know who wants new books for kids.
Literary agents also negotiate with the publisher on behalf of the author.
Furthermore, agents are extremely useful when there are deadlines. In other words, they are key in getting the author to finish the work on time.
Football (soccer) agent
A football agent (US: soccer agent) negotiates employment contracts for players. Likewise, sports agents negotiate on behalf of athletes.
They talk to team owners, managers, and trainers to find their client the best deal. They may also handle public relations matters as well as their finances. In other words, the business agent may also handle the sports person's investments and taxes.
The UK Government's National Career's Service says the following regarding being a football agent:
"To do this job, you will need to need to know about finance and business management and have a passionate understanding of sports. If you have excellent communication and negotiation skills and you enjoy following trends in sports, then this role could be for you."
In most countries, sports agents are qualified lawyers. Some of them may have a background in contract law. A degree in business studies may help, the UK Government says.
However, the UK Government adds that there are no set entry requirements to get into this work.
Union business agent
In the US, a business agent could also be a labor union officer. They often represent all union members at one company.
Union members elect them, while the union pays them to speak on their behalf. The union business agent talks to both the public and management.
Union business agents work at the level of the union local, which is a branch of the union membership.
Video – The life of a football agent
This video talks about the life of Tony Paraschou, a football agent (US: soccer agent).
---