Intel and Alibaba are teaming up to create a new AI-powered 3D athlete tracking technology. They expect the technology will be ready for the Tokyo 2020 Olympic Games.
The 3D athlete tracking technology uses Intel's current and upcoming hardware and Alibaba's cloud computing technology. Combined, they will power a state-of-the-art deep learning application that extracts 3D forms of athletes while they train or compete.
The letters AI stand for Artificial Intelligence. AI includes software technologies that make devices, robots, and computers think like humans. They also make them behave like humans.
3D Athlete Tracking uses AI to analyze video
Navin Shenoy, Intel Executive Vice President and General Manager of the Data Center Group, said:
"Optimized to run on Alibaba Cloud infrastructure, Intel developed a novel technology concept called 3D Athlete Tracking that uses AI to analyze video of athletes in ways that are expected to improve both the training process and has the potential to enhance the audience experience during actual competition."
"This technology has incredible potential as an athlete training tool and is expected to be a game-changer for the way fans experience the Games, creating an entirely new way for broadcasters to analyze, dissect and re-examine highlights during instant replays."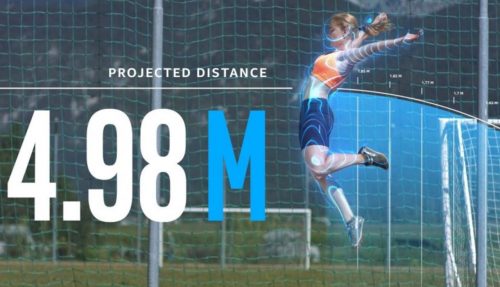 3D Athlete Tracking – how it works
Computer vision together with AI deep learning algorithms will create a three-dimensional mesh. The mesh will allow trainers and coaches to obtain biomechanical data in real time. They will be able to do this via multiple standard video cameras without having to use special sensors or suits.
Trainers and coaches will subsequently be able to analyze their athlete's performance. This will help them introduce new training enhancements.
According to an Intel press release:
"Specifically, the technology leverages advanced pose modeling techniques and other AI algorithms designed to analyze the biomechanics of an athlete's movements."
"The performance is captured with regular video cameras; the AI algorithm is applied with a heavy dose of computing power and a digital model of the performance is created that can be analyzed in different ways."
Alibaba, Intel, plus some other partners, hope to deliver the 3D athlete tracking technology during the 2020 Tokyo Olympics. Athletes will have access to new training data and analysis. Fans will also gain insight into how top athletes perform and compare against each other.
Alibaba statement
Chris Tung, *CMO of the Alibaba Group, said:
"We are proud to partner with Intel on the first-ever AI-powered 3D athlete tracking technology where Alibaba contributes its best-in-class cloud computing capability and algorithmic design."
"With our technological advancements, Alibaba is transforming the sports media and broadcasting industries. We continue to collaborate with industry leaders and drive innovations to create new experiences for the world to enjoy."
* CMO stands for Chief Marketing Officer. The Chief Marketing Officer is the top marketing executive of a company.