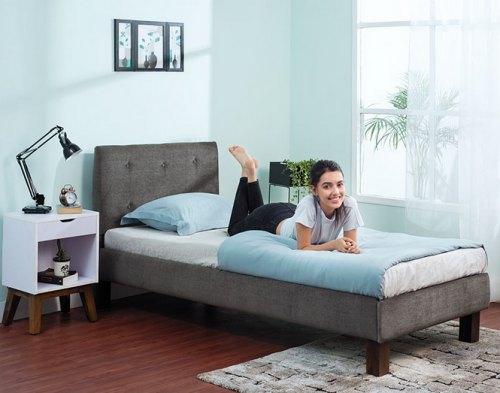 The bedroom is usually where you go to relax, get a nap or good long sleep, and just be yourself. It's that one room where you like spending time and a soothing getaway from the stresses of the day. With this in mind, we're sharing some decor suggestions to help you redecorate your bedroom area without investing a lot of time or money.
With a touch of paint, warm lighting, and some textures, you can transform your bedroom from "boring" to "amazing." Even on a strict budget, there are lots of design methods that may change your bedroom into a space you'd be delighted to show off.
Yes, you don't have to rush out to a hardware shop and spend thousands of rupees on new furniture to remodel your bedroom. To begin with, you won't have to worry about expensive furnishings with Zior. You can simply get sophisticated and trendy bedroom furniture online. And if you want to build a new, personalized bed, that is also an option! Next, try these low-cost bedroom transformation ideas.
1)  Switch things up – Bedroom Layout
Modifying the layout of the bedroom is so simple yet affordable that it's practically free! With a little time and effort, you can completely transform your environment simply by rearranging your furniture. Consider removing some of the unneeded parts while rearranging things. Less is frequently more. Getting rid of unnecessary furniture might assist in freeing up the area and making it seem more open. Changing the position of your bed may make a big difference in making a new alignment and look for your room.
If you are planning to change the furniture and want to buy new bedroom furniture but are afraid of going overboard on the budget, Zior can help you out. Whether it's a bed, a side table, a small coffee table, a storage unit, or anything else – Zior has everything that you may need to upgrade your bedroom, and that too at an amazing price range.
2)  Change the throw pillow & bedding
Pillows are the most adaptable of soft furniture and a low-cost solution to enhance your bedroom. When you start to feel bored by your home, change up your cushions and bedding, and choose new colors and patterns from your previous lot to make a noticeable difference.
Because the bed is the center point of the bedroom, one of the most effective simple adjustments you can make is to replace throw pillows and/or your bedding. Choosing bedding in a palette that is radically different from what you already have might have a significant impact. White bedding is a tried-and-true classic. White bedding is versatile and may be layered with a comforting blanket in the winter, and lighter boho influenced cushions in the summer. And don't be scared to experiment with a pattern!
Excellent advice! If you want to give your pillows a rich hotel feel, over fill them as well. This can be done by either getting a slightly larger inner or filling the cushion with two inserts. Then use the chop method to make them appear more full and elegant.
3)  Lighting
Lighting is essential in every area, but it is especially vital when it comes to creating a welcoming and peaceful ambiance in a bedroom. And there are so many stunning, reasonable bedroom lighting alternatives available that it seems like a shame not to branch out from the usual cream lamp form and add something that would make a genuine impact.
Change your bedroom's main light with a rattan shade or maybe industrial-style metal lighting that provides texture and character to your space.
Talking of your nightstand or bedside table, look to your nightstand lighting for a significant difference. It might be as easy as changing out your existing light shades, or you can consider fully replacing your nightstand lamps with gorgeous wall mounted sconces.
4)  Paint your bedroom
When thinking about giving your bedroom area a fresh look, paint is a crucial and low-cost factor to consider.
Paint is probably the cheapest option to completely transform the appearance of your bedroom. Even if you're renting and can't go for something wild, a fresh coat of white paint on your walls may quickly make them look brighter & cleaner.
A gloomy accent wall may add a sophisticated depth to the area, and light grey or pastel blue are usually fantastic possibilities for giving your home a tranquil and soothing air. Paint may also be used to spruce up aged furniture. Consider sanding down an old dresser, side table, or nightstand & painting it a vibrant, eye-catching color.
We adore the gentle and delicate vibes in a bedroom, but you can always go bold with a deep teal, which is now popular, or dapple in some darker colors like charcoal greys & navy blues. Just make sure you get samples to check how the colors appear in your room.
5)  Think about your drapes and flooring
Curtains & blinds are the types of items you grow so used to seeing on a daily basis that you stop noticing them. So, fix that! Replace your window coverings with something that will add value to your room and make it appear more costly. Choose curtains in a soft, linen-like fabric, and if your bedroom lacks natural light, keep the colors light as well. Hang them from floor to ceiling & even a few inches over your window for a stunning, elegant look.
Additionally, adding or replacing a rug, like upgrading your bedding, can have a dramatic impact and is a fantastic area to get creative with designs. Who doesn't like to wake up with their feet on something soft? Consider a dense shag or an eye-catching antique bedskirt. Rugs are an excellent way to tie a room together and don't be afraid to stack a few to create a calm and comfortable atmosphere.
6)  Storage
Because the bedroom should be a relaxing location, enough storage should be used to reduce clutter to a minimum. Add storage bedroom furniture to declutter. Consider closet organizers, fabric storage bins, as well as nesting baskets as solutions for preventing clutter.
Clear your bedside table (if you have one) of all the half-used moisturizing creams and mugs you've been hoarding and water bottles, and spend some time making it appear more like a highlight of the room. A nice little lamp, or maybe a little stack of books to read, and even some fresh flowers or a small house plant can make a big difference.
And if you want to get a chest of drawers, you can check out Zior furniture collection to buy bedroom furniture online.
Final Words
As we mentioned before, there are numerous ways to update your bedroom without spending a lot of money. Simply moving furniture, "shopping," or looking around your household to see what you already have, or DIYing a replica of a pricy piece you have had your eye on may all help you decorate your bedroom on a budget. And of course, switching up your bedroom furniture can make a huge difference.
For highly affordable bedroom furniture, check out Zior collection of new,
---
Interesting Related Article: "Why The Home Decor Industry is Growing Fast"