The UK government is offering big investors 6% of the Lloyds Banking Group, worth approximately £3.3bn ($5.25bn).
On Monday, shares in Lloyds closed at 77.36p. When the government bailed out Lloyds in 2008, it bought shares at 73.06p. At that time the average price was 61p.
On successful completion of the 6% sale of Lloyds Bank Group PLC, the UK government's stake in the company will go down to 32.7%.
Investors were first told about the impending sale last June, during an announcement by George Osborne, the Chancellor of the Exchequer, who said his number one concern was to get a good deal for taxpayers.
A UK Treasury spokesman said:
"UK Financial Investments today advised the Chancellor it would be appropriate to begin the process to sell part of the government's shareholding in the Lloyds Banking Group. The Chancellor agrees with that advice and has authorised the process to begin."
The spokesman added
"The Chancellor set out the government's objectives for its shareholdings in the banks at the Mansion House speech earlier this year. We want to get the best value for the taxpayer, maximise support for the economy and restore them to private ownership. The government will only conclude a sale if these objectives are met."
George Osborne, the Chancellor of the Exchequer, wants "a good deal for the taxpayer".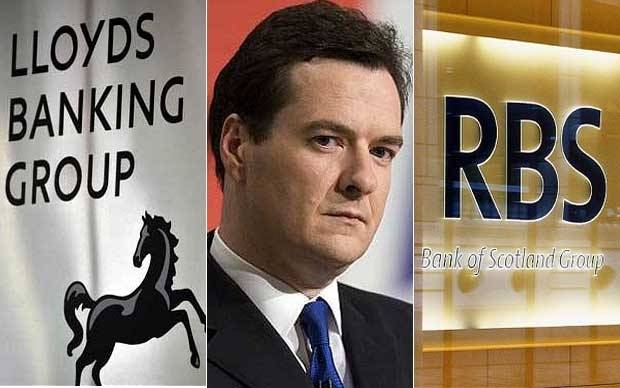 Big investors are invited to apply for and bid for shares. The government says it will look at the offers and decide on a price.
Recently, Lloyds Banking Group revived the TSB (Trustee Savings Bank) brand, and transferred five million accounts to TSB.
As required by the European Commission in its drive to provide greater competition, the new bank will be sold off in 2014.
During the first half of 2013, Lloyds Banking Group made a profit of £2.1bn ($3.2bn), a much better performance than during the same period in 2012 (£456m loss).
A 43% drop in bad debts to £1.8bn ($2.7bn) helped improve this year's figures. However, as the BBC pointed out yesterday, the bank still had to make another charge of £450m to its accounts to cover compensation for the mis-selling of payment protection insurance.
Lloyds Banking Group PLC
Lloyds Banking Group PLC has over 30 million customers in the UK. It is a well-known high street bank. Lloyds Banking Group PLC owns the following businesses:
Lloyds TSB and Bank of Scotland Retail Bank
TSB Bank
Halifax Retail Bank
Scottish Widows
Clerical Medical
The UK Government (HM Treasury) holds a 39% shareholding in the company through UK Financial Investments.
Lloyds Banking Group PLC is listed on the LSE (London Stock Exchange) and has a market capitalization of about £43.1 billion (6 June 2013). It is also listed on the NY Stock Exchange, USA, with a market capitalization of $34.45bn.