WisdomTree Investments, Inc. has launched an Artificial Intelligence ETF in partnership with the Consumer Technology Association (CTA) and NASDAQ. WisdomTree is a New York-based ETF and ETP sponsor and asset manager. The company launched its first ETFs in 2006. It is today the industry's 5th-largest ETF provider in the US.
ETF and ETP stand for exchange-traded fund and exchange-traded product respectively.
The Artificial Intelligence ETF provides unique exposure to the AI sector. AI stands for Artificial Intelligence, which includes software technologies that make computers and robots think like humans. These technologies also make them behave like humans.
The 'WisdomTree Artificial Intelligence UCITS ETF' has been listed in the London Stock Exchange since December 5th, 2018. It has a TER of 0.40%. TER = Total Expense Ratio.
With this new ETF, investors will have liquid and cost-effective access to the AI sector. AI is driving new business capabilities and efficiencies across all industries worldwide. It is also redefining how we live and work.
AI ETF partnership
Christopher Gannatti, who is WisdomTree's Head of Research in Europe said:
"We are delighted to partner with Nasdaq and CTA, who are experts in AI and technology markets. We have worked together, leveraging our combined expertise, to re-define the AI investment landscape."
"To capture the full economic value of AI we place companies in three categories; Engagers, Enablers and Enhancers."
"When investors think of what this can bring to a portfolio, they should be thinking over a long time horizon and about how advances like autonomously driven cars, a digital workforce, mass facial recognition and other applications of intelligent machines could change the world."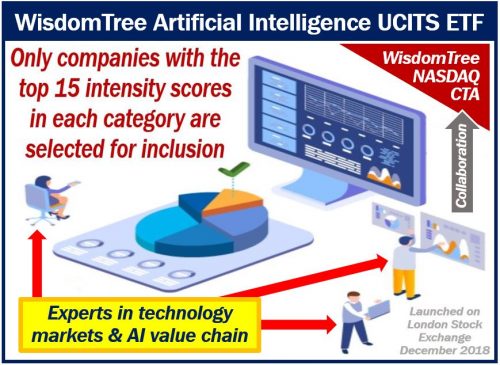 AI market will expand dramatically
Rafi Aviav, WisdomTree's Head of Product Development in Europe, added:
"AI is a revolutionary technology and the market for AI products and services is expected to more than triple over the next three years. This fund offers a unique approach to capturing this expected growth, which is the result of a year-long collaboration between WisdomTree, Nasdaq and CTA."
"The fund broadly represents the upstream2 and midstream3 parts of the AI value chain and so balances diversification with a focused exposure on those parts of the AI value chain that stand to gain the most from growth in the AI market."
AI – a relatively young technology
The AI sector is relatively young. There is no commonly-used classification system which allows investors to automatically choose businesses that are active in the sector.
Therefore, experts who are familiar with the AI value chain and the technology markets, conduct research for the selection of index portfolio companies. This makes sure that WisdomTree's AI ETF remains focused on AI opportunities.
AI – a key ingredient technology
According to CTA's senior director of business intelligence and research, Jack Cutts, AI will be one of the key ingredient technologies over the next ten years. AI will find its way into every corner of the economy, creating new opportunities.
Dave Gedeon, Nasdaq Global Indexes' Vice President and Head of Research and Development said:
"Artificial Intelligence is at an inflection point to drive further economic growth and create new areas of opportunity. The Nasdaq CTA Artificial Intelligence Index serves as an important benchmark for tracking the adoption of AI across a broad range of economic sectors as this influential technology hastens advancements in productivity and capacity."
The Nasdaq CTA Artificial Intelligence Index is tracked by the WisdomTree Artificial Intelligence UCITS ETF. Investors, therefore, gain diversified exposure which focuses on companies that stand to gain the most from adopting AI. The Index will evolve as new AI firms and trends come on stream through a six-monthly update.
---
Video – Artificial Intelligence
---