Are alcohol ads targeting young people on TV in the US too much?
Researchers at Johns Hopkins Bloomberg School of Public Health and the CDC (Centers for Disease Control and Prevention) think they are.
The study, published in in the CDC's Morbidity and Mortality Weekly Report found that across 25 of the country's major television markets, 23.7% of all alcohol ads exceeded the alcohol beverage industry's voluntary standards on a sample of national TV programs popular with young people.
They also reported that 35.4% of the adverts exceeded the NRC/IOM threshold (NRC = National Research Council, IOM = Institute of Medicine).
Alcohol ads targeting young people too often
The researchers gathered data on 196,494 alcohol advertisements, 46,493 (23.7%) of them were aired during programs for which more than thirty percent of the viewers were aged from 2 to 20 years.
The CDC wrote "These results indicate that the alcohol industry's self-regulation of its advertising could be improved, and youth exposure to alcohol advertising could be further reduced by adopting and complying with the NRC/IOM standard. In addition, continued public health surveillance would allow for sustained assessment of youth exposure to alcohol advertising and inform future interventions."
The authors reported that alcohol ads exceeded the industry's voluntary standard for youth exposure in the following cities with the highest rates:
Houston – 31.5%
Los Angeles – 30%
Dallas – 29.7%
Atlanta – 27.6%
Chicago – 27.5%
The following cities had the lowest rates:
Seattle-Tacoma – 18.7%
San Francisco-Oakland-San Jose – 18.4%
Boston (Manchester) – 17.4%
Sacramento-Stockton-Modesto – 17.%
Washington, DC (Hagerstown) – 16.3%
If these advertisements were taken out and not replaced with another alcohol message, the research team estimated that youth exposure to alcohol advertising on these popular programs would be reduced by up to one-third.
Alcohol ads targeting young people undermine parental effort
CDC Director Tom Frieden, M.D. M.P.H., said "Underage drinking harms teens, their families and their communities. Exposing teens to alcohol advertising undermines what parents and other concerned adults are doing to raise healthy kids."
The authors informed that approximately 4,700 deaths annually among young people in America are attributable to alcohol consumption. It is the most commonly used drug in the country among young people.
According to fourteen long-term studies, underage drinking is more likely to occur when young people are exposed to alcohol marketing. The studies also report that alcohol advertising is associated with larger quantities of alcohol being consumed by young people.
Youth drinking is linked to a higher risk of sexually transmitted diseases, violence, unplanned pregnancies, and automobile accidents.
In 2003, alcoholic beverage makers and marketers agreed not to place any adverts on TV programs where more than 30% of viewers were under the legal age for drinking (21 years).
Study author, David Jernigan, PhD., who is Director of the Center on Alcohol Marketing and Youth at the Johns Hopkins Bloomberg School of Public Health, said:
"This study indicates that the alcohol industry's self-regulation of alcohol advertising could be improved. The potential public health pay-off in terms of reduced risk of underage drinking and harms related to it could be quite substantial."
Is alcoholic drinks industry recession-proof?
When the financial crisis of 2008 hit and the Great Recession followed, revenue from virtually all sectors of the economy suffered, with the exception of alcoholic beverage makers and sellers.
According to Discus MSDB (Distilled Spirits Council of the United States), makers of spirits had revenues of $18.7 billion in 2008 and also in 2009, this rose to $19.2 billion in 2010, then $20.4 billion in 2011 and $21.3 billion in 2012.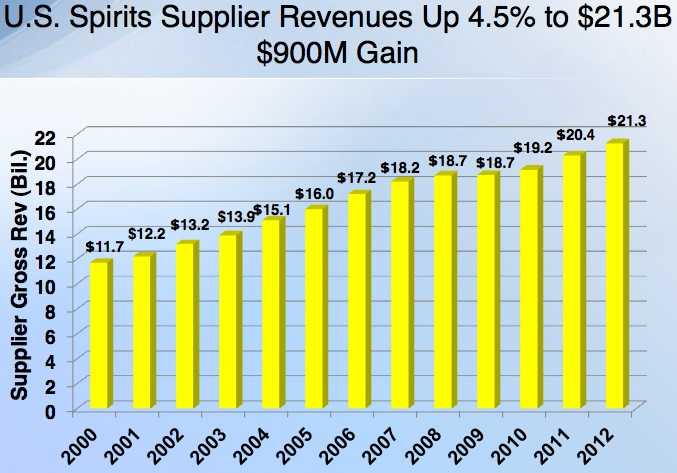 (Source: Discus MSDB)
Alcohol consumption per capita in the USA has been steadily increasing over the last fifteen years, in all types of alcoholic beverages. CNN Money quoted a Bank of America report showing that in 1997 per capita consumption was 29.7 liters, compared to 35.2 liters in 2011. Beer accounts for 50% of all alcoholic drinks consumed in the US.
Alcoholic drinks makers are present worldwide. According to Global Industry Analysis, the industry globally will be worth more than $1 trillion by 2014.
Below is a list of the top 20 alcoholic beverage manufacturers, according to annual sales:
Anheuser-Busch – Belgium
Kirin Holdings Company – Japan
SABMiller – UK
Asahi Group – Japan
Diageo – UK
Carlsberg – Denmark
Pernod Ricard – France
Grupo Modelo – Mexico
Nihon Shurui Hanbai – Japan
Sapporo Holdings – Japan
Thai Beverage Public Company – Thailand
Brown-Forman Corporation – US
Tsingtao Brewery – China
Molson Coors Brewing Company – US
Anadolu Efes Biracilik Ve Malt Sanayii – Turkey
Constellation Brands – US
Takara Holdings – Japan
Izmic Corporation – Japan
BEAM – US
Hitejinro Holdings – Republic of Korea