Discount retailer Aldi continues to gain market share in the UK and has now overtaken Waitrose as the country's sixth-largest supermarket chain.
The British supermarket landscape is changing, with German retailers Aldi and Lidl continuing to outperform all competition.
How the 'Big Four' are faring
Sainsbury saw sales growth for the first time since last August in the 12 weeks to March 29, reporting a 0.2% increase in sales on the year, up to 4.14 billion pounds. The modest sales boost wasn't enough to prevent it from losing market share though, which slipped by 0.1% of a percentage point, down to 16.4% from 16.5%.
The UK's largest supermarket, Tesco, also posted sales growth. Sales for the 12 weeks to March 29 increased by 0.3% to 7.19 billion pounds. Despite this increase in sales Tesco also saw its market share decline, from 28.6% down to 28.4%.
Walmart subsidiary Asda saw it's market share decline from 17.4% % down to 17.1%. While Morrisons market share dropped from 11.1% % down to 10.9%.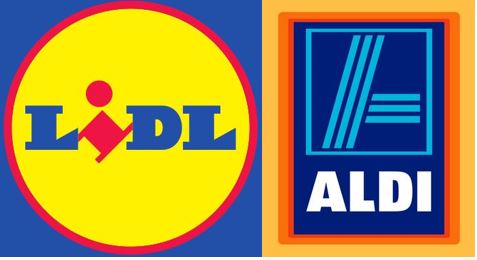 Aldi and Lidl are changing the UK's supermarket landscape
Supermarkets in the UK that fared better than the 'Big Four' include German retailers Aldi and Lidl, as well as the upmarket grocer Waitrose.
Aldi and Lidl's combined market share increased from 8% up to 9%, with Aldi's share increasing to 5.3% and Lidl's rising to 3.7%.
Waitrose market share increased from 5.0% to 5.1%, but it lost its position to Aldi as the sixth largest retailer in the UK.
---
---
Comment from head of retail at Kantar
Fraser McKevitt, head of retail and consumer insight at Kantar Worldpanel, said:
"Aldi has recorded double-digit sales growth for the past four years and is now Britain's sixth largest supermarket with 5.3% of the market. Growth has been fuelled by over half a million new shoppers choosing to visit Aldi this year and average basket sizes increasing by 7%. The German discounter's sales have increased by 16.8% in the latest period, still high compared to other retailers but slower relative to its recent performance."
"The changing structure of Britain's supermarket landscape is illustrated by two facts. Firstly, the so-called discounters Aldi and Lidl now command a combined 9.0% share of the market. In 2012 the same two retailers only accounted for 5.4% of grocery sales. Secondly, the 72.8% share taken by the biggest four retailers is now at the lowest level in a decade,"
Can the 'Big Four' recover?
Over the past year, the Big Four supermarkets have all suffered considerably. Mainly because discount retailers Lidl and Aldi are grabbing market share at an alarming rate and posing an ever-growing threat.
As far as consumers are concerned, it all comes down to price – they are simply opting for places that offer the lowest prices. For the Big Four to recover they need to cut costs and focus on slashing prices as much as they can.
A recent report revealed that Britons are set to spend more over the new few months. With more cash in hand, it will be interesting to see whether the consumer's current mindset will change. However, the Big Four need to understand that offering low prices works, and they should not count on that ever changing.
---