Chinese e-commerce giant Alibaba reported a 61% rise in revenues to 55.1 billion yuan ($8.3 billion) for the three months to September compared to the same period last year, beating analysts' estimates. E-commerce means doing business (buying and selling) online.
Revenue from its core e-commerce business rose 63 percent to 46.46 billion yuan from the same quarter a year earlier, while revenue from its cloud computing segment rose 99% year-over-year to 2.975 billion yuan ($447 million).
Net income increased to 17.4 billion yuan ($2.6 billion).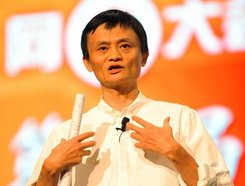 Alibaba founder Jack Ma.
The number of mobile monthly active users of Alibaba's retail marketplaces in China reached 549 million in September 2017, an increase of 20 million over June 2017.
The company, headed by billionaire entrepreneur Jack Ma, also raised its revenue predictions for the full-year forecast.
"We had an outstanding quarter. Our consumer insights and technology innovation were the key drivers behind our customer value proposition across the Alibaba economy," said Daniel Zhang, Chief Executive Officer of Alibaba Group.
"We are seeing the early results from our efforts to integrate online and offline with our New Retail strategy, and consumers have benefited from access to high quality products, improved customer experience and the tremendous convenience of shopping anytime, anywhere," Zhang added.
"This quarter we delivered excellent results, with overall revenue growth of 61% demonstrating the robust momentum in our core commerce business and across the Alibaba economy," said Maggie Wu, Chief Financial Officer of Alibaba Group.
"We generated approximately US$3.4 billion in non-GAAP free cash flow during the quarter,1 which enables us to invest in our future growth areas of core commerce, including logistics, cloud computing, digital entertainment and other innovation initiatives."
---
Video – E-Commerce
---