Allegheny Technologies Incorporated is an American company that produces speciality materials and components, based in Pittsburgh, Pennsylvania.
It is one of the most diversified specialty metals companies in the world.
The company produces "high value" and "standard" products:
High value products: Nickel-Based Alloys & Specialty Alloys, Titanium & Titanium Alloys, Precision Forgings, Castings & Components, Precision & Engineered Strip, Zirconium & Related Alloys, and Grain-Oriented Electrical Steel.
Standard products: Specialty Stainless Sheet, Stainless Steel Sheet, and Stainless Steel Plate.
Its major markets are: electrical energy, automotive, medical, oil and gas/chemical process industry, defense, food equipment, and construction and mining.
Allegheny Technologies was created in 1996 following a merger of Allegheny Ludlum Corporation and Teledyne, Inc.
The company now has more than 9,700 full time employees worldwide.
Overview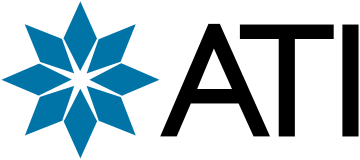 Chairman, President, and CEO: Richard J. Harshman
Industry: Metals
Type: Public company
Listed on the New York Stock Exchange (NYSE)
NYSE stock symbol: ATI
S&P 500 Component
Founded: 1996 (following a merger)
Sales: $4.223 billion USD (2014)
Net income: $9.6 million USD (2014)
Earnings per share: $(0.03) USD (2014)
Company head office: 1000 Six PPG Place Pittsburgh, PA 15222-5479, USA
Employees: 9,700 (2014)
Website: http://www.atimetals.com/
Investor relations contact number: (412) 394-3004
Investor relations email: 

[email protected]
---
Allegheny Technologies Incorporated Financial Results, Years Ended December 31
Operating data (in $ millions)

2014

2013

Sales
$4,223.4
$4,043.5
Cost of sales
$3,844.8
$3,790.9
Selling and administrative costs
$272.5
$276.4
Restructuring costs
$     –
$67.5
Income (loss) from continuing operations before income taxes
$1.5
$(154.8)
Income (loss) from continuing operations
$10.2
$(91.2)
Net income
$9.6
$161.6
Net income attributable to ATI
$(2.6)
$154.0
Comprehensive income attributable to ATI
$(220.8)
$470.2
Balance sheet data (in $ millions)
Total assets
$6,582.6
$6,898.5
Total liabilities
$3,861.2
$3,903.8
Total stockholders' equity
$2,709.3
$2,994.7
Common share data (in $)
Basic earnings per share
$(0.03)
$1.44
Diluted earnings per share
$(0.03)
$1.44
Cash flow data (in $ millions)
Net cash provided by operating activities
$55.9
$368.4
Net cash used for investing activities
$(316.2)
$(11.0)
Net cash provided by (used for) financing activities
$(497.0)
$364.8
Cash and cash equivalents at end of year
$269.5
$1,026.8
Source: "Allegheny Technologies Form 10-K 2014"
---