The Allergan board unanimously rejected Valeant's unsolicited bid, describing the offer as "grossly inadequate", and added that it substantially undervalues the company, and is not in the best interests of the company and its shareholders.
The Board of the California-based Botox maker urged Allergan stockholders not to offer their stocks to Valeant.
In a statement, Allergan said its advisers BofA Merrill Lynch and Goldman Sachs & Co said that from a financial point of view the offer was "inadequate".
Allergan had previously rejected a Valeant offer of $52 billion plus stock. A joint bid to acquire the company had been made by William Ackman, an activist investor who owns 9.7% of Allergan, together with Valeant.
Valeant share price sliding
The previous offer consisted of $72 in cash plus 0.82 Valeant shares, making it worth about $177 per share. Allergan pointed out that as Valeant's share price has declined since then, the offer now has dropped to approximately $173.20 per share.
David E.I. Pyott, Allergan's Chairman of the Board and Chief Executive Officer, said today:
"Our Board is unanimous in its determination that Valeant's unsolicited exchange offer is grossly inadequate, substantially undervalues Allergan, and is not in the best interests of Allergan and its stockholders. The Board strongly recommends that Allergan stockholders reject Valeant's exchange offer and prevent Valeant from taking control of Allergan at a price that does not appropriately reflect the underlying value of Allergan's assets."
"Allergan has a track record of consistently acting in the best interests of its stockholders and the Board continues to be confident that Allergan will create significantly more value than Valeant's proposal."
Mr. Pyott derided Valeant for not taking into account Allergan's:
financial performance, and
industry-leading position.
Allergan explained that its goal is to expand adjusted earnings by between 20 to 25 cents a share and build up $14 billion in free cash flow by 2019.
Allergan criticizes Valeant's business model
Allergan made the following comments about Valeant:
Valeant's growth, based on acquisitions, is unsustainable.
Valeant's growth is anemic and depends on unsustainable price increases.
Valeant's projected synergy claims "are aggressive".
Valeant grossly under-invests, a behavior that would put the Botox maker's core business at risk if Valeant took over.
Valeant is less transparent in its financial statements than either Allergen or its industry peers are.
"Valeant's R&D capabilities pale when compared to Allergan's track record of innovation and value creation."
Allergan too research-based, says Valeant
Valeant says Allergan spends too much on R&D of drugs. It insists that if the two companies integrated, costs would be reduced and sales increased.
Valeant hardly spends anything on R&D, preferring to buy companies with proven treatments. However, it tends to then severely strip down the research departments in the newly-acquired firms.
In 2012, Valeant took over Medicis Pharmaceutical Corp. After the acquisition, Medicis employees were assembled and handed envelopes. Those who received black envelopes were fired. The majority of Medici's R&D department employees received black envelopes. Soon, Medici's thirty research projects were all cancelled.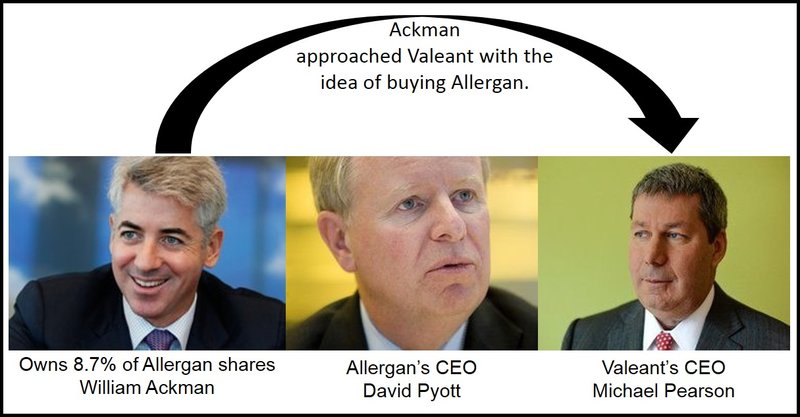 Who will win in the end? Research-based or acquisition-driven enterprises?
This strategy, of buying companies with successful products and trimming their R&D departments right down has worked as far as Valeant's CEO, Michael Pearson is concerned. From 2008 to 2013, his company's annual sales increased six-fold to $5.8 billion, and the company's shares have risen in value by 848%.
On Monday, Valeant, based in Laval, Québec, Canada, posted a 10-page rebuttal online to criticisms by Allergan.
Laurie Little, a Valeant spokesperson, said:
"Allergan's rejection of Valeant's proposal is based on beliefs and assumptions about our business that are not supported by the facts. We are moving forward with our exchange offer and remain committed to this value-creating transaction."