In a move that beat off Google's YouTube and Yahoo, Amazon bought Twitch, the video-gaming streaming company, for $970 million in cash. YouTube was believed to have been in advanced negotiations earlier this year to buy Twitch for about the same amount.
Apparently, Google walked away from a deal because of concerns regarding competition law. Rival Yahoo had also approached the firm.
The video gaming business has developed rapidly over the last few years, and gamer behavior has changed dramatically.
Gamers today do not like just to play, but also to sit back and watch others play, and chat to people online about what they can see. Twitch is a service that caters for virtually all preferences in today's video gaming market.
Rapid growth
Twitch, formerly called Twitch.tv, started in 2011 as a spin-off from Justin.tv, another streaming platform which was founded in 2007. Twitch mainly focuses on video gaming, including playthroughs of games by users (viewers can message players and each other during live play), as well as broadcasts of e-sports competition. Viewers can either watch video live or on an on-demand basis.
By the end of July 2014, the service had more than 55 million monthly viewers, compared to just 3.2 million three years ago.
Some of Twitch's most-followed players earn in excess of $100,000 per year through a 50-50 deal with advertisers, spontaneous donations from fans, and $5 monthly subscriptions to live stream channels. Other players may prefer to buy followers in order to increase their reputation and boost the channel's performance.
The Wall Street Journal ranked Twitch as the fourth largest website in the US in terms of peak internet traffic.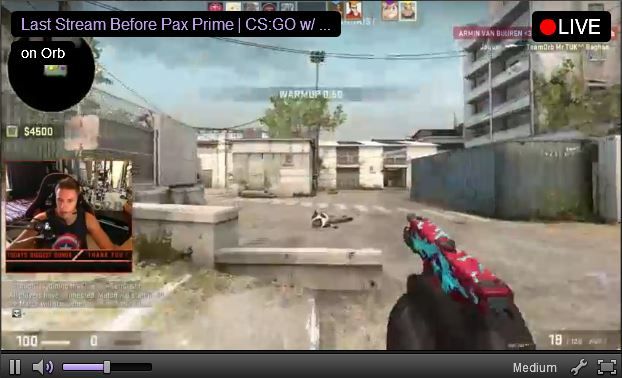 A Twitch player (on the left), broadcasts himself while playing "Counter-Strike: Global Offensive".
Possible advertising boost
The deal could boost Amazon's fledgling online advertising business. Much of Twitch's users consist of young male gamers, a demographic group advertisers love to target. Advertisers pay much higher prices to place their ads on Twitch compared to other video sites.
Online advertising is a revenue stream Amazon plans to exploit, even if that means taking on ad-giant Google.
Jeff Bezos, founder, and CEO of Amazon.com, said:
"Broadcasting and watching gameplay is a global phenomenon and Twitch has built a platform that brings together tens of millions of people who watch billions of minutes of games each month – from The International, to breaking the world record for Mario, to gaming conferences like E3."
"And, amazingly, Twitch is only three years old. Like Twitch, we obsess over customers and like to think differently, and we look forward to learning from them and helping them move even faster to build new services for the gaming community."
Twitch CEO Emmett Shear, said:
"Amazon and Twitch optimize for our customers first and are both believers in the future of gaming. Being part of Amazon will let us do even more for our community. We will be able to create tools and services faster than we could have independently. This change will mean great things for our community, and will let us bring Twitch to even more people around the world."
In the Official Twitch Blog, Mr Shear added that everything will be kept the same, the company's brand, employees, offices "and most importantly our independence."
Fierce competition in streaming
Analysts see Amazon's latest acquisition as a move to beat other rival streaming video services like NetFlix and YouTube.
Apart from allowing users to broadcast bits of their game play, Twitch's services are built into Microsoft's Xbox One and Sony's PlayStation 4.
Amazon Prime subscribers currently get streaming movies and TV. It has recently started commissioning original content. Original programming has been a successful move, as Netflix found with its New Black, Orange, and House of Cards.
With Twitch, Amazon's current subscribers who are committed gamers will flock to play.
Video – Amazon acquires Twitch