Amazon has begun installing rooftop solar power atop its warehouses with the intention of completing at least 50 such installations by 2020.
The online retail giant says that by the end of 2017, rooftop solar power systems on 15 of its American fulfillment and sortation centers – in California, Delaware, New Jersey, Maryland, and Nevada – will be generating up to 41 megawatts (MW) of power.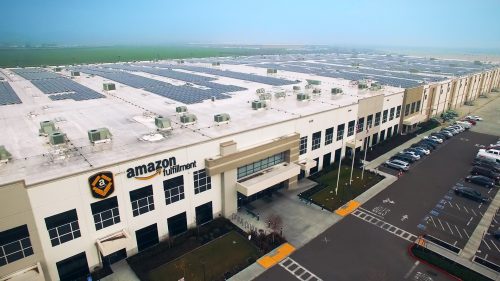 Rooftop solar power at Amazon fulfillment center in Patterson, CA. Photo: Business Wire
Amazon expects to generate as much as 80 percent of the annual power used in a warehouse from solar energy, although this will vary from installation to installation.
Amazon will 'pass along further savings to customers'
Rooftop solar power systems are already installed at the company's fulfillment center in Patterson, CA where solar panels cover more than three quarters of the roof of the 1.1 million square foot building. The solar energy powers hundreds of the Amazon robots operated by staff inside the warehouse.
"As our fulfillment network continues to expand," says Dave Clark, Senior Vice President of Worldwide Operations, "we want to help generate more renewable energy at both existing and new facilities around the world in partnership with community and business leaders."
"By diversifying our energy portfolio, we can keep business costs low and pass along further savings to customers," he adds.
---
---
One of several renewable energy projects
The rooftop solar power initiative is one of several renewable energy projects that Amazon is pursuing. In Texas, for example, the company has recently installed its largest wind farm – the 253 MW installation is expected to generate 1 million megawatt hours (MWh) of wind energy annually.
There are also wind and solar farms in Indiana, North Carolina, Ohio, and Virginia, that provide power to Amazon Web Services (AWS) datacenters.
AWS have declared a long-term aim of achieving 100 percent renewable energy usage for their global infrastructure footprint. They are on track to reach the 50 percent mark by the end of 2017.
Adding the recent announcement to the list of projects planned or in construction will bring the total amount of renewable energy AWS will be generating to 3.6 million megawatts.
Other sustainability-focused projects Amazon is undertaking include green rooftops and using recycled energy for heating its headquarter offices in Seattle.
In a recent report by GreenBiz Group, Amazon was found to be the leading corporate buyer of renewable energy in the US in 2016.
---
---
1 in 50 new jobs in the US is in the solar power industry
Amazon is also supporting career development for its staff who wish to become NABCEP certified installers of photovoltaic (PV) solar panel systems for commercial and residential properties.
The renewable industry is growing quickly and many workers who qualify as PV installers may rapidly find themselves rising to management positions, or being sought as designers or developers of renewable energy systems all over the world.
In the US for example, one in 50 jobs created last year was in the solar power industry, according to the Solar Foundation's Solar Jobs Census 2016.
---
Video – Solar Energy
---