Is America in decline? Everybody seems to think so as China's hyper-economic growth bites at the heels of America's global supremacy. But, how much of this is true and how much of it is a myth?
According to the Wall Street Journal, The National Intelligence Council predicts China will overtake the USA in 2030, the Standard Chartered Bank says by 2020, and the OECD (Organization for Economic Cooperation and Development) believes it will occur in 2016.
In his new book – The Myth of America's Decline – Josef Joffe, editor of the German weekly Die Zeit and Senior Fellow of Stanford's Freeman Spogli Institute for International Studies, a faculty position, explains that the United States is far from being surpassed by another nation for many years to come.
Just as 'declinists' were way off the mark when they predicted that the Soviet Union would gain world dominance in the 1950s, and then Japan in the 1980s, they are wrong again when they forecast China surpassing the US within the next ten years.
Japan and the other Asian tigers started off with miracle economies, growing at double-digit speed, only to taper off suddenly and tame right down. For the last two decades Japan has languished in a deflationary environment after years of spectacular growth.
Why does this happen? According to Joffe, the export-driven model eventually peters out because it is based on investment at the cost of consumption. Also, the state interferes too much, leading to over-investment, especially to major 'pet' companies, resulting in a predictable path of diminishing returns.
All hyper-growth countries go through this cycle, Joffe points out, even Germany did after its post WWII boom. He adds that it is now happening in China.
Joffe explains that just two of China's state-controlled companies had greater profits than the top 500 private companies in 2009.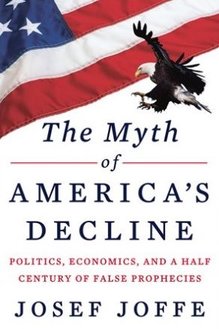 America in decline? Not with immigration
The greatest edge America has over its Asian and European rivals is immigration. Immigration keeps the average age of Americans well below those of Europe and Japan. Younger people are economically active.
Joffe says:
"The Europeans, Chinese and Japanese cannot handle immigration [which] yields the most precious natural resource in the 21st century economy."
By 2035 Joffe predicts that China will have more seniors as a percentage of the population than the United States.
America in decline? Not with its universities
Americans complain about the level of education in their schools. However, many forget that of the fifty top universities in the world, 34 are in the United States, Joffe points out.
Having top higher education centers is a giant magnet for global talent. Joffe nickname's the US as the world's Ph.D. factory.
America's enemy is from within
If America freezes up, Joffe explains, and clamps down heavily on immigration and undermines upward mobility, then the threat of decline becomes a stark reality.
He says that President Barack Obama's concern that the US has a serious problem of progressive inequality and poor upward mobility is really just political talk.