An American Airlines CFM International order worth $2.6 billion has been announced by the two companies to provide the advanced LEAP-1A engines for 100 Airbus A320neo aircraft. This is bad news for United Technologies Corp's Pratt and Whitney unit which also supplies engines for the A320neo jets.
The Fort Worth-based airline will start taking delivery of the engines in 2017.
CFM also has an existing order for LEAP-1B engines to power American's 100 Boeing 737 MAX jets, with delivery also starting in 2017. American's fleet includes Boeing 737 and 375 Airbus A320 Family aircraft powered by CFM56 engines.
Robert Isom, American Airlines' chief operating officer, said:
"With its improved fuel efficiency, reduced maintenance requirements and lower operating costs, the LEAP engine is a great fit for our A320neo aircraft. We are pleased with how the engine has performed during testing and we look forward to introducing it into our fleet in 2017."
Jean-Paul Ebanga, President and CEO of CFM International, said:
"We are thrilled that American Airlines has again chosen to make CFM an integral part of its long-term fleet strategy and look forward to continuing our very successful relationship with this airline."
2014 order set to hit a record
At the Farnborough International Airshow in England today, CFM said it is on track for another record year, with orders through June totaling 2,071 engines, including 1,054 LEAP and 1,017 CFM56 engines (military, commercial and spares).
In 2013, also a record year, the company received orders for 2,723 engines valued at over $31 billion at list price.
Orders so far in 2014 include:
American Airlines: 100 A320neo jets,
VietJet: 21 CFM56-5B-powered Airbus A320ceos,
Turkish: 15 LEAP-1B-powered Boeing 737 MAX 8s,
Sun Express: 25 CFM56-7B-powered Boeing Next-Generation 737s,
Nok Air: 8 CFM56-7B-powered Boeing 737-800s and 7 LEAP-1B-powered 737 MAX 8s,
Lufthansa: 40 LEAP-1A-powered Airbus A320neos,
flydubai: 75 LEAP-1B-powered Boeing 737 MAX 8s,
Delta: 15 CFM56-5B-powered Airbus A321ceos.
Strong LEAP engine orders
Mr. Ebanga said:
"2013 was a big year for us in so many ways and 2014 looks to be just as strong. The LEAP engine continues to enjoy the highest order ramp up in commercial aviation history and we are still more than two years away from entry into service."
"At the same time, CFM56 engine orders are still solid. For us, this reinforces the industry's confidence in this product and, more specifically, the way that CFM56 engines hold their value long term."
In 2013, CFM delivered 1,502 CFM56 engines, the figure is set to hit 1,550 by the end of this year, which will be another record. The company aims to increase CFM56 engine production to 1,800 annually by the end of the decade.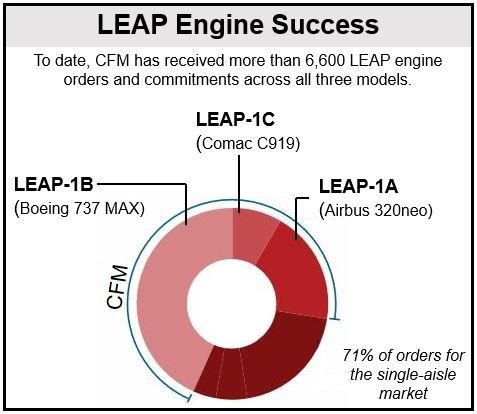 The A320neo, 737 MAX and C919 account for about 90% of new single-aisle orders. (Source: CFM)

About CFM International
CFM International, based in the US and France, is a joint venture between General Electric's GE Aviation and Safran's Snecma. The two companies got together to build and support the CFM56 jet engine series.
The initials CFM are derived from GE Aviation's CF6 and Snecma's M56.
CFM was founded in 1974. Between 1974 and 2011 it produced more than 23,000 engines to over 500 customers globally.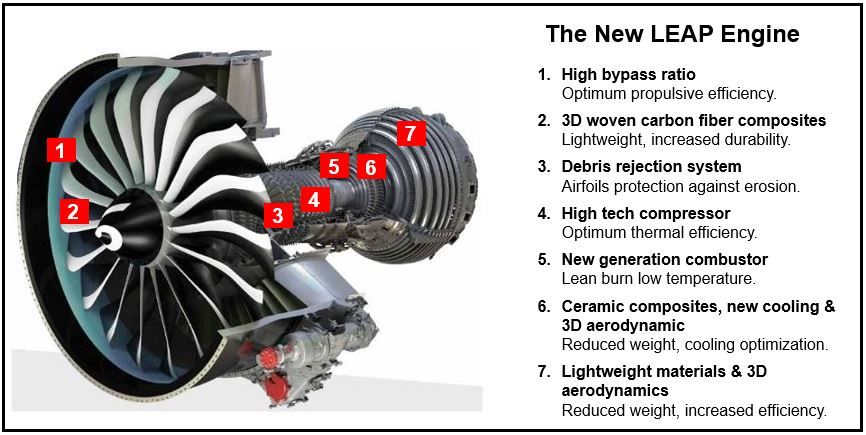 15% improvement in fuel consumption and Co2 emissions compared to today's best CFM engine. (Source: CFM)