Home prices in the U.S. rose 12.4% over the past year to the end of July, according to the the latest S&P/Case-Shiller Home Price Index – which measures single-family home prices in 20 cities across the country. 
The increase in prices represents the biggest yearly rise since 2006.
Changes in home prices varied by city:
Atlanta + 18.5%
Boston + 6.3%
Charlotte + 7.6%
Chicago + 7.8%
Cleveland + 3.9%
Dallas + 8.5%
Denver + 9.7%
Detroit +16.9%
Las Vegas + 27.5%
Los Angeles + 20.8%
Miami + 13.7%
Minneapolis + 9.5%
New York + 3.5%
Phoenix + 18.9%
Portland + 12.2%
San Diego + 20.4%
San Francisco + 24.8%
Seattle + 12.5%
Tampa + 12.6%
Washington + 6.0%
Las Vegas along with cities in California lead the housing recovery.
David Blitzer from S&P Dow Jones, said that  "the Southwest continues to lead the housing recovery. Las Vegas home prices are up 27.5% year-over-year; in California, San Francisco, Los Angeles and San Diego are up 24.8%, 20.8% and 20.4% respectively. However, all remain far below their peak levels."
The U.S. Federal Reserve recently decided to keep the $85 billion monthly Fed stimulus package intact. The quantitative easing has boosted the housing market over the past year by lowering mortgage rates.
However, that effect has already ended, according to Mr. Blitzer.
Mr. Blitzer said:
"Following the increase in mortgage rates beginning last May, applications for mortgages have dropped, suggesting that rising interest rates are affecting housing. The Fed's announcement last week that QE3 bond buying will continue for the time being may have only a limited, though favorable, impact on housing."
A recent report by Bankrate.com revealed that more than half (55%) of Americans expect housing prices to increase over the next year, with 23 percent of Americans viewing real estate as the "best way to invest money not needed" for more than a decade.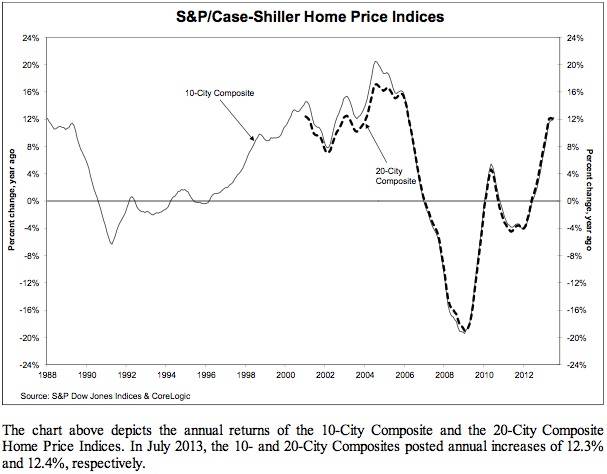 About S&P Dow Jones Indices
S&P Dow Jones Indices LLC, a part of McGraw Hill Financial, is the world's largest, global resource for index-based concepts, data and research.