April UK unemployment fell to 6.6% compared to 7.1% at the beginning of February, while the number of people in employment increased by a record 345,000 over the same period to a record 30.5 million, the majority of whom are in full-time jobs, according to figures published by the Office for National Statistics (ONS).
At the end of May, the total number of people claiming out-of-work benefits fell by 27,400 to 1.09 million, its lowest level in six years.
The UK's improved labor market underlies the country's accelerating economic rebound. With GDP (gross domestic product) growing at 3.2% per year, the International Monetary Fund says it is currently the fastest-expanding economy in the G7.
At the end of may, the British Chambers of Commerce upped its UK 2014 economic forecast to 3.1% GDP growth from 2.8%.
Pay growth below inflation rate
However, Brits are not happy. While pay during the February-to-April 2014 period grew by 0.7% compared to the same period in 2013, prices rose by 1.8%. Pay during the January-to-March 2014 period had risen by 1.9% compared to the same period in 2013.
As far as average households are concerned, what people can buy each month matters much more than the unemployment rate or total employment numbers.
General elections are held next year. For Prime Minister David Cameron's party to have a chance of being re-elected, its members need to remember that "It's the economy stupid!" matters much less to the average voter than "It's purchasing power, stupid!"
The ONS explained that April's very low pay increase was partly due to delayed bonus payments in April 2013. If bonuses are excluded, wages rose by 0.9%.
Conservative and Labour spin on the figures
Mr. Cameron welcomed the news, saying that the government had reached a "major milestone" in its long-term economic program. Two million private sector jobs have been added since 2010.
Rachel Reeves, Labour's (opposition's) shadow work and pensions secretary, said in an interview with the BBC that the slowdown in pay increase means that even those with jobs are finding it a struggle to make ends meet.
In Parliament, to cheers from his lawmakers, Mr Cameron said of Ed Miliband the Labour leader "He is absolutely allergic to good news because he knows that as the economy gets stronger, he gets weaker."
Mr. Cameron's Conservative (Tory) Party is currently trailing the Labour party in opinion polls.
Private sector driving jobs growth
During the quarter ending in April, the public sector lost 103,00 jobs. However, Lloyds bank employees were reclassified as private sector (from public sector) workers. Without counting them, public sector job losses totaled 11,000.
During the February to April period, 25.1 million workers were employed in the private sector and 5.4 million in the public sector. There were 447,000 more people employed in the private sector compared to the previous quarter.
Economists were impressed that most of the new jobs consisted of full-time workers, rather than self-employed individuals, which would have made the strength of the rise seem less convincing.
The number of people working part-time because they could not find full-time work declined significantly.
Will the Bank of England raise interest rates?
The Bank of England's (BoE's) Monetary Policy Committee (MPC) members are likely to be scratching their heads at April's mixed jobs and pay growth figures.
Governor Mark Carney previously said the Committee would prefer to see unemployment fall further and some clear signs of accelerating wage growth before considering raising its benchmark interest rate, which has stayed at 0.5%, a 320-year low, since March 2009.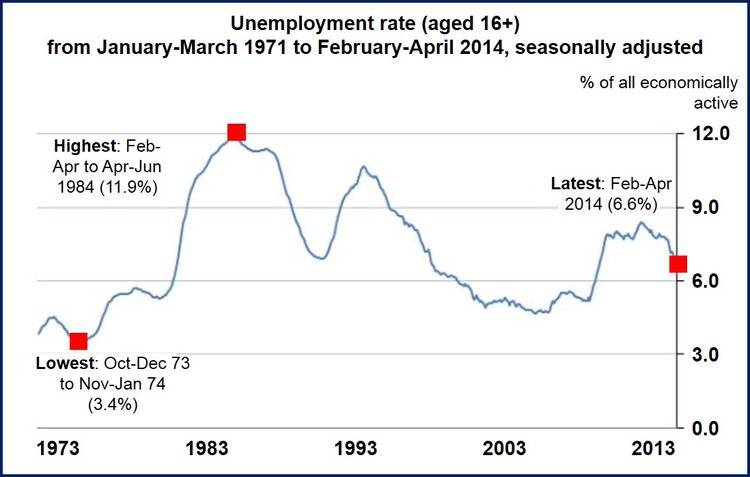 (Office for National Statistics)
As the slack in the labor market shrinks there is a growing risk of rising inflation. However, slowing wage growth takes the heat off the BoE to do anything now.
Reuters quoted Samuel Tombs at Capital Economics, who said "With few signs still that the labor market is a source of inflationary pressure, we still think the Monetary Policy Committee can afford to keep interest rates on hold until well into next year."
Mr. Carney warned last month that the housing market poses the largest risk to Britain's long-term recovery and financial stability. The UK's housing market has some deep structural problems that need to be addressed, he said.
Video – April UK unemployment fell