The Asia-Pacific economic rebound is gaining traction, according to the latest APEC Economic Trends Analysis report. However, the authors warn that higher production efficiency supported by greater innovation-friendly business conditions are required to help steer economies toward an improved growth path.
Dr Alan Bollard, Executive Director of the APEC Secretariat, said:
"Economies in the APEC region are recovering and we expect this to accelerate. Our priority now is to ensure that the region moves to a higher medium-term growth path. To achieve that, APEC economies are laying the groundwork for a rebound in trade and productivity."
APEC GDP forecast to grow 4.2% in 2014
The 21 economies that belong to APEC (Asia-Pacific Economic Cooperation) account for approximately 60% of global gross domestic product (GDP) and nearly half of world trade. Economic growth among the APEC nations it expected to increase to 4.2% in 2014 from 3.7% in 2013, and by 4.4% in 2015.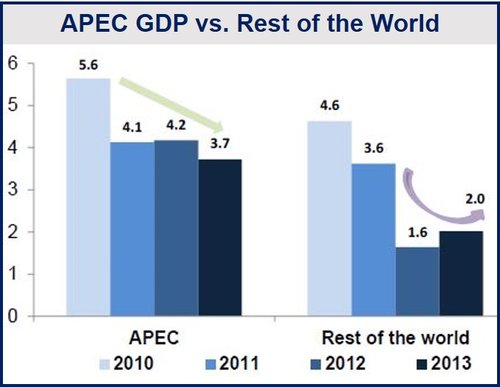 (Source: APEC)
However, macroeconomic imbalances associated with the global financial crisis and post-crisis uncertainty continue undermining economic performance across the region.
Dr. Bollard explained "APEC trade is at high levels in global terms but exports remain sluggish and are not contributing to growth in an optimal way. At the same time, the region is facing the twin challenges of decelerating labor productivity and employment growth."
Quynh Le, a macroeconomist at the APEC Policy Support Unit and lead author of the APEC Economic Trends Analysis, explained that production efficiency has declined among companies in developing and emerging economies while firms in the advanced economies have been laying off workers at increasing rates. "Economic turnaround is a pre-requisite for a revival in productivity and employment but that in and of itself may not be sufficient."
Encouraging innovation is vital
Le added "Sustainably raising productivity and ensuring robust job creation requires higher production efficiency based on greater innovation across different business sectors. Technological innovation, for example, can cultivate markets for new products and, in turn, seed employment opportunities and expand production frontiers."
APEC nations are liaising together with the private sector to foster a business environment where companies are encouraged to undertake more R&D (research and development). This includes:
reducing obstacles to private investment,
making it less burdensome for start-up companies,
and facilitating the cross-border movement of labor that drives science and technological innovation.
The APEC region needs to push harder for a "well-functioning intellectual property rights system that legally protects inventions and fiscal and taxation instruments to promote more private setor R&D investments."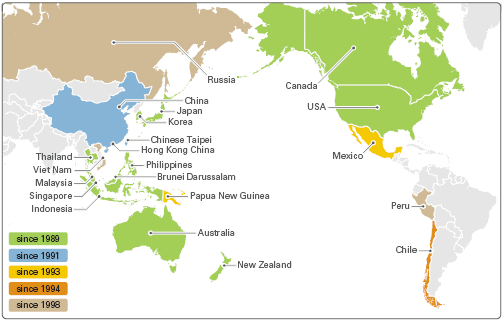 APEC members include Australia, Brunei, Canada, Indonesia, Japan, South Korea, Malaysia, New Zealand, Philippines, Singapore, Thailand, the US, Chinese Taipei, Hong Kong, China, Mexico, Papua New Guinea, Chile, Peru, Russia and Vietnam.