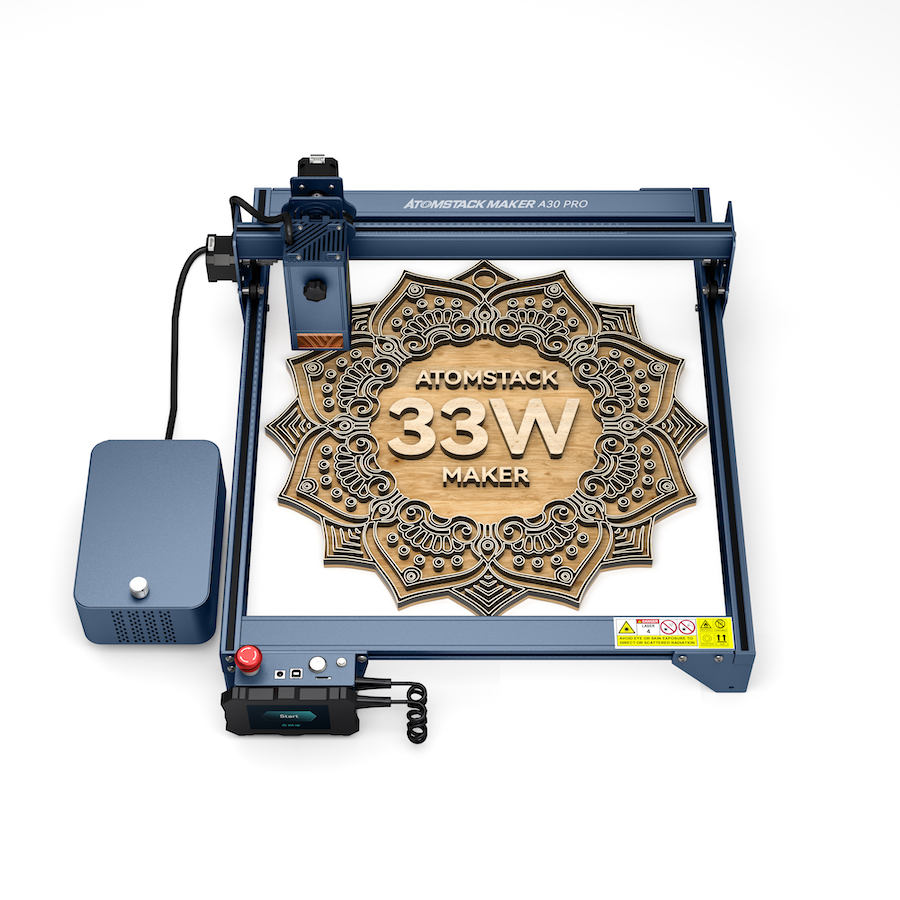 Laser engraving is a technology that uses lasers to create precise and detailed markings, designs, or images on various materials. It is a versatile and efficient method of engraving that has found applications in various industries, including manufacturing, arts and crafts, personalization, and signage.
Laser engraving and slicing have established themselves as powerful and adaptable processes for transforming different substances into complex patterns and personalized products.
The Atomstack A30 Pro, a spectacular laser engraver & cutting that has drawn considerable interest from fans and specialists equally, represents one of the primary competitors in this field.
The Atomstack A30 Pro has been a popular choice for individuals and companies looking to let loose their imaginations and streamline their production due to its sophisticated capabilities, precision, and user-friendly interface.
In this post, we'll look at the Atomstack A30 Pro's remarkable powers and how it's changing the field of laser engraving & slicing.
The Rise of Laser Engraving and Cutting
This laser engraver and cutter allows people and organizations to bring their creative concepts to life, from individualized gift items and unique home decor to elaborate artwork and prototypes. 
Laser engraving & machining techniques have revolutionized how we customize and produce images on various substances, including timber, acrylic paint, leather goods, newspaper, and metallic. These processes have largely superseded conventional hand engraving and slicing procedures, allowing for greater precision, quicker manufacturing rates, and the execution of elaborate designs that were previously difficult to create.
Introducing the Atomstack A30 Pro
In the category of laser engraving and cutting machines, the Atomstack A30 Pro is a market leader. With its remarkable abilities, this modern technology is intended to cater to each amateur and specialist. The A30 Pro, with its high-powered laser and comprehensive control mechanisms, guarantees maximum efficiency and exact implementation of designs.
Specifications:   
Engraving size: 400*400mm
Engraving materials: Wood, bamboo, cardboard, plastic, leather, PCB board, alumina, non-reflective plated and lacquered metal, 304 mirror stainless steel, glass, ceramic, cotton cloth, and slate.
Cutting materials: Cardboard, non-woven fabric, wood board, acrylic, some thin plastic sheets, sponge.
Machine power: 160W
Laser electric power: 120W
Laser output optical power: 33-36W
Laser wavelength: 455±5nm
Engraving accuracy: 0.01mm
Focusing method: Fixed focus laser, no need for manual focusing.
Laser protective cover: Provides eye protection and prevents pets from interfering with the laser spot.
Operating software: LaserGRBL, LightBurn, compatible with Win XP/Win 7/Win 8/XP/Win 10 system.
Supported file formats: NC, BMP, JPG, PNG, DXF.
Data transfer method: USB connection.
Power supply: 100-240V AC, 50/60Hz, output: 24V 6A.
Certification: CE, FCC, RoHS, FDA, PSE.
Dual Functions: Engraving and Cutting
One of the Atomstack A30 Pro's notable characteristics is its simultaneous functioning as a laser engraver and laser cutter. This multifunctional equipment enables individuals to emboss complicated designs into different substances and cut across these designs with astonishing accuracy.
This adaptability offers infinite imaginative opportunities, allowing customers to experiment with a wide variety of programs, from producing unique gifts to constructing experiments and elaborate sculptures.
Unparalleled Precision and Detail
Precision is crucial to the performance of the Atomstack A30 Pro. With its high-powered laser, this engraver and cutter can accomplish complex features and fine lines, considerably improving the end product's quality.
The A30 Pro provides predictable and spectacular results every time, whether adding complex patterns onto a hardwood board or carving fragile designs out of Plexiglas.
User-Friendly Interface
The Atomstack A30 Pro is simple to use, which makes it suitable for users with and without experience. Its user-friendly software interface enables simple design uploading, editing, and managing many settings.
Users may utilize common design tools to import existing designs or create new ones, then effortlessly transfer them to the A30 Pro for execution. The tool's simple operation and effective refrigeration system reduce the possibility of errors while embossing or slicing.
Safety Measures
Security is critical when dealing with laser engravers and cutters, and the Atomstack A30 Pro treats that thoroughly. The equipment includes security precautions such as an emergency stop button and safety spectacles, allowing users to operate with assurance while jeopardizing their safety. Furthermore, the A30 Pro incorporates clever security features that turn back the laser in the case of unwanted motion or interference.
Material Versatility
Because of its ability to work with an extensive selection of substances, the Atomstack A30 Pro is a perfect tool for various tasks. Atomstack laser engraver can work with fragile substances like linen and tough materials like metal. Its customizable laser strength and velocity options provide precise management and ensure excellent outcomes on every substance.
Enhancing Productivity
Productivity is an important aspect of any industrial process in modern times. Because of its quick embossing & trimming capacities, the Atomstack A30 Pro maximizes efficiency. Its high-powered laser allows customers to finish projects in just a little of the time that conventional techniques could require. This enhanced productivity also cuts the manufacturing process and increases the total quantity produced.
Creative Applications
The Atomstack A30 Pro's imaginative applications are nearly unlimited. This laser engraver and cutter allows people and organizations to bring their creative concepts to life, from individualized gift items and unique home decor to elaborate artwork and prototypes.
The machine's accuracy and variety enable exploration and invention, stretching the limits of artistic expression and manufacturing.
Conclusion
The Atomstack A30 Pro certainly left an impression in laser engraving and cutting. Its unrivaled accuracy, dual performance, intuitive design, and dedication to security render it an excellent choice for amateurs and specialists. The A30 Pro, with its capacity to handle various substances and optimize efficiency, is a powerful instrument for unleashing creativity and revolutionizing production processes.
The Atomstack A30 Pro is the perfect partner to improve your crafting efforts or streamline your company's manufacturing capabilities. With the Atomstack A30 Pro at your disposal, experience cutting-edge laser engraving and cutting technology and watch the transformation of your creative ideas into a magnificent reality.
Laser engraving has revolutionized the world of engraving and customization, providing a wide range of applications and possibilities for businesses and individuals alike.
---
Interesting Related Article: "What Laser System Is Better For Engraving Wood?"