Audi dealerships will soon be handing out virtual reality headsets to customers to give them an 'unprecedentedly realistic' way of configuring their preferred car.
The carmaker plans on using virtual reality headsets as a novel way to showcase their entire model portfolio and all possible equipment combinations.
Customers wearing the VR headsets will be able to walk around the car of their choice, sit in the driver's seat and see all details of the vehicle up close.
Select Audi dealers will begin offering the VR experience (with HTC Vive or Oculus Rift VR headsets) in the second quarter of the year.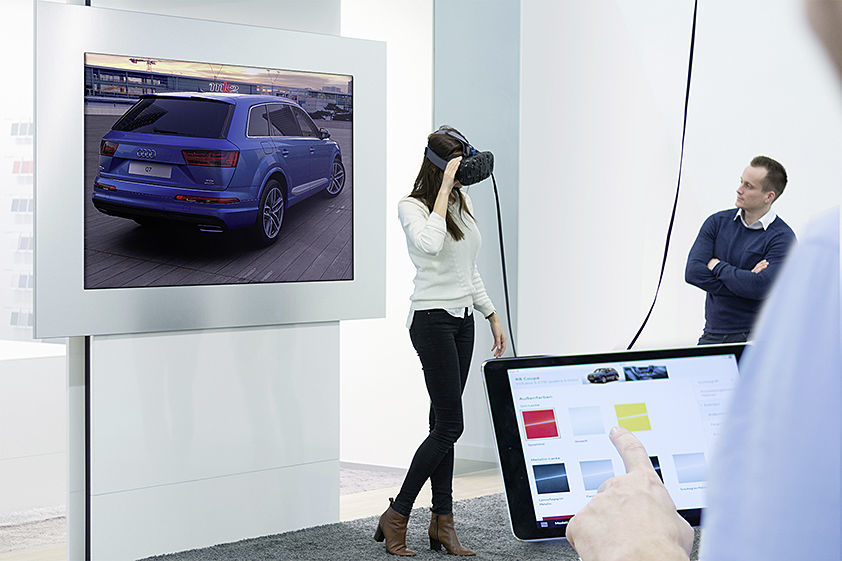 Virtual reality will offer a much more immersive experience than looking at photos or using a 360 degree configurator.
Audi said: "With the innovative technology, customers and prospective buyers experience the virtual Audi world on a new level – in three dimensions, with all sound effects, and almost life‑like.
They can virtually take a seat behind the wheel of their individually configured dream car or take a look in the trunk. A camera tracks the movements of the user's head and the system adapts the image displayed accordingly.
"The full spectrum of the Audi model range, with respective customization options, can be called up: colors, leathers, inlays as well as infotainment systems.
---
---
The dealer is thus able to demonstrate the diversity of the Audi portfolio in a very convenient way and to provide individual advice to the visitor."
The announcement marks Audi as the first automotive manufacturer to create a dedicated retail software solution for VR headsets.
Imagine being able to just sit back and experience the whole Audi range in virtual reality. (Image: twitter.com/immersivly)
Luca de Meo, Member of the Board of Management for Sales and Marketing at AUDI AG, said:
"Hand in hand with our dealers, we are bringing digital innovations into the dealership in order to improve convenience and to provide even better advice. With the Audi VR experience, we are once again demonstrating the pioneering role of the four rings in this area."
Audi's announcement represents a whole new application of VR technology. It's no surprise that the technology would eventually catch the automotive industry's attention given the fact that VR headsets offer excellent immersion and could prove to be a fantastic selling tool.
---
Video – The Audi VR Experience
This video explains how the VR user is able to virtually experience being in the driver's seat and explore the cockpit of a car.
---