Australian regulators should postpone introducing new regulations which will force banks to add billions of dollars in extra capital, urged Ian Narev, Commonwealth Bank of Australia's Managing Director and Chief Executive Officer.
The new regulations, which have been introduced in the Europe and North America, are aimed at making financial institutions better able to withstand financial shocks. In 2015, global standards are expected to be rolled out.
Speaking on Channel Nine's Financial Review Sunday program, Mr. Narev defended the bank's capital standards ahead of the much expected release of the Financial Systems Inquiry.
Mr. Narev says he believes banks have got enough capital. He does not want to see Australia's financial institutions getting caught in a "pincer" if worldwide regulators alter capital rules after those in Australia have been implemented.
It is doubtful he will garner any support from Treasurer Joe Hockey who earlier this month told banks to refrain from mounting a public campaign against change. Mr. Hockey warned that banks are going to have to raise their levels of capital.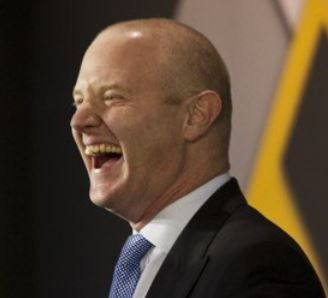 Mr. Narev says they have enough capital.
The Financial System Inquiry, which is chaired by David Murray, is likely to recommend that banks be made to hold more equity capital as a buffer from the shocks if another financial crisis hits.
According to Australia's big four banks, the proposed rule would hit borrowers who would face higher interest rates. They add that shareholders would also receive lower dividends.
Mike Smith, CEO of Australia and New Zealand Banking Group warned in October that if banks were made to raise their capital buffers it would lead to higher interest rates for customers.
Mr. Narev said:
"We feel it is very important to not get prescriptive about capital levels until the international side of the regulation is finalized because otherwise we could end up with trying to do something here and in 12 months to 18 months' time find there is a whole different wave of things from Basel people that haven't been finalized that also has an impact on the banks. And we don't want to get caught in that sort of pincer."
Narev defended CBA's workplace culture
Mr. Narev defended his bank's workplace culture over the financial planning scandal which cost thousands of customers millions of dollars. He said the CBA is doing everything it can to address the problem and is using a "global leading program to put things right."
Mr. Narev said:
"We have got to make sure that if mistakes are made, people put their hands up and we rectify them as soon as we can. We need to first look at ourselves in the shoes of the people affected by this … and ask ourselves why things like this have happened."
Although profits have improved considerably and the company's share price has risen, the fallout from the scandal is still palpable.
Some of CBA's planners were found by a Senate inquiry as incompetent at best, and at worst, "dodgy" in the way they advised their clients.
CBA responded by implementing a compensation scheme for customers who were affected from 2006 to 2010. So far, over $50 million has been paid out. More than 4,000 customers or ex-customers have registered to have their financial advice reviewed.
Video – Financial Review Sunday