Automatic Data Processing, Inc. (ADP) provides business outsourcing, payroll, tax, benefits, and administration solutions.
ADP also provides integrated computing solutions to dealerships for automobiles, motorcycles, boats, recreational vehicles, and heavy equipment.
The company is headquartered in Roseland, New Jersey, USA.
According to ADP, it provides business solutions to more than 637,000 organizations across 125 countries, including 425,000 small-business clients and 26,000 vehicle dealerships.
The history of the company traces back to Automatic Payrolls, Inc., a manual payroll processing business founded by Henry Taub in 1949. The company changed its name to Automatic Data Processing, Inc. in 1957. Four years later, in 1961, ADP went public.
The company is publicly listed on the NASDAQ Stock Exchange, under the stock ticker symbol 'ADP'.
ADP states that (as of May 2014) more than 80 percent of FORTUNE 500® companies use at least one Automatic Data Processing service.
Its primary services and products are: Employer Services, Human Capital Management, Payroll Services, Talent Management, Human Resources, Management, Benefits Administration, Time and Attendance, HR Business Process, Outsourcing (HRBPO), Professional Employer, Organization (PEO), Retirement Services, Insurance Services, Tax and Compliance, and Payment Solutions.
ADP's mission is "to power organizations with insightful solutions that drive business success."
Overview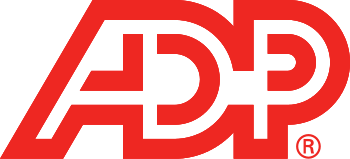 President and CEO: Carlos A. Rodriguez
Industry: Business Services
Type: Public
Listed on the NASDAQ Stock Exchange
S&P 500 Component
NASDAQ stock symbol: ADP
Founded: 1949
Revenue: $12.206 billion USD (2014)
Net income:$1,515 million USD (2014)
Diluted earnings per share: $3.14 USD (2014)
Company head office: One ADP Boulevard, Roseland, New Jersey, 07068, USA
Employees: 61,000 (2014)
Website: http://www.adp.com/
Investor relations contact number: 973-974-5858
Investor relations email: 

[email protected]
---
Automatic Data Processing, Inc. Financial Results, Years Ended June 30
Operating data (in $ millions)

2014

2013

Revenues
$12,206.5
$11,287.6
Total costs of revenues
$7,221.4
$6,638.5
Total expenses
$10,004.8
$9,307.7
Net earnings from continuing operations
$1,502.6
$1,358.1
Net earnings from discontinued operations
$13.3
$47.7
Net earnings
$1,515.9
$1,405.8
Comprehensive income
$1,678.7
$1,191.0
Balance sheet data (in $ millions)
Total assets
$32,051.7
$32,268.1
Total liabilities
$25,381.5
$26,078.2
Total stockholders' equity
$6,670.2
$6,189.9
Common share data (in $)
Basic earnings per share
$3.17
$2.91
Diluted earnings per share
$3.14
$2.89
Cash flow data (in $ millions)
Cash provided by operating activities
$1,821.4
$1,577.2
Cash (used in) provided by investing activities
$813.3
$(1,578.4)
Cash (used in) provided by financing activities
$(2,358.2)
$151.0
Cash and cash equivalents at beginning of fiscal year
$1,699.1
$1,548.1
Cash and cash equivalents at end of fiscal year
$1,983.6
$1,699.1
Source: "Automatic Data Processing, Inc. Form 10-K 2014"
---