Banking bonuses have increased by 29% over the last twelve months around the world, with the City of London reporting the most bankers' bonuses, says a new survey carried out by eFinancialCareers.
Average banking bonuses were 30% higher in London in 2013 than 2012, up from £45k ($75k) to £58k ($96k). This is quite an increase when banks have been struggling with their fixed income business and the EU has been bearing down on financial institutions to reduce the proportion of banking remuneration that is awarded as bonuses.
While UK investment bankers were still grumbling about not receiving enough money, despite having the highest bonus increases, their Hong Kong counterparts who are paid much less are generally satisfied with what they received.
The eFinanceCareers 2014 bonus survey found that more than 40% of UK respondents complained that their payment was less than they had been expecting, compared to just 33% in Hong Kong.
In Wall Street, thirty-eight percent of respondents reported being satisfied with their bonus, and a similar number expressed disappointment.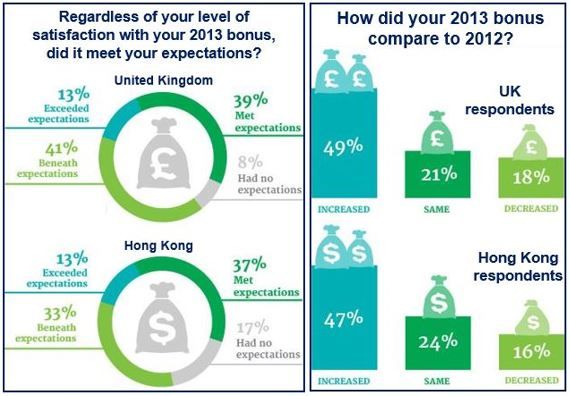 (Source: eFinancialCareers)
Why are London investment bankers so unhappy?
eFinanceCareers believes UK-based bankers have been grumbling the most because the UK market consists of a higher percentage of senior staff who are paid more in deferred stock. Senior staff are also more likely to have had their salaries reduced.
According to eFinanceCareers "Of those respondents claiming a bonus increase in the UK, the average payment was $89k while those whose bonus was reduced received a mean payment of $215k."
Jon Terry, a partner in compensation practice at PwC said:
"As a very general rule, investment bankers in Asia are less likely to challenge or complain about their bonus payment, but will leave their current position anyway if they feel underpaid. It's a very Anglo-Saxon trait to complain about bonuses, but many bankers in the UK will feel particularly aggrieved after years of regulatory intervention over bonus payments."
Headhunters say there was a wide disparity in banking bonuses in 2013. Senior, high-performing investment bankers have done extremely well, while many others have been left by the wayside. Headhunters are agencies that look for top executives to fill job vacancies for their clients.
Michael Karp, managing partner of the Options Group, said to eFinancialCareers "There's been a massive amount of divergence in compensation both within institutions and groups. We know some banks have paid top performers double what they got last year, while others have had zero. It's been a very divergent year."
Elsewhere in the world, banking bonuses increased at a more moderate pace last year. They actually fell by 3% in Singapore and rose by just 2% in Hong Kong.
According to eFinancialCareers "A year-on-year comparison is not possible for the US market. However, according to our audience, the City of London was the place to be."
After posting a pre-tax loss of £8.243 billion for 2013, the Royal Bank of Scotland still managed to put aside £576 million for bonuses for its executives. America's largest bank JP Morgan announced it was cutting its workforce by 8,000 to save money, but awarded its CEO a massive 74% pay rise.
Despite a fall in profits, HSBC is trying to get EU approval to increase its executives' bonus cap to 200% of salary from the current 100%. While increasing bonuses for its top executives, Barclays says it is having to lay off up to 12,000 workers to save money.
Video – Bankers complain bonuses not enough
Written by [google_authorship]