Banksy, an English-based graffiti artist, political activist, and film director whose identity has remained a secret, is Robin Gunningham, says a team of researchers from Queen Mary University of London (QMUL) who used a mathematical technique called Geographic Profiling to seek out the artist's real identity.
First author, Michelle Hauge, for whom the study was part of her final year undergraduate research project, and colleagues wrote about their findings in the Journal of Spatial Science (citation below).
By studying the spatial pattern of Banksy's artworks in London and Bristol and coming up with Robin Gunningham, the team confirmed a theory in 2008 published by the Mail on Sunday which also suggested Bristol-born Gunningham.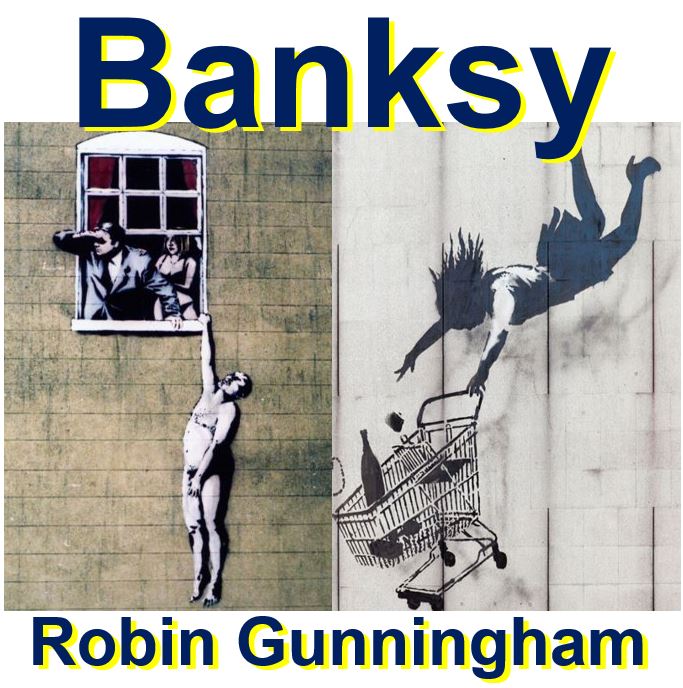 Two Banksy sketches. (Left) Naked Man image – on the wall of a sexual health clinic in Park Street, Bristol. After strong popular support, the City Council decided to allow it to remain. (Right) Shop Until You Drop, in Mayfair, London. Banksy said: "We can't do anything to change the world until capitalism crumbles. In the meantime, we should all go shopping to console ourselves."
What is geographic profiling?
Geographic profiling is a data management system and investigative methodology that evaluates the location of related serial crimes to determine the most likely area of offender residence. It can be applied in cases of robbery, arson, rape, murder, and terrorist attacks.
---
In other words, geographic profiling uses information on the locations of connected crimes to determine the criminal's anchor point – usually where he or she lives (home) or works.
The method was pioneered by Professor Kim Rossmo, a former police officer who now works at Texas State University, for use in investigations of serial crime. Prof. Rossmo was also a co-author of this study.
Lead author, Dr. Steve Le Comber, who works at QMUL's School of Biological and Chemical Sciences, has adapted the technique to study patterns of infectious diseases.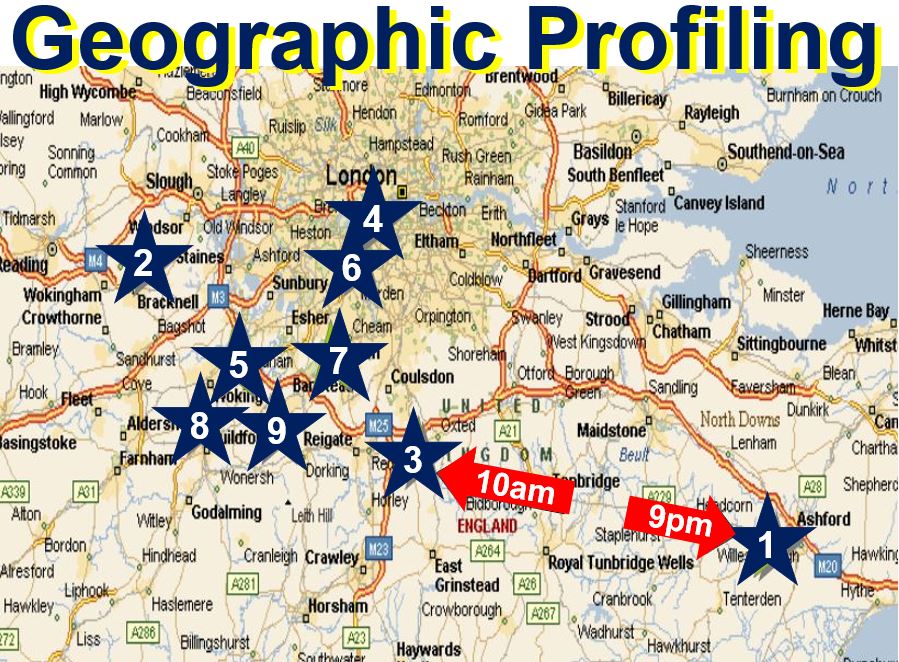 According to the US National Criminal Justice Reference Service, Geographic Profiling is: "An investigative methodology that uses the locations of a connected series of crimes to determine the most probable area that an offender lives in." (Image: ucl.ac.uk)
Geographic profiling is a useful public health tool
Prof. Le Comber said:
"In a disease outbreak, our model can use the addresses of infected individuals to find the sources of the outbreak."
"Because this takes just minutes on a computer, investigators can potentially stop outbreaks before they spread by putting in place control procedures that are likely to be most effective."
---
In this new study, the researchers collected the exact coordinates of 140 locations using publicly available data and information which was already in the public domain.
National security officers should find the details of the study useful because terrorists commonly engage in low-level activities such as anti-government leaflet distribution, banner posting, graffiti, and vandalism before carrying out major attacks. An effective way of spreading community crime
is through graffiti artists. It is a powerful way to make people aware of the behavior of
criminals to narrow down the search area for law enforcement to investigate.
The model that the researchers used may help find terrorist bases before they hurt people.
The article demonstrates the flexibility of geographic profiling, which the authors have now applied to several different types of geospatial investigations, including animals, plants, and people.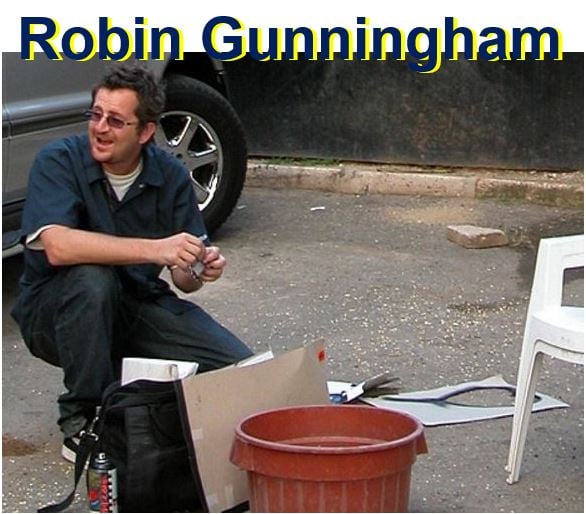 Picture taken in Jamaica in 2004, believed to be Robin Gunningham, AKA Banksy. (Image: Mail on Sunday, 2008)
Prof. Le Comber's group is currently looking at using geographic profiling in disease outbreaks such as TB and malaria.
In an Abstract in the journal, the authors wrote:
"More broadly, these results support previous suggestions that analysis of minor terrorism-related acts (e.g., graffiti) could be used to help locate terrorist bases before more serious incidents occur, and provides a fascinating example of the application of the model to a complex, real-world problem."
Citation: "Tagging Banksy: using geographic profiling to investigate a modern art mystery," Michelle V. Hauge, Mark D. Stevenson, D. Kim Rossmo & Steven C. Le Comber. Journal of Spatial Science. 3 March 2016. DOI 10.1080/14498596.2016.1138246.