Barclays has partnered with Apple to become the last major bank in the UK to support the contactless payment system Apple Pay.
The Apple Pay platform launched in the UK last July. The first banks to adopt the new technology were Santander, RBS, and NatWest; with most other major banks following suit only months later.
And now, albeit nine months late, Barclays has finally set up the service too.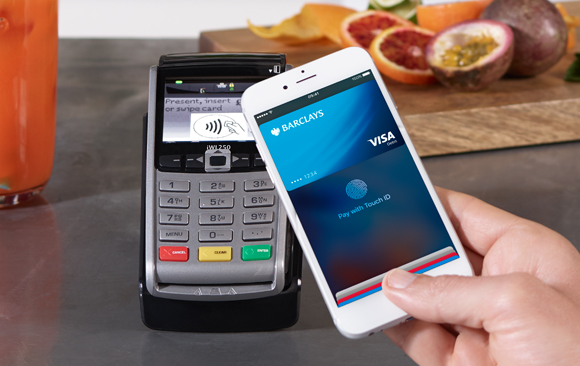 Barclaycard and Barclays customers can now use their iPhone SE, 6, 6S and Apple Watch range to conveniently make payments at over 400,000 contactless locations in the UK.
According to Barclays, "Apple Pay is easy to set up and users can now add their Barclays debit card and Barclaycard credit card to Wallet and continue to receive all of the usual rewards and benefits."
"Security and privacy is at the core of Apple Pay. When you use a card with Apple Pay, the actual card number is not stored on the device, or on Apple servers.
"Instead, a unique Device Account Number is assigned, encrypted and securely stored in the Secure Element on the device. Each transaction is authorised with a one-time unique dynamic security code."
---
---
Ashok Vaswani, CEO of Barclays UK, said:
"We are passionate about helping customers access services and carry out their day to day transactions in the way that suits them. As part of this, we have developed a range of digital innovations that allow people to choose how, when and where they bank and make payments.
" Adding to the existing choice, from today both Barclays debit and Barclaycard credit card customers can use Apple Pay to make payments with their Apple device across the UK."
Amer Sajed, Interim CEO of Barclaycard, commented:
"Since we introduced contactless to the UK in 2007, it's changed the way consumers make everyday purchases by cutting out the hassle of handling cash.
"With Barclaycard and Barclays bringing Apple Pay to our customers, we can now offer the widest choice of ways to make and take payments in a way that's most convenient for them."
---
Apple Pay is compatible with the following devices:
iPhone 6 or later
Apple Watch – paired with an iPhone 5 or later
iPad – iPad Pro, iPad Air 2, iPad mini 4, iPad mini 3 or later
---