The BBC iPlayer is now available to download on the new Apple TV, allowing UK users to stream and catch up on their favourite TV and radio shows such as "Sherlock" and "Doctor Who".
The iPlayer app was launched on the Apple TV just in time for Christmas and is set to significantly increase the appeal of the streaming box in the UK.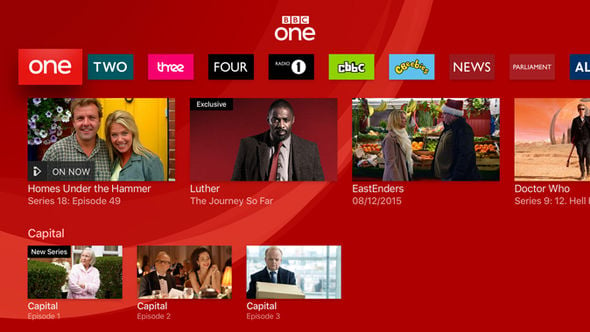 The new redesigned BBC iPlayer interface.
The app includes on-demand and live content from BBC One, BBC Two, BBC Three, BBC Four, Radio 1, CBBC, CBeebies and more.
"Christmas is a popular time for viewers to come to BBC iPlayer, as they unwrap new devices and browse and discover the BBC's fantastic Christmas programmes," says Dan Taylor-Watt, Head of BBC iPlayer.
"With the launch of iPlayer on new Apple TV, I'm delighted we've been able to give people another way of accessing the full breadth and range of BBC programmes. And, the updates to our mobile and tablet apps mean we can now deliver more personalised recommendations of BBC programmes to viewers, as well as the ability to stream BBC Store purchases directly from the iPlayer app."
---
---
The fourth-generation Apple TV has only been on the market for about six weeks, but there are already over 2,600 apps available to download.
The BBC also announced a new major update to the iPlayer app, allowing users to stream content purchased from the new BBC Store, which launched in November, directly from the app.