You spend most of your time overseeing employee compensation, hiring, training, and other people-management responsibilities. So, where is the time to focus on scaling your company? That's the reason why many company owners choose to work with an expert PEO.
A professional employer organization or PEO creates a joint-employment arrangement with an employer by providing workers for lease to the employer.  The PEO, therefore, shares and handles all of the client's employee-related obligations and liabilities.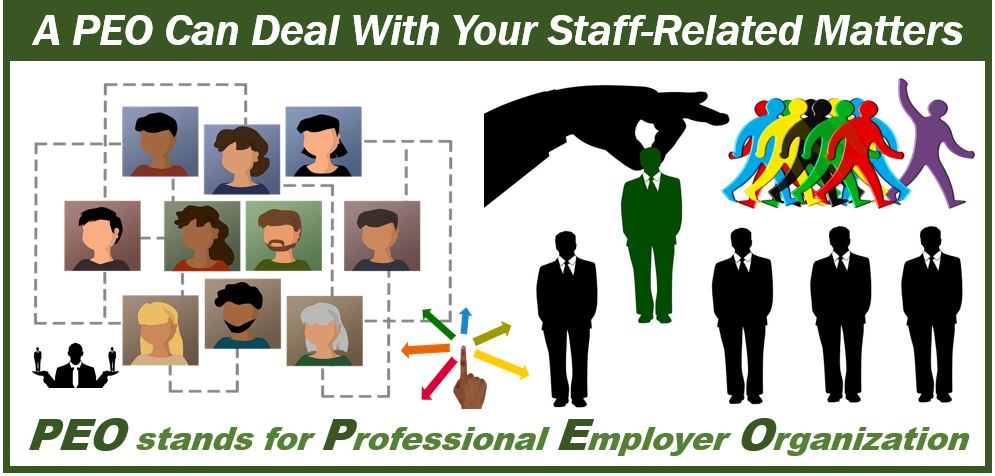 Advantages of a PEO for Your Business
Many of your employer duties can be outsourced to PEO companies, allowing you to concentrate on your company. Here are the top benefits of outsourcing your business operations to a specialist:
Benefit Programs
PEO-sponsored benefit programs provide a broad range of benefits to the workers, including medical, dental, and vision coverage, a flexible healthcare spending account, and life and disability insurance.
The professional employer organization would manage the logistical duties associated with the initiative, such as negotiating with carriers, enrolling staff, issuing legal notices, and managing COBRA administration as the plan sponsor.
The PEO will also include online benefit plan content and enrollment resources, as well as a contact center to address benefit plan questions to help your employees better understand and enjoy their benefits.
Cost-effective 
You'd have to pay wages and benefits for an HR and benefits department if your company had to hire one, so if you use a PEO expert, you'll only pay for the time and services you use. You won't waste money on things you don't need if you do it this way.
You'll only pay for what your company wants. You may easily scale up or down the use of the PEO firm depending on the state of your market and your specific needs at any given time.
Easy Payroll Processing
Some PEO companies provide payroll processing services, which can help HR professionals be more efficient by removing manual administrative processes. Only bear in mind that certain PEOs specialize in payroll only. That is, you must also prepare the hours and payroll for submission to the PEO for processing.
Ensures HR Compliance
Employment law is complicated and constantly evolving. Keeping up with the plethora of HR laws, legislation, and guidelines that apply to your company can be costly. If you don't comply, several state and federal authorities have the authority to fine you.
PEO companies will provide you with expert HR advice and assist you in avoiding enforcement blunders. Working with a PEO will give your company a massive competitive advantage. You'll have access to trusted advisors who will work with you to keep you informed about regulatory changes and help your company make the necessary adjustments.
Better Talent Pool
PEO companies that provide supplementary work options, such as recruiting, provide a lesser-known but still useful package of PEO benefits. Expert recruiters know where to look for the best candidates in various sectors and have access to a global talent pool.
Rather than managing this part of your company on your own, a PEO helps you find talented people to add to your team quicker and more affordably. Companies may also use PEOs to access smart, web-based technology to control their entire recruitment process online. As a result, job requirements are more concise, applicants are more skilled, screenings are more effective, and the team is more talented.
Joint Liability
You lease the staff and co-employ these jobs with a PEO. This means that the workers of your corporation are incorporated under the tax ID. The PEO shares risk and liability concerns with the clients.
It also assists with activities such as workers' compensation monitoring and state unemployment insurance. So, there is any issue or lawsuit to face, you have shared responsibility, even though this situation is unlikely because of a PEO's professionalism.
Quick Incorporation
Hiring PEO companies helps you avoid the time-consuming procedure of incorporating a company, which requires clearance from various bureaucracies. You may put personnel on the ground to seize new markets and achieve the strategic advantage of being first to market.
If you believe your company requires a PEO, do your research. Before you begin speaking with various organizations, you can first determine your preferences to know exactly what functionality and services you need.
Once you find one of the best PEO companies, you will find your business operating smoothly with more time focused on core activities. You will be able to reach your objectives at a rapid pace and keep your employees happy at the same time. So, why wait when you have this solution within your reach now?