SIP trunking may sound complicated, but, in fact, it is not at all. SIP is not a new concept. However, very few businesses understand the concept behind it and the benefits of SIP trunking. SIP providers are no different from other telecommunications companies that provide their customers with phone systems. In this case, however, a traditional system is replaced with a new one that gives the customer access via the Internet.
When we first hear about it, we immediately want to know what SIP is, and also how it works. This article explains what SIP trunking is and how it cannot help your business operate more effectively.
What is SIP trunking?
SIP trunking is a phone system that converts the traditional PBX into a new one where you can receive or make calls via the Internet. The digital primary rate interfaces are now being replaced with SIP trunking. SIP or Session Initiation Protocol simply uses a protocol to provide a voice over IP connectivity to the users. The connection is made between the PSTN and an on-premises phone system for call management, establishment, and tear down.
Companies across the world have deployed SIP trunking, or are currently deploying it, to reduce their telecommunications costs. Specifically, the amount it costs for their employees to make phone calls.
Telecom experts say that the MPLS network infrastructure has relatively few complexity issues. Additionally, SIP trunking provides a large number of benefits.
How SIP trunking works
To communicate over a data network, a standard protocol called SIP must be followed. The SIP is the basis of unified communication. The system has done away with analogue (physical) communication equipment, such as phone lines. There are no circuit boxes, wiring, or other hardware to maintain. This system uses flexible trunks instead of telephone lines.
The new phone system is flexible in the sense that you can re-locate your office without changing your phone system. This is because telephone numbers and virtual trunks are linked. So, no matter where your office is, or where you plan to move to, you can still make use of your virtual trunking phone system.
Benefits of SIP trunking
The new telecommunication technology has given significant benefits businesses, which have all reported considerable cost savings. VOIP, which stands for Voice Over Internet Protocol, is an example of a popular new technology that allows us to communicate (talk) and send files via the Internet. VOIP offers a cost effective solution to both internet telephony service providers and their customers. It offers significant capabilities to users such as:
Access to directory assistance services
Ability to make both local and distance calls
Access mobile numbers and land line numbers
Access the Internet and use it for texting and emailing
Make emergency calls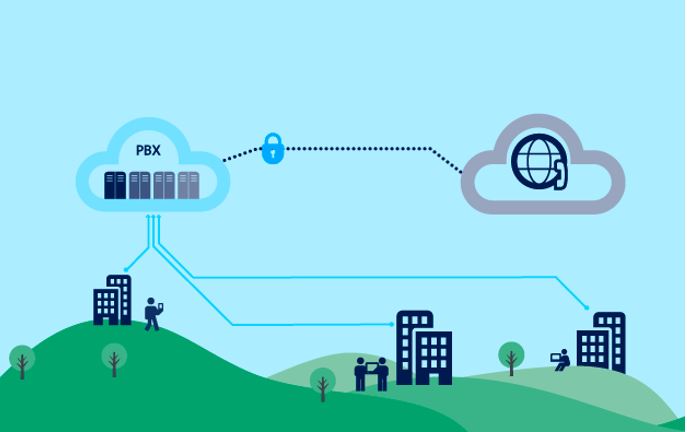 With no upfront investment and lots of benefits, the number of SIP trunking users has increased dramatically over the past few years. Design and implementation of SIP trunking is simple, which allow users to use multiple digital streams. Some of its quantifiable benefits include:
Reduction of cost and overlapping networks– it reduces the need for maintaining both telephone and data networks. It replace them with an IP based network and gets access to multiple digital streams. It also reduces the problem of adding more users onto the existing infrastructure, and solves growth related issues. This, in turn, reduces the cost of establishing connections.
Eliminate local IP-PSTN gateways– it saves business owners money on telephony upgrading. No need to purchase any hardware to upgrade the existing services to one or two E1/T1. Instead, users can increase Internet bandwidth thereby reducing the need of any purchase, maintenance costs, and installation.
Eliminate BRIs and PRIs– since the IP-PSTN gateway is eliminated the expense of subscription fees is also cut down, because the ITSP and SIP trunk is now directly connected.  It is a less expensive service and users don't have to pay for purchase of phone lines in blocks. Moreover, they can purchase the bandwidth in the smaller increments to that of phone lines.

Reduce long distance communication costs-

long distance communication costs significantly more on the traditional phone system, whereas in SIP trunking this cost gets reduced. All calls become local calls, which means that overall, telephone call costs come down considerably.

All are local calls-

the users use third party IP networks to make calls which are then transferred to

local PSTN

. Thus, all calls, even international ones, are carried over the Internet, which automatically reduces the additional call cost.

Eliminate the use of 800 number-

local numbers are terminated when calls are made using the Internet

Access to ENUM-

the ENUM or telephone number mapping eliminates the PSTN expense to make more calls by easily finding known SIP addresses.

Reliability

– due to bad weather conditions, the traditional telephone services get interrupt. This interruption is reduced in SIP trunking thus making it a reliable technology. This also allows easy routing of calls in case of failure.

Simple management

– another great benefit of SIP trunking is the easy to use administrative portals. This allows the user to manage their calls better, adjust call routing, adding phone lines, changing extensions, and more. No more need to get experts in to help you manage your tricky phone systems.

Mobility-

SIP trunking offers flexible services to users, which make the connection continuous in the on-premise. All employees who are on the premises are fully reachable and thus remain connected. This makes SIP a dedicated communication system which significantly improves connectivity between the users.
Even though the specifications and benefits listed above might have encouraged you to replace your system, you should still check out some details before moving forward:
How much does SIP trunking cost?
How many SIP trunks will your company or organization need?
Check for the availability of SIP trunking.
Make sure that SIP systems are completely safe.
SIP trunking is an excellent opportunity to reduce your phone bills and maintenance costs. Moreover, it is also a great option to improve your scalability and reliability. Hopefully, you will find a good SIP provider and enjoy the benefits of SIP trunking.