Most Mac users would say that the built-in app Safari is the best browser for Mac. However, every browser has its pros and cons, and Safari is not an exception. If you are not satisfied with your browser, read this article. We will mention the top best browsers for Mac and their pros and cons.
Contents:
Safari

Google Chrome

Mozilla Firefox

Opera

Brave

Vivaldi
Safari
The Safari browser comes preinstalled with macOS, and many Mac users love it. It has been the best native browser for macOS for over a decade. It provides all the essential features to browse the Internet safely. Apple pays much attention to improving Safari and regularly updates it, making the browser faster, safer, and more convenient. 
Pros of the Safari browser
It betters protects the users' privacy and security.

It provides convenient features, like tabs grouping or intelligent tracking prevention. 

User-friendly synchronization in the Apple ecosystem. 

​​Energy-efficient. 
Cons of the Safari browser:
Safari uses more battery due to the constant updating of the Safari browser.

It has fewer additional extensions than Chrome.

It can work slowly with some websites.
Note: Browsers can work slowly on a Mac because of cache files. You should check Mac system data and clear caches periodically to optimize your system's performance.
Google Chrome
Google Chrome is the most popular browser, and it's a fact. Chrome has always been a great alternative to Safari, and that's still. The users like its features, like cross-device experience, data syncing through the Google account, and an extensive choice of extensions in the Chrome Web Store.
Google Chrome has a strong focus on security and highlights unsafe sites, including a built-in ad blocker to give you respite from annoying ads.
Pros of Google Chrome:
It provides many extensions.

It gives you access to all Google applications.

It is a fast browser.
Cons of Google Chrome:
It uses a huge amount of your Mac's memory.

It drains a MacBook's battery fast.
​​Mozilla Firefox
At first, Mozilla Firefox was named Phoenix, then renamed Firebird, and only then it has become famous with the Firefox name. The Firefox browser offers many functions and tools for managing tabs, downloads, private browsing, web forms, security configurations, and more. In Mozilla, you can also create an account and use it to sync bookmarks and passwords on all your devices. 
Firefox consumes few resources. This is one of the advantages why most users prefer the Firefox browser. 
Pros of the Firefox browser
It has a built-in tracker-blocking system.

It provides a wide range of extensions. 
Cons of the Firefox browser
It is less secure than Chrome or Safari.

It can be unstable; crashes happen often.
Opera
A couple of years ago, Opera started to lose its popularity as it didn't offer unique features to attract users. However, today many users again prefer the Opera browser, and here is why: it has a fast performance, which is to be expected since it is based on the Blink rendering engine. 
Now Opera uses the same technology as Chrome and allows you to use any Chrome extension. 
Opera has a user-friendly interface, providing a sidebar where you can pin your favorite chat messengers, the Opera Flow option (that allows you to send/receive information between your desktop computer and a mobile device), instant search, a personal news feed, and a tool for creating snapshots.
Pros of the Opera browser:
Fast performance

It can run Chrome extensions

Built-in VPN
Cons of the Opera browser: 
It can crash when you have heavy loads.
Brave
The Brave browser is a new and not-so-famous desktop browser. However, it is worth attention for its excellent performance and its privacy features.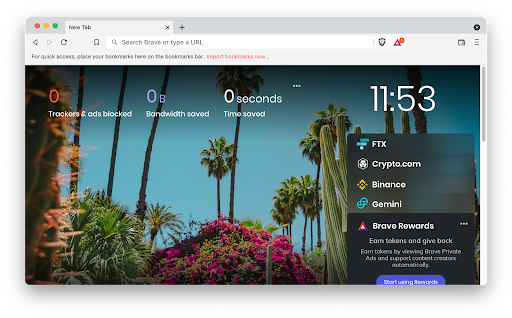 The browser provides the "Brave Shield" feature, which blocks all trackers and ads that seek to identify you, but that's not all. It allows you to select ads that respect privacy and help publishers with their revenues through rewards.
Also, the Brave browser has built-in Tor so that you can use it for even more private browsing.
Pros of the Brave browser:
Powerful privacy features

High-speed performance

It doesn't consume many resources
Cons of the Brave browser: 
Some sites do not work well with their privacy features

Some features are not available on all platforms
Vivaldi
The Vivaldi browser is designed for experienced users who want to get more from the browser than just an Internet search. The browser offers tons of customization options. For example, you can choose the location of the tabs at the top, bottom, or one side, and you can even select the location of the address bar. Plus, you can customize mouse gestures, keyboard shortcuts, and more. 
Most users choose Vivaldi for its powerful tab management features that let you stack multiple tabs and view their contents just by hovering over them is excellent. The sidebar also lets you open sites and view your Instagram or Twitter feed without disrupting your workflow.
Pros of the Vivaldi browser:
It offers many customization features for advanced users

It provides a fast performance

It has a powerful tab management tool
Cons of the Vivaldi browser:
Conclusion
We've listed the best browsers you can run on your Mac. Now you know what alternatives you can use instead of Safari. Depending on what features are more critical for you, you will indeed find a suitable browser.
---
Video – What is a Browser?
This video presentation, from our YouTube partner channel – Marketing Business Network, explains what a 'Browser' is using simple and easy-to-understand language and examples.
---
Interesting Related Article: "What Extra Security Measures Should You Take When Using Web Browsers?"