In the time of Covid-19, more and more companies are discovering the benefits of online meetups. They're looking at the different platforms that exist for the purpose, and they're looking into proprietary systems as well. However, these platforms were becoming more popular even before the pandemic.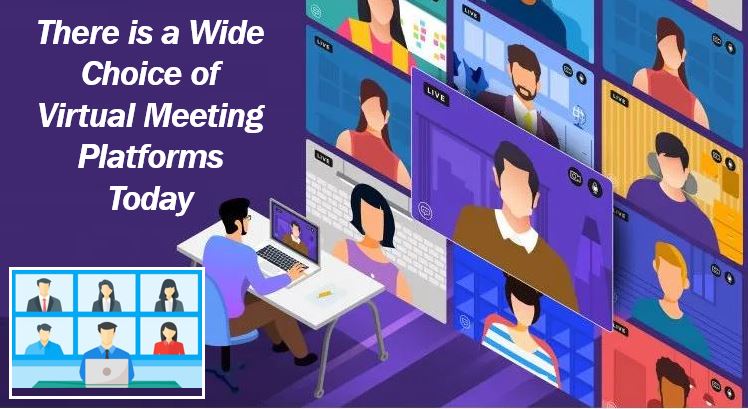 If your company is looking into online meetup uses, then you should be aware of some of the top platforms that are out there. Here are five of them about which you should know.
Zoom

Zoom is getting a lot of attention at the moment and with good reason. It is one of the most intuitive video enterprise solutions for you to consider. If you want software that will connect your company, it should be at the top of your list.
Zoom allows you to:
Host video webinars
Host virtual meetings
Put together product training sessions
The chat feature lets you share files and messages with other employees in real-time. To make your experience better, Zoom has also collaborated with apps like Slack, Outlook, and Egnyte.
GoToMeeting
The GoToMeeting platform is another one that people are using a lot these days. It features:
Video transactions
Customizable team settings
Team messaging for everyone in your company
This is an excellent software setup for small or medium-sized companies, as you can host up to 100 people on the same video conference call. If you have the GoToMeeting app on your phone, you can also launch a meeting or join one that is already taking place.
The company also has a separate feature called GoToWebinar. That is an online meeting platform where participants can plan webinars, present them to clients, and follow up with attendees after the event. You can use it to gather attendee data, poll attendees to see what they thought of the event afterward, and you can set up a sharable video library of past events.
ON24

The ON24 platform is a great one for marketers. You can use it to build content experiences and interactive webinars. Marketers can drive revenue through ON24, and it's hard to find a digital platform that's getting more engagement at the moment with for-profit companies.
You can set up a webinar by taping the participants beforehand. You have the option of giving them multiple takes if they are not happy with their first attempt at speech delivery. You can also edit together presentations and add graphics, sound effects, etc.
When you're ready, you present the edited-together finished product to your audience in real-time. You can then have live engagement and further interaction, as you gather any relevant feedback about what attendees liked and didn't like.
Intrado

The Intrado meeting platform is a cloud-based technology partner of businesses the world over. Users regard it as one of the more innovative on the market, and it has won several awards. Aventri is its partner.
This platform hosts more than 40,000 webcasts and seminars every year, and that number is only growing. It offers 80 different language packages, and clients in Latin America, South America, Canada, Europe, and the Middle East, as well as the United States, all use it.
Evia
This is a family-owned virtual events company that has locations in Redmond, Washington, and Seattle. It's a digital event space that features media distribution solutions, which is suitable for different-sized companies.
It focuses on pre-event planning, live event execution that's smooth and error-free, and post-event distribution that gets high-quality visual content into the hands of any clients or potential investors. The platform has AI infusion, so it learns from your events and has suggestions for future ones.

Ex Ordo 
The team at Ex Ordo designs software for technical, scholarly, and professional conferences. Their end-to-end platform includes tools for managing abstract submissions, handling complex review processes, registering delegates, planning interactive online conferences, and more. Event organisers and association professionals around the globe use Ex Ordo's online conference platform to deliver great experiences to their communities.
As you try to figure out which one of these digital event or virtual meeting platforms is going to work best for your company, consider your size and the features you most need. Some of these options work better with larger businesses, while some are more suited toward startups.
Look at features such as the digital experience quality, whether any messaging services come with it, and whether you have to download the app to enjoy all of the benefits. The other viable option is to create a proprietary system, but that costs money and your business might not have it to spend right now.
What's undeniable is that with Covid-19 concerns, more companies have to go online for their meetings at the moment. If you want your business to keep pushing forward and remain competitive, then an online meeting place is a necessity, not a luxury.
_____________________________________________________________
Interesting related article: "What is VOIP?"