The pushing and shoving so common on Black Friday was much calmer this year in the US compared to 2013, while sales in physical shops (not online) were lower. People's shopping enthusiasm appeared to have been sapped on Thursday.
Brian Cornell, CEO of Target, said "The consumer clearly enjoys shopping on Thanksgiving." However, he was happy to see that the shopping spree is now spread over more days.
In what is being dubbed "Gray Thursday," consumers were forming lines outside Macy's at 6pm, while still digesting their Thanksgiving turkey.
Stores opening on Thanksgiving may not go down well with people concerned about commercial encroachment into national holidays, but it is great for bargain-hunters who dislike being in crowds.
How good Thursday and Friday have been for retailers will become clearer in the next few days. The massive Mall of America in Bloomington, Minnesota, said 100,000 shoppers walked in between 5pm Thursday and 1am Friday, which equals a typical full day.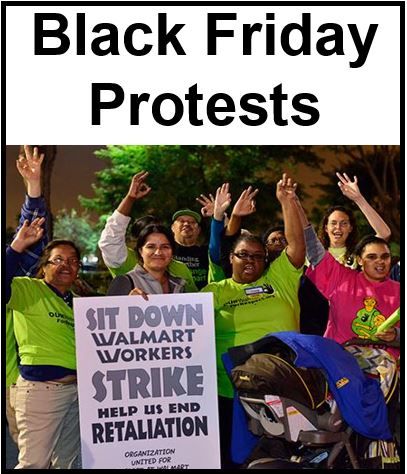 Wal-Mart workers protested across the country (Photo: Black Friday Protests)
Record online sales
As far as online sales were concerned, however, business had never been so good. IBM reported that online sales on Black Friday were 8% up on last year.
Wal-Mart reported that Thursday saw its second-best ever sales day, after 2013's Cyber Monday, the first Monday in December.
BestBuy had so many visitors that its website crashed and stayed offline for thirty minutes. It went offline again for an hour in the evening. According to Dynatrace, an online monitoring firm, there were website problems at J.C. Penney, Cabela's and Foot Locker as well.
Retailers are hoping that lower unemployment, four-year low gasoline prices and a growing US economy will feed through into bumper sales during this holiday shopping season.
According to Shopper Trak, ever since 2005 Black Friday has been the best-selling day of the year for retailers, ahead of the Saturday before Christmas when shoppers try to get their last-minute gifts.
With Thanksgiving and online sales eating into the Black Friday slice of the cake, things may be different this year.
Store workers want a better deal

With shoppers extending their frenzy from one to several days, those who have to work in the stores resent having to leave their families because their employers now open on Thanksgiving Day.
Wal-Mart workers protested across the United States as consumers flocked into stores seeking out the best deals. They are calling for better hours and higher pay.
OUR Wal-Mart, a union-backed group of Wal-Mart workers, wants the minimum pay per hour in the company to go up to $15. Surrounded by dozens of police officers, workers outside a Wal-Mart supermarket in new Jersey shouted "Wal-Mart, Wal-Mart you're no good, treat your workers like you should."
In St. Louis, protesters interrupted shopping at several major stores, venting their anger at the decision not to indict the police officer who killed Michael Brown. Two large malls were temporarily shut down.