Boeing profits for the fourth quarter of 2013 increased by 26% to $1.23 billion, and revenue rose 7% to $23.79 billion.
However, the company added that future revenue and profits for this year will not be as high as current forecasts, sending shares down in early trading today.
Non-GAAP core earnings per share rose 29% to $1.88, "driven by strong performance across the company's businesses and higher deliveries", Boeing informed in a statement.
Boeing added that it expects to deliver from 715 to 725 aircraft in 2014, an increase of 10%+ compared to 2013.
Boeing Chairman and Chief Executive Officer Jim McNerney Jr., said:
"Strong fourth-quarter results underscored an outstanding full year of core operating performance that drove record revenue and earnings and increased returns to shareholders. Our Commercial Airplanes business accelerated delivery of its record backlog by successfully increasing production rates while also achieving important development milestones on the 737 MAX and 787-9 and launching the new 787-10 and 777X models with an unprecedented customer response."
"Our Defense, Space & Security unit overcame a tough operating environment to record expanded revenue, earnings and margins while executing to our commitments on the KC-46Atanker and developing and delivering important new capabilities to customers, such as the P-8 maritime aircraft and the Inmarsat-5 satellite."
"For 2014, we remain focused on maintaining our commercial airplanes market leadership, strengthening and repositioning our defense, space and security business and continuing to meet the needs of our customers by improving productivity, executing to development plans and delivering our unmatched portfolio of innovative aerospace products and services."
In Q3 2013, commercial airlines booked 465 net orders, and 1,355 during the whole of 2013. There is currently a backlog of 5,080 airplanes valued at $374 billion, a record.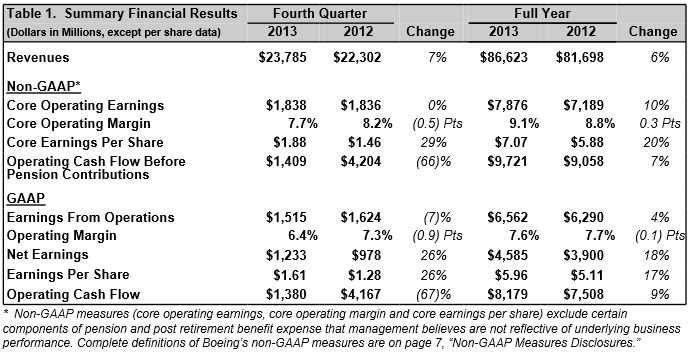 (Source: Boeing)
Boeing profits up but 2014 may disappoint
The company said earnings for 2014 may be less than previously forecasts. Boeing now expects earnings to rise possibly up to $7.20 per share this year, less than the 2% from $7.07 per share last year. It added that the number of new orders is expected to slow down.
In an interview with Bloomberg News, Christian Mayes, an aerospace analyst with Edward Jones & Co., said "Boeing's orders have risen for four years straight coming out of the downturn, a bit longer than usual, and we think growth could start to slow." Mayes rates Boeing a hold.
Testing of Boeing's new aerial tanker will be delayed
The Boeing KC-46, a military aerial refueling and strategic transport plane developed from its 787 jet airliner, is expected to see operational testing delayed by six to twelve months, according to a US Defense Department report due to be released tomorrow.
In the KC-56 tanker program, a $52 billion project, Boeing is called on to deliver 179 new planes to the Air Force to replace the current 50-year-old fleet, eighteen of which should be delivered by 2017.
Michael Gilmore, the Pentagon's chief weapons tester, said the Air Force and Boeing need more time to finalize initial training and developmental testing before operational testing can start.
Gilmore's annual report on major weapon programs will be released on Wednesday, 30th January. However, according to Reuters, copies of the report started circulating in Washington today.