The world's largest lava lake has been filmed by a drone sent by seasoned volcanologist Bradley Ambrose – it took breathtaking images of the lava lake in the Mount Nyiragongo volcano in the Democratic Republic of Congo.
Mr. Ambrose climbed the active volcano, carrying the drone with him. When right on the edge, the drone flew around taking amazing shots looking down into the molten ring of fire.
Mr. Ambrose was taking an incredible risk climbing 12,000 feet to the top of the mountain – volcanologists warn that Mount Nyiragongo could erupt at any time, destroying anything living nearby.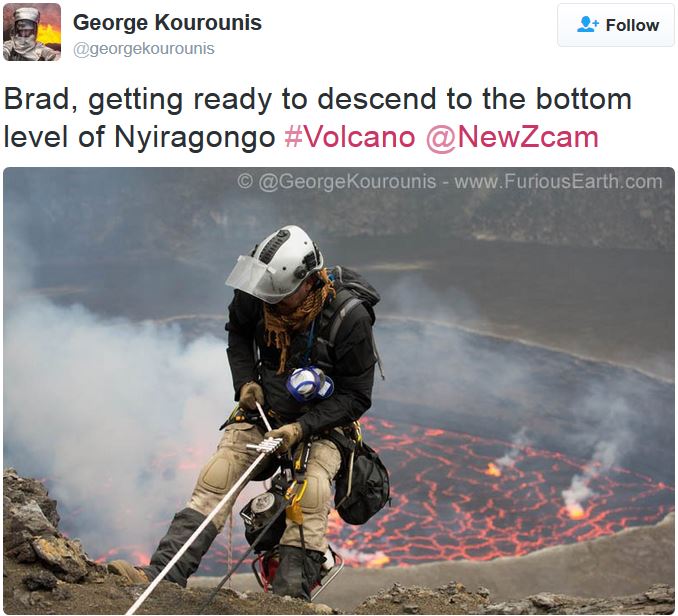 Photographer George Kourounis – Explorer/Adventurer & Storm Chaser – took this picture of Bradley Ambrose as he descended towards the lake of fire below him. (Image: Twitter)
Bradley Ambrose, an amazing photographer
The award-winning photographer and ardent adventurer, who is well-known as a storm chaser, made the treacherous climb with five other explorers.
The intrepid explorers had been helping Japanese scientists who are studying the volcano and its 1-kilometre-wide burning caldera, which erupted last in 2011, and could do so again at any moment. Its last major eruption occurred in 2002.
---
---
Mr. Ambrose said:
"I don't get nervous – I've made man descents into volcanoes around the world. We always have a safety line to prevent us from falling in – but we are climbing into a live volcano, so of course there are inherent dangers."
"I flew the drone above our campsite and just over the initial descent point – I had heard stories of drones falling inexplicably out of the sky while over a crater, and I didn't want to risk losing it. I'm so happy with the outcome – I'm really glad I was able to get these pictures."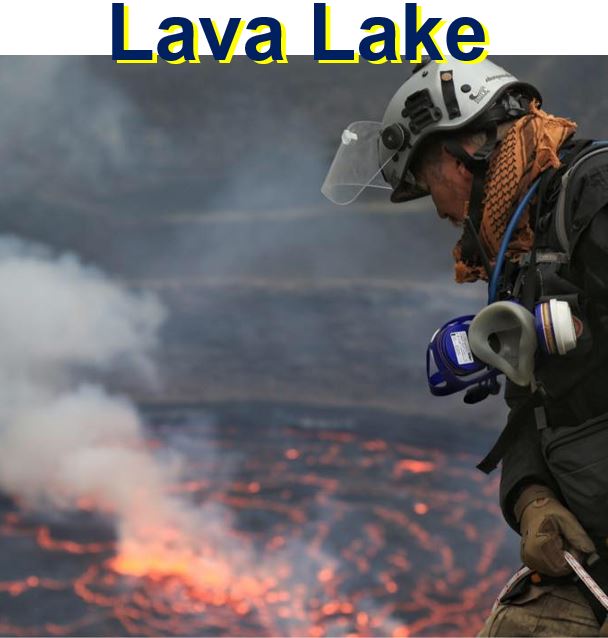 Bradley Ambrose at Mount Nyiragongo, an active stratovolcano 3,470 metres (11,,382 feet) high in the Virunga Mountains, Democratic Republic of Congo. He looks down into the 2-kilometre-wide crater, which contains the world's largest lava lake, just before descending so that he can get an even closer look. (Image: Facebook)
About Mount Nyiragongo
Mount Nyiragongo is an active stratovolcano (a conical volcano built up by many layers) that reaches 3,470 metres (11,482 feet) above sea level in the Virunga Mountains in the Democratic Republic of Congo.
---
---
It is inside the Virunga National Park, and has a main crater which is about two kilometres wide that usually contains a lava lake, which is sometimes the most voluminous known lava lake in the world (in recent history).
The ultra-hot lake's depth varies considerably. Prior to the January 1977 eruption it reached a depth of about 600 metres (2,000 feet). The Empire State Building is just 381 metres tall (443 metres to the tip).
Nyiragongo and nearby sister volcano Nyamuragira together make up about forty percent of Africa's historical volcanic eruptions.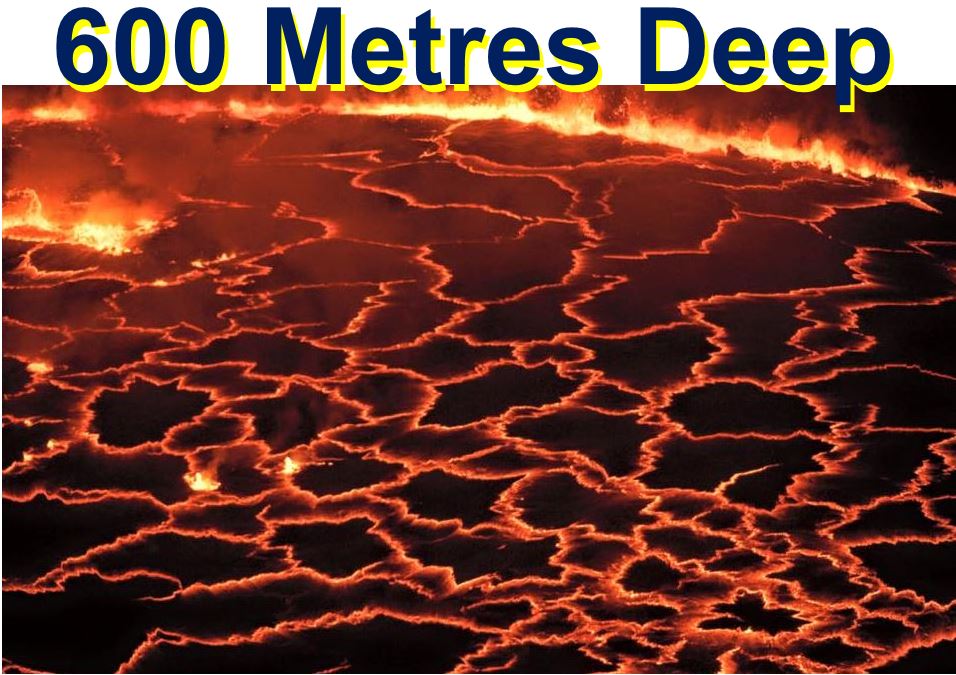 The giant lava lake, which is often the most voluminous in the world, can reach a depth of 600 metres sometimes. (Image: facebook.com)
Since 1882, Nyiragongo has erupted at least thirty-four times, including several periods where activity continues for years at a time, often in the form of a churning giant lava lake in the crater.
This volcano partly overlaps with two older volcanoes, Shaheru and Baratu, and is also surrounded by several hundred small volcanic cinder cones from flank eruptions.
Volcano kills even when not erupting
Even when it is not erupting the volcano is dangerous, even deadly. Localized carbon dioxide toxicity, which locals call 'mazuku' ('evil winds' in Swahili), has killed children.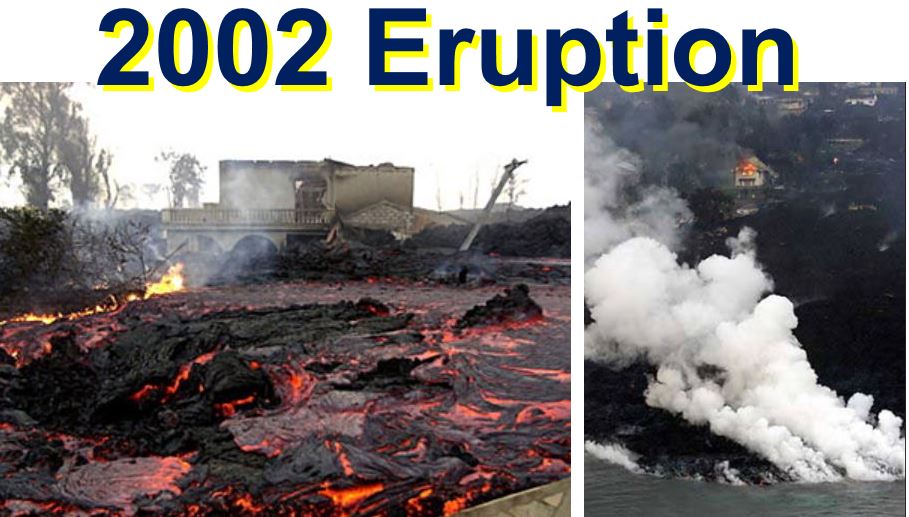 Nyiragongo's last major eruption occurred in 2002. It killed 147 people. Lava flows moved through the city of Goma and reached the shores of Lake Kivu. Thirteen percent of Goma was destroyed, and between 12,000 and 15,000 homes were gone. Hundreds of thousands of people were displaced. (Image: geo.arizona.edu)
Even recently there have been cases of children losing their lives to mazuku.
In nearby areas where the poisonous gas seeps from the ground in relatively high levels, where there is no wind, its effects can be fatal for wildlife and humans.
Video – Incredible images of lava lake
Descent to the worlds largest lava lake at Nyiragongo volcano: https://t.co/lFGFdhNjB9 via @YouTube

— Bradley Ambrose (@NewZcam) 15 February 2016