Brexit campaigners have been forced into a humiliating apology after some people in their 250 list of business leaders allegedly supporting leaving the European Union demanded their names be removed immediately. This has occurred just two days after the Brexit-support letter was published.
There will be a referendum on 23rdJune, when the British electorate decides whether to stay in or leave the European Union.
David Ross, a Carphone Warehouse co-founder, and John Caudwell, founder of Phones4U, ordered the removal of their names from the list, and the Vote Leave campaigners had to issue an apology.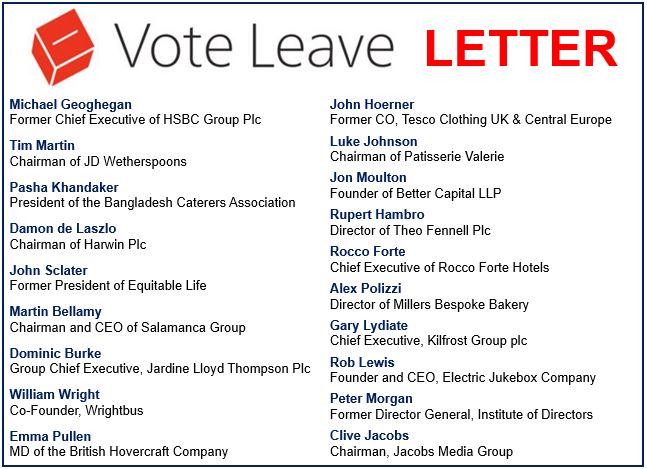 Above is a list of some of the more prominent names of people in the business community that Vote Leave claims signed up to the letter. (Data Source: Vote Leave)
Did 250 really 'sign' their names?
The 250-people letter, which Vote Leave claimed was signed by 250 business leaders, was published on Saturday. Within 24 hours, the two mobile phone tycoons demanded their names be removed.
According to a Vote Leave spokesperson, Mr. Ross' name had been included by mistake. Mr. Caudwell had previously expressed support for their campaign, the spokesperson added.
---
---
That final comment makes one wonder how the list was created. Weren't ALL the 250 individuals asked to be included? Didn't they have to 'sign'?
Did Vote Leave simply make a list of anybody who had expressed sympathy for its cause at some time or other? If that is the case, don't be surprised if others soon demand to be removed too.
Some in the list feared Brexit
Some people in that list, in fact, have expressed concern about the damage to the British economy if the country were to leave the European Union (EU).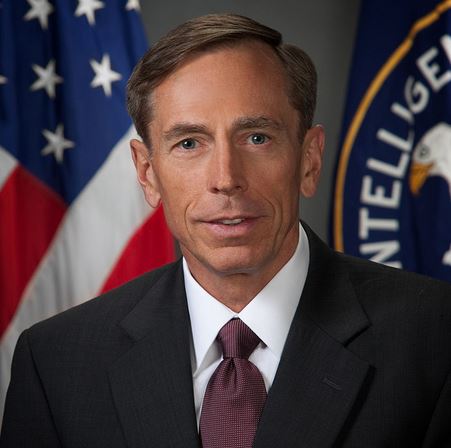 David Petraeus, Director of the Central Intelligence Agency, believes that Brexit would be bad for UK and European security. (Image: Wikipedia)
Chairman of the Conservatives In campaign, Nick Herbert, said the letter was falling to pieces less than two days after its launch.
---
---
Mr. Herbert, Member of Parliament for Arundel and South Downs, said:
"Some of those named on the letter say they never actually signed it, many are not business leaders at all, there isn't a single FTSE 100 chief executive among them, and others have publicly admitted Brexit would cause severe damage to Britain's economy."
Brexit and impact on UK economy
Nearly all election and referendum results are strongly influenced by the perceived economic impact of whoever or whatever wins.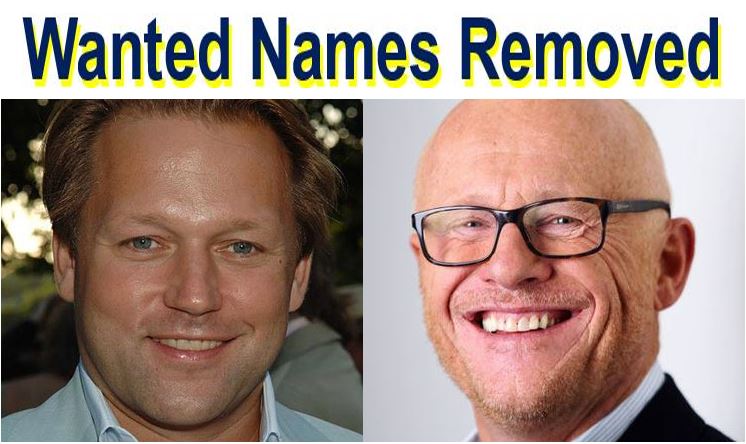 (Left) Carphone Warehouse co-founder, David Ross,  and founder of Phones4U, John Caudwell, asked to have their names removed from the letter. Does that mean 250 names were included in the list without asking any of them? If that is the case, how can Vote Leave claim that they 'signed' the letter?
Both the Remain and Leave camps are battling hard to show to the electorate that business leaders agree with them.
Some of the 250 signatories of the Vote Leave letter included Michael Geoghegan, who was CEO of HSBC until 2010 – he said the British financial services sector would thrive if the electorate opted for Brexit.
Others on the list included Tim Martin, head of JD Wetherspoons, and hotelier Rocco Forte.
American intelligence chief concerned
CIA Director David Petraeus, a former US military commander, expressed concern this week about EU security following a Brexit move.
General Petraeus wrote in the Sunday Telegraph:
"I encourage my British friends to think twice before withdrawing from one of the most important institutions that undergirds western strength. A Brexit would deal a significant blow to the EU's strength and resilience at exactly the moment when the west is under attack from multiple directions."
Jeremy Hunt, Secretary of State for Health, wrote in the Observer:
"Years of economic uncertainty [following Brexit] would inevitably mean less money for public services like the NHS. Even the most bullish Brexiteers concede that the short-term impact on the British economy would be a period of uncertainty and volatility."
Matthew Elliot, Chief Executive of Vote Leave, said:
"If we vote to leave we can stop wasting money on EU bureaucrats and instead spend our money on our priorities like the NHS."
Regarding the NHS and how much being an EU member is costing the UK, Vote Leave has the following comment on its home page:
"The UK's official EU budget is about £350 million a week. That's about the same as the cost of building a new NHS hospital every week. We get less than half of this money back, and we have no control over how it's spent – that's decided by politicians and officials in Brussels, not the people we elect here."
Video – What would Brexit mean for UK business?
British businesses are grappling with the prospect of the UK voting to leave the EU. Financial Times Business Editor, Sarah Gordon, talks to Airbus and other companies across the country to find out whether or not they are in favour of an exit from the trading bloc.